Omarion & Apryl Jones' Daughter A'mei Is the Perfect Mix of Her Parents While Adorably Smiling in Pic with Mom
Omarion and Apryl Jones' daughter A'mei continues to blossom in front of the public, and each day she looks more and more like the perfect blend of her famous parents.
Omarion and Apryl Jones welcomed their daughter A'mei into the world in 2016. The former partners are already parents to one child, a handsome boy named Megaa, that Jones gave birth in 2014.
On July 23, Jones took to her Instagram account to share an adorable photo of herself and A'mei. As they posed for the camera, the mother and daughter duo appeared to be in good spirits.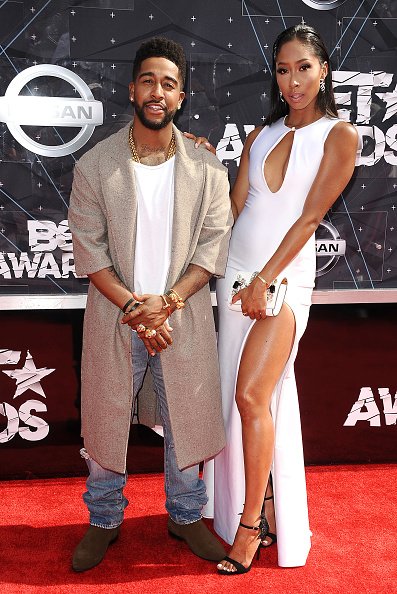 PICTURE PERFECT
"Just me and my Lil princess," the proud mother wrote in the caption of her post, which has already received more than 92,000 likes on the popular photo and video-sharing networking service. 
For the photoshoot, Jones wore a sleeveless white top and black shorts. She accessorized herself with a necklace and earrings. The brunette lady let her hair hang loose as it rested against her shoulders.
Jones chose a simple makeup look, and she looked stunning. As for A'mei, the girl donned an ordinary black T-shirt and what appeared to be a pair of shorts. She wore her shoulder-length black hair in a curly style.
In the photo, A'mei's smile is so charming, and it's a bit difficult to determine where she inherited more of her features from because she bears an astonishing resemblance to both her parents.
In May 2020, Jones opened up about motherhood challenges.
SOCIAL MEDIA RESPONSES
Meanwhile, fans expressed their admiration for the pair in the comments section right away. There was a comment that said they are both exceptional and that A'mei has grown beautifully. Another fan added:
"Aww this is so adorable. I love seeing a mommy daughter happy [sic]."
EXCITED PARENTS
Jones and Omarion were candid about their pregnancies from the start, even sharing a video of the moment they learn they are expecting a girl. At that moment, their reactions were incredibly touching.
As with the birth of their child, Megaa, Jones again delivered at home. Her strength was everything Omarion could not help but gush over. In the video, he said everyone should respect the queen.
FAILED RELATIONSHIP
The first reason Jones became widely popular was her relationship with R&B star Omarion. The couple's relationship was briefly chronicled on the hit reality television series called "Love & Hip Hop: Hollywood."
Despite appearing to be a perfect couple, Jones and Omarion didn't stay together forever. In 2019, Jones came under fire after starting a relationship with Lil Fizz, Omarion's former friend and group member.
A great deal has been said about her by a lot of people. However, Jones never let the incoming negative feedbacks affect her. Instead, the star has chosen to go about her daily life unfazed and fully content.
NO PLANS
A bad relationship with the father of their child(ren) does not necessarily prevent some mothers from falling in love with somebody else and perhaps expanding their family down the road.
In the case of Jones, though, the reality star rejected the idea of having any more youngsters for fear that she would be saddled with another "baby daddy" as her ex-boyfriend Omarion had been.
In May 2020, Jones opened up about motherhood challenges and noted that they became more complicated when her former lover, Omarion, abruptly left with two children. She told Voyage LA:
"He decided to leave without explanation and I was forced to have to pick up the pieces of my life."
THE RUMORS
Meanwhile, back in February, Jones ignited rumors about her romance with legendary producer and hip-hop artist Dr. Dre when the pair were spotted dining at BOA Steakhouse in Los Angeles.
Previously, there was a report suggesting Omarion wasn't the father of Jones' children, which she vehemently denied. In an interview, she emphatically said that Omarion is the father of Megaa and A'mei.