Woman Catches Her Date at Another Woman's Apartment, Finds Proof in a Photo
Loyalty is a rare commodity, and Megan-Marie's date, unfortunately, didn't have any. The young lady chose to expose him by posting a spooky video online! 
Taking to TikTok, Megan-Marie, also known by her username @callhermeganmarie, implied that her date was at another woman's apartment. She found this said proof in a collection of snapshots he sent her. 
On the TikTok post, she shared dubious pictures of what this man she had been dating shared with her while saying he was watching the Olympic games with "the boys." A lot of the photos he sent looked suspicious.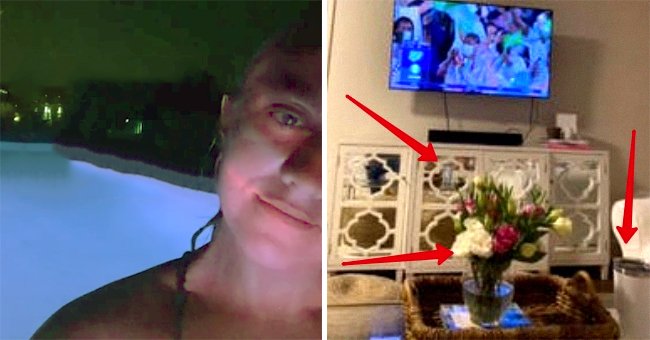 The "American Horry Story" theme song played in the background as the clip flipped through the pictures of the apartment, which all put forth a ladylike quality. In her description, she wrote: 
"Do I have dumb written on my forehead."
Zooming into these pictures, there appeared to be a woman's knee in one. On top of this, a large bouquet of flowers formed part of the many signs that the TikToker believed may indicate he is unfaithful. 
Many in the comment section expressed that what she implied was her boyfriend didn't even try to hide that he was at another woman's house. One laughed at how cheaters always think they are clever. 
The trio found out that their now ex-boyfriend had been dating all three of them simultaneously.
Several individuals remarked on how the flowers made it completely obvious as to where he was. In total, the now-viral post received around 2,000 comments and 686,000 likes. 

However, in a new TikTok post she shared later, Megan-Marie implied that the original clip didn't reflect the truth. She claimed that it was all a joke and simply banter between herself and a man she is seeing. 
The TikTok user then revealed that they had already gone on another date since this clip. Megan-Marie said that they plan to see each other again soon as well but hopes he never sees the clip.
Megan-Marie defended him from previous harsh comments, professing that he is a good person. The TikToker expressed: 
"He's not a piece of trash. Like everyone's saying. It's just like, funny."
One woman commented that they all were under the impression that she was in a serious relationship and was cheated on. The post has received 8,000 likes. 
In the case of Megan-Marie, it was said to be simply for fun and entertainment. However, 18-year-old Bekah King, 19-year-old Abi Roberts, and 21-year-old Morgan Tabor truly did experience heartbreak.
The trio found out that their now ex-boyfriend had been dating all three of them simultaneously. However, they found their beautiful revenge through a fast friendship that ended up with them traveling on a bus together.