Daily Joke: Frog Wants to Take Out a $30,000 Bank Loan against Collateral
A frog known as Kermit Jagger stepped into a bank, approached the teller, and requested a $30,000 bank loan using an unbelievable object as the collateral.
He stopped at the front desk of a teller named Patricia Whack. Without wasting time, Kermit Jagger drew the attention of the teller by calling her Ms. Whack.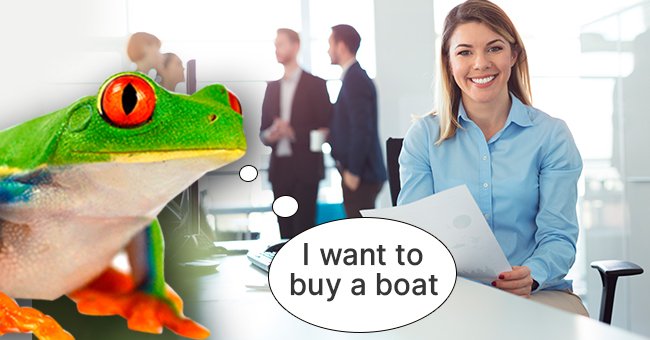 He explained his reasons for coming to the bank. The frog said, "I'd like to get a loan to buy a boat and go on a long vacation."
Patricia Whack was shocked but managed to hide her emotions before asking how much he needed and his name. The bank visitor said, "$30,000," before giving up his name, Kermit Jagger, and his dad's, Mick Jagger.
The frog also explained that his family is familiar with the bank manager, and it was not a big deal to get the loan. The teller asked for collateral, and so Kermit Jagger tendered a small, half-inch, bright pink porcelain elephant.
This left Ms. Whack confused, so she mentioned consulting with the manager before taking further steps. She entered the manager's office with the object in her hand and said:
"There's a frog called Kermit Jagger out there who claims to know you and wants to borrow $30,000. He wants to use this as collateral. I mean, what the heck is this?"
The man looked at her for a few seconds before saying, "It's a knick-knack, Patti Whack. Give the frog a loan. His old man is a Rolling Stone."
ANOTHER FROG JOKE
A research scientist wanted to know how far a frog can jump, so he placed the animal on a table and yelled:
"Frog Jump!"
The frog obeyed and leaped 18 feet and the scientist jotted down 18 ft on his notepad. Then he commanded the frog to jump a second time after cutting off one of its legs. This time, the creature jumped 14 feet, and the man wrote it down.
On the third attempt to make the frog jump, the researcher cut off a second leg first before giving the order, then the frog jumped as high as 10 feet. When the scientist cut off the frog's third leg, it jumped only 4 ft high. The scientist dutifully recorded the distance as he did the first three times.
Finally, he cut off the frog's last leg and ordered, "Frog jump." However, the frog stayed motionless.  He uttered the command four times but the animal didn't make any effort to jump.
The man covered his mouth in disbelief, then he quickly took his notepad and scribbled: "After cutting off all four legs, the frog has gone deaf."
Did you find this joke hilarious? Here's another one about a man who found a talking frog.
Sources: Reddit.com, Upjoke.com