Mom Interrupts Son's Proposal and Tells Him Not to Do It — Dad Records Everything
A TikTok user went viral after his father caught footage of his mom stopping what should have been a proposal to his girlfriend.
Some parents become too involved in their children's lives to the extent of having a say in who their kids should marry. One woman went as far as stopping her son's proposal to his girlfriend.
Dan, who goes by Catdaddan on TikTok, recently posted a short video where he smiled beside his girlfriend before a scenic view.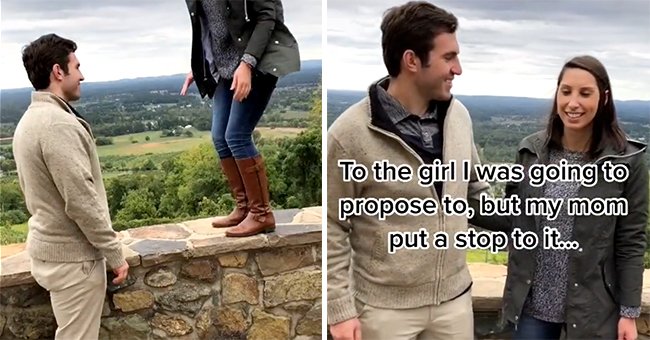 At that moment, the bachelor was about to pull out a ring from his pocket to propose until his mother interrupted and yelled, "No, no, no." 
Meanwhile, Dan's father did not know what to do and continued to film, capturing the funny moment. Dan wrote in the now-viral video:
"To the girl, I was going to propose to, but my mom put a stop to it…"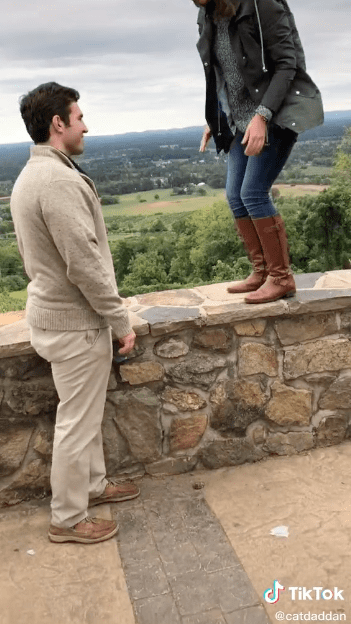 TikTok users had diverse reactions, but many wondered why the man allowed his mom to barge in and cancel the proposal.
What happened shows that several things should be considered before proposing to someone.
"This relationship between you and your mother is called enmeshment. You were conditioned to accept being treated this way," one user wrote.
Meanwhile, other TikTok users claimed the girl was lucky to have avoided the kind of relationship where the mother-in-law would be followed. Another comment read:
"Wow, a man who can't make his own decisions and listens to his mommy… She fr [sic] dodged a bullet."

However, the couple ended up getting engaged and had their engagement photos at the same spot the viral TikTok was taken. Many marriage proposal stories have gone viral on the internet, including one that went wrong in front of an arena full of people.
At a Polar Park baseball game, a man got down on one knee and proposed to his girlfriend, and while everyone watched, the unexpected happened.
Everyone screamed and cheered while the girl covered her mouth with her hands. Suddenly, she rushed off into the crowd without saying a word -- but her actions spoke louder.
What happened shows that several things should be considered before proposing to someone, including how ready the person is to take the relationship to the next step.