People Joked Alaska Swimmer Trained with Whales and Sea Lions, Now She Won Olympic Gold
When an Alaskan swimmer won a gold medal at the end of July, her victory quickly became a story of inspiration at the Tokyo Olympics. The swimmer, who didn't even have an Olympic-sized pool to train in, made history! 
Lydia Jacoby turned attention to Seward, Alaska, when she won a gold medal at the Tokyo Olympics last month. The swimmer's hometown only has a population of 2,800, but her achievement has put it on the map.
The 17-year-old's surprise victory in the 100-meter breaststroke caused massive celebrations. The locals beamed with pride as they spoke of Jacoby, who became the first Alaskan swimmer to win Olympic gold.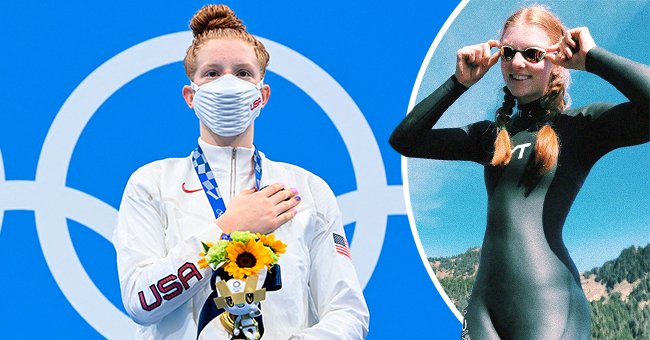 THE SWIMMER'S HUMBLE HOMETOWN 
The owner of Zudy's Cafe in Seward shared an anecdote about the swimmer. Judy Odhner explained that tourists would ask where Jacoby trained. Many of them didn't think the town had a swimming pool, and Odhner liked to tease them.
She would tell tourists that Jacoby trained in the cold waters of Resurrection Bay, a body of water that bordered their town. Odhner said: "They can't believe our teeny-weeny town has a pool."
A REAL ALASKA GIRL 
She also told NBC News that people would "easily believe" that the Olympic swimmer trained with all sorts of sea life like whales and sea lions.
She added that they just went with these assumptions because Jacoby is "a real Alaska girl, so it's believable." Jacoby, on the other hand, always knew her training might result in a medal. However, she never expected a gold medal. 
THE WINNING MOMENT WAS "INSANE"
She explained the moment she realized she had won as being "insane." Thankfully, her achievement might spur some change in her hometown. Her win has certainly encouraged the building of a new recreation center in Seward.
This center would feature all sorts of top-class facilities and include a brand-new swimming pool that is fit for Olympians. It was not a secret that Jacoby's town only housed one 50-meter pool. Her own school pool was just 25 meters.
HOPE FOR A NEW SPORTS CENTER 
There is hope that the city council will focus on amping up sports facilities in the town in the future. The Vice Mayor of Seward, Tony Baclaan, indicated that the topic certainly was on the table. 
He shared: 
"We've scheduled a work session ... and I expect the subject of a new pool is going to come up. Lydia had to leave town to train in an Olympic-size pool. So absolutely there is renewed interest in this."
ALASKAN OF THE WEEK
U.S. Senator Dan Sullivan, R-Alaska, will be making Jacoby the first two-time recipient of his "Alaskan of the Week" award. Not only did she rise above the limited facilities in her town, but she also made the most of the 2020 restrictions.  
The swimming pool at Seward High School shut its doors in 2020, so Jacoby did what she could. The swimmer skied and used her garage as a gym where she lifted weights. This was her routine until she could travel again.
HARD WORK PAID OFF
Once restrictions lifted, the swimmer headed to Anchorage for more training in an adequate pool. All of her hard work paid off, and she reaped the rewards at the 2021 Olympics!  
With a positive buzz in the air because of Jacoby's achievement, locals of Seward believe that this big moment in sporting history will spur town officials to build a new pool.