Mike Epps' Pregnant Wife Kyra Robinson Flaunts 8-Month Baby Bump in Fitting Gray Dress in Photos
Mike and Kyra Epps are expecting their second child together. Recent photos displayed Kyra's baby bump and showed the couple's excitement about their newest member. Scroll down to see their delightful photos.
Acclaimed actor Mike Epps is one of the most prominent stars in Hollywood. With his sense of humor, wit, and acting chops, the funnyman has been at the top of the comedic hierarchy for years.
Two of his many iconic films include "The Hangover" in 2009 and "Next Friday" in 2000. Besides his successful career, Mike is also a proud family man and a doting husband.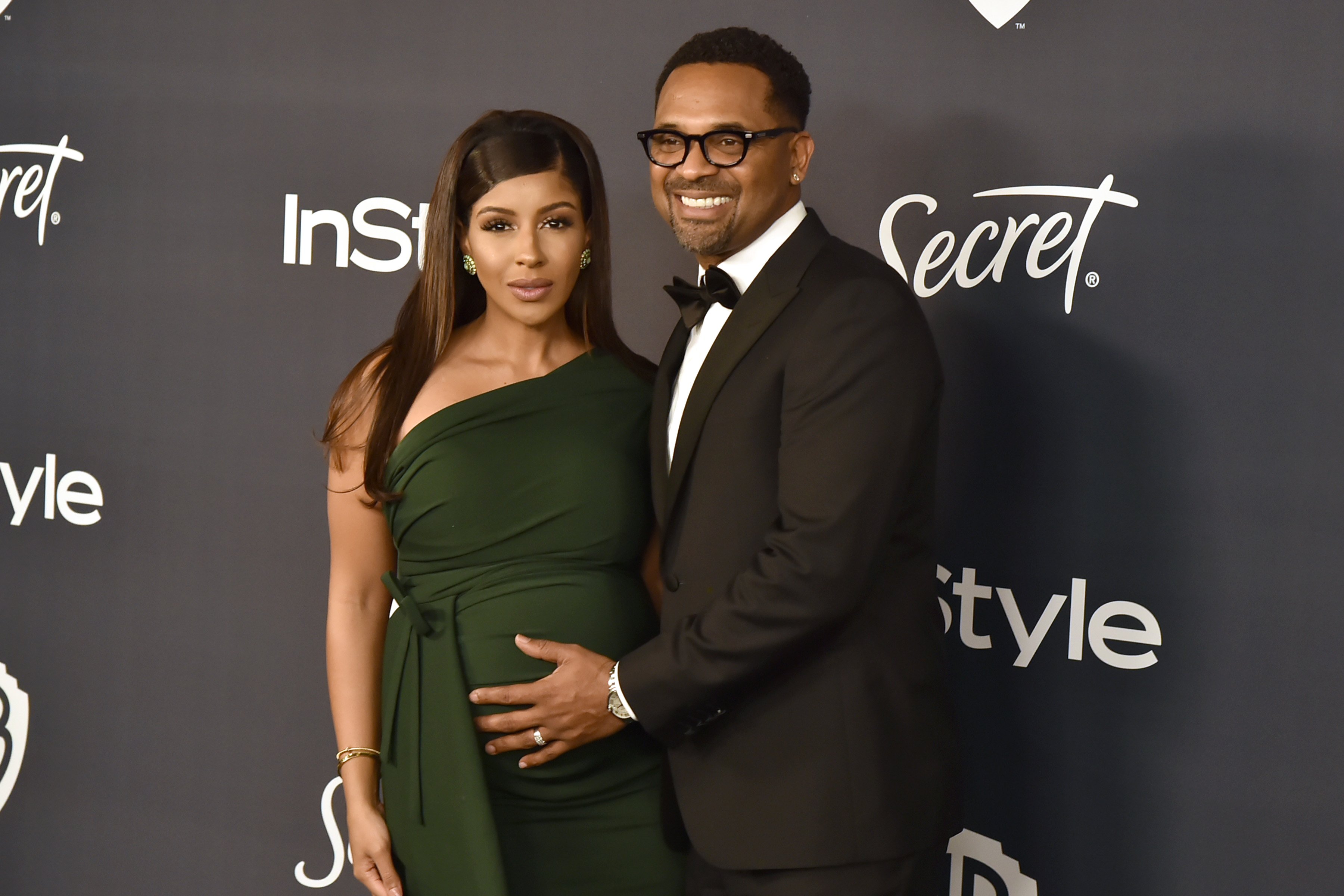 Mike is married to TV producer Kyra Robinson Epps for two years. After announcing they are expecting their second child,  Kyra updated her fans with two photos. On the first photo, she wrote:
"My Big Guy! Making babies and working on houses all summer..."
Kyra smiled softly with her right hand around her husband's hips. She wore a tight gray dress that emphasized her pregnant belly, while Mike, who showed off his iconic afro hair, wore a white shirt and green pants.
Several fans quickly commented on the sweet couple's photo with loving and kind remarks, while others simply dropped heart emojis. "Beautiful couple," a follower gushed in the comment section. 
Kyra gave her fans another view of her simple yet elegant look and her growing baby bump in the second picture. The beautiful mom posed sideways with her arm folded in the left part of her hip. 
Besides her perfectly polished blue nails that complemented her background, she accentuated her plain dress with minimal silver accessories. In her captions, Kyra noted that she is now eight months pregnant.
The fabulous mom added that she couldn't wait to meet her little one. Kyra's legion of fans and celebrity friends felt her excitement as well, with one remarking, "You look amazing for 8 months."
The stand-up comedian said he doesn't want to be single for a long time.
Kyra's unborn child will be her second one with "The Upshaws" actor. The admirable couple is already doting parents to one-year-old Indiana Rose, whom they welcomed in March 2019.
Kyra's unborn child will be Mike's sixth child. Besides Indiana Rose, the "Meet the Blacks" actor is a father to four beautiful daughters Bria, Makayla, Mariah, and Maddie.
Makayla and Bria are Mike's children from two previous relationships. He shares Maddie and Mariah with former wife Mechelle McCain, from whom he divorced in 2017 after 12 years of marriage.
The former pair joins the list of celebrity couples with expensive divorces. According to their divorce settlement, Mike's shares include ten properties in Indiana, three luxury cars, and a private helicopter. 
In addition to the properties he is keeping, Mike is obliged to pay Mechelle $25,000 a month in spousal support for six years, on top of his $15,000 monthly support for their two children.
Besides receiving financial support from her ex-husband, Mechelle is keeping a few luxury cars herself. The "Friday After Next" actor is also paying for his daughters' private school expenses.
Mike and the "Forgiven" actress have agreed to have joint legal custody of their children. Meanwhile, the former couple is still processing their physical custody agreement.
As much as fans believed that Mike quickly moved on from Mechelle, he struggled to adjust to singlehood. The stand-up comedian said he doesn't want to be single for a long time.
Following his divorce from his ex-wife, Mike began dating Kyra shortly after meeting her at an airport, and they became engaged in 2018. The pair tied the knot in June 2019 in Newport Beach, California.