Kirsten Storms' Life after 'General Hospital' including Undergoing Emergency Brain Surgery
It appears Kirsten Storms has adopted a new hobby following her exit from the long-running show "General Hospital," for medical reasons.
Knitting is the new hobby for actress Kirsten Storms, who recently went under the knife to fix a potentially life-threatening condition.
The 37-year-old took to social media to open up about undergoing brain surgery to remove a fluid-filled cyst attached to the lower portion of her brain.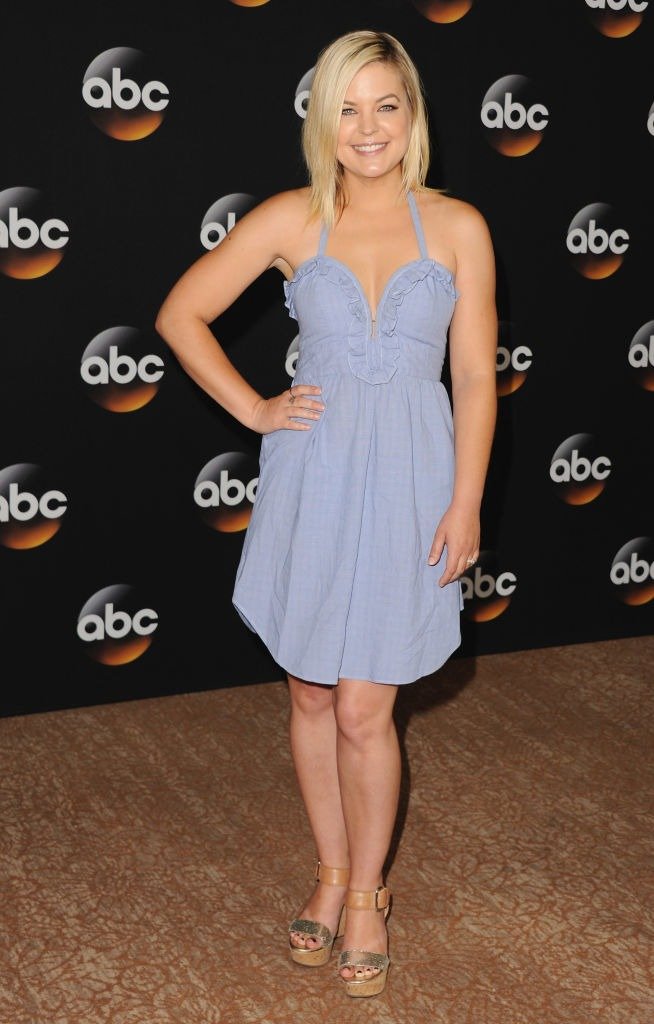 To facilitate her seamless recovery, Storms revealed she was taking a step back from her role as Maxie Jones on the Daytime drama "General Hospital." The news has left fans frantic, even as they encourage her to focus on her health and recover seamlessly.
FIXING "RANDOM HEALTH ISSUES"
Storms went candid about her health complications in June, revealing she had overlooked bouts of health issues over the years. Sadly, those seemingly random health issues progressed to more serious symptoms like neck pain and migraines these past months, forcing her to undergo an MRI.
The test results revealed the cyst, finally availing all the answers to Storms' prolonged medical issues. Luckily for her, the condition was fixable, as it was yet to result in serious complications.
Although the actress was admittedly nervous before the surgery, she underwent the procedure two months after the discovery, emerging successful.
STORMS RELIED ON HER SUPPORT NETWORK
Kirsten Storms also reflected on how she found solace in family, friends, and colleagues, who supported her in the months leading to her surgery. 
The icon acknowledged her work family, who offered comfort during her emotion-packed moments. She went on to express how excited she was to return to the set of "General Hospital" soon after her recovery.
STORMS' LIFE POST-SURGERY
While the whole ordeal was a scary experience, it led to some big changes in Storms' life. She opened up about some of these changes in her social media post.
Preparing fans for a possible new look, the "Zenon" star admitted a part of her hair got shaved during her surgical procedure. She went on to reassure fans that the hairstyle was temporary.
In addition to learning to appreciate her support system, the star had picked up some new skills, with knitting topping the list. Referring to the picture she shared on the post, which featured several rolls of yarn and an incompletely knitted green sweater, she wrote:
"These are two projects I started a few weeks ago, and I am looking forward to finishing them before I return to work."
Storms concluded the lengthy post with a note of love to all her fans and well-wishers. Many reciprocated the outpour of love, flooding the comment section with heartfelt messages of quick recovery.
HER CHAOTIC LOVE LIFE
Despite getting all the love from fans, the mother of one's romantic life is not so rosy. Following her split from ex-husband Brandon Barash in 2016 after three years and one son together, Storms hooked up with John Farrow.
Their relationship took a downward dive when the star ended up nose-deep in a lawsuit of $30,000 after Farrow skipped bail. Reports show that the actress stood in for Barash in 2017 following his arrest on a drug charge.
American Contractors' Indemnity claimed to have posted Farrow's bail only after Storms agreed to put herself on the hook. Sadly, the star automatically inherited the debt after her then-boyfriend skipped out on the bail a month later, being MIA for a court hearing.
Before that, Storms had been romantically linked to Josh Handerson, Ben Hogestyn, and Erik-Michael Estrada. According to news outlets, the talented actress is currently in a relationship with musician Elias Reidy, whom she has dated on and off since 2006.
STORMS' PREVIOUS BREAKS FROM "GENERAL HOSPITAL"
Before undergoing her brain surgery, Storms had taken a few breaks in the last decade resulting from health issues. In 2012, she took time off from the show due to endometriosis.
The icon took another break in 2016 to heal from issues related to stress and a skin condition. Barely a year later, the "Days Of Our Lives" star went candid about her battle with depression following fans' insensitive reactions to her frequent breaks.
Luckily, the Maxie Jones role player overcame those dark moments, putting her mental health in check. She couldn't be more grateful to have finally identified the cause of her years-long health challenges and fixing it for good.