Steve Harvey's 3rd Wife Marjorie Flaunts Louis Vuitton Airplane Bag Worth $39,000 — See Photos
Steve Harvey's wife, Marjorie Harvey, showed off her lavish lifestyle, this time flaunting an airplane handbag that costs thousands of dollars. Check out her posts about her unique bag below.
Besides being a renowned host on television and the international stage, Steve Harvey is also one of the most famous comedians today. He is happily married to his wife, Marjorie Harvey, for more than two decades.
Marjorie, 56, and Steve join the list of celebrity couples with enduring marriages in Hollywood, an industry known for messy divorces. Besides their inspiring marital union, the pair have been hailed for their impeccable sense of style.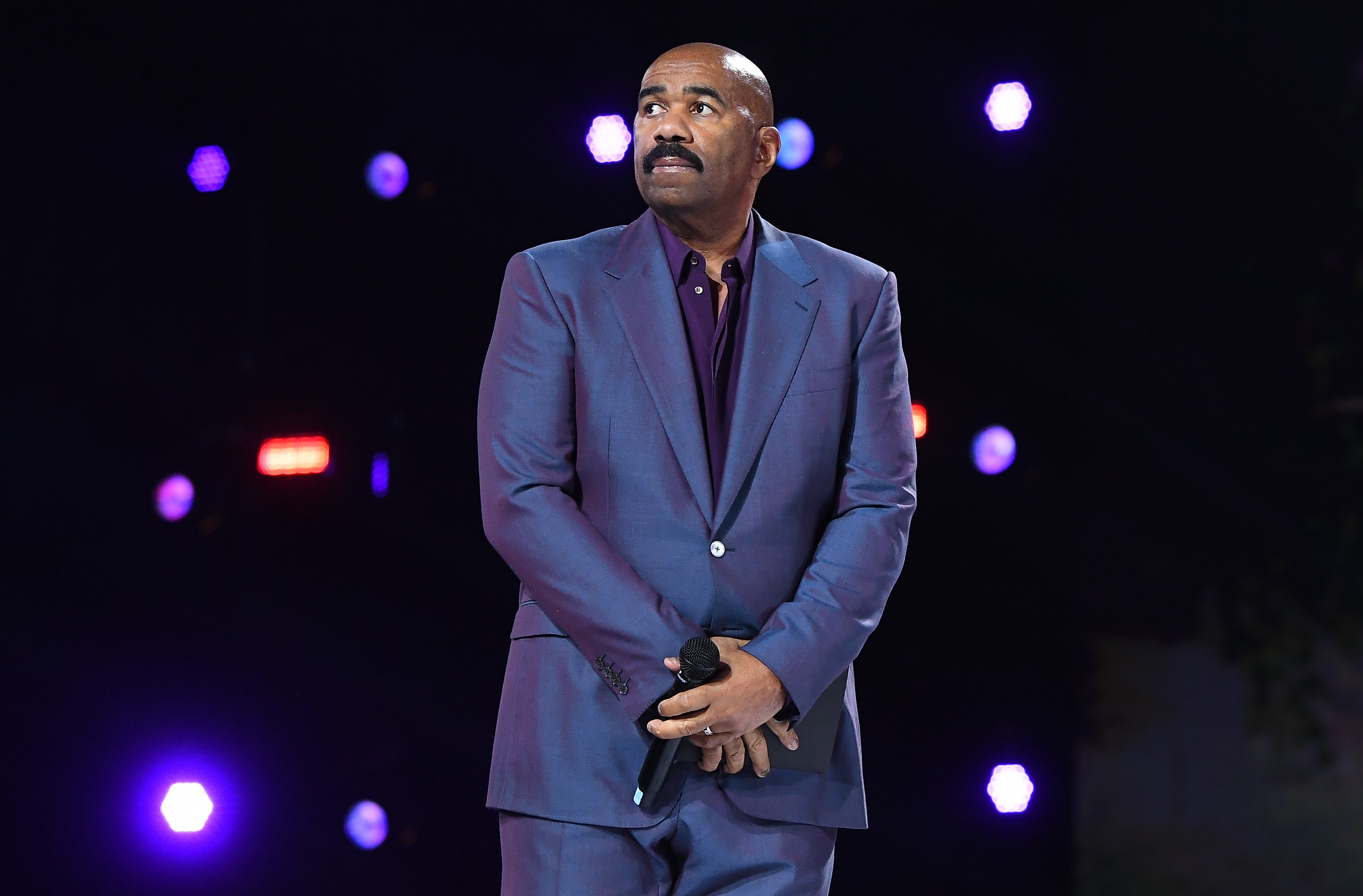 While Steve, 64, is notable for his display of dapper suits, Marjorie is known for having a penchant for stylish handbags. She recently posted a video on Instagram showing off a unique Louis Vuitton bag. Laughing, she said in the clip:
"Did you all send this as a gift? What am I supposed to do with this?"
The handbag, worth $39,000, was patterned from an airplane with LV prints around it and two black straps in the middle. Virgil Abloh designed the purse for the fashion label's Fall/Winter 2021 collection.
The clip amassed more than 580,000 views, with thousands of amused fans sharing their mixed reactions in the comment section. "If it can fly you to Paris take it!!!" a fan exclaimed.
Although the bag exuded a vacation-like vibe, some followers seem displeased about the handbag's shape as it looked unpractical and too bulky. "I hate that entire design," wrote one fan.
Other fans were curious as to how it would hang from Marjorie's arm. The fashionista mom provided them with a glimpse of herself carrying the handbag in a separate post.
The photo showed Marjorie standing on a driveway with a beautiful garden landscape behind her. The stylish mom simply donned a matching black shirt and pants, as well as fuzzy slides.
Steve and Marjorie have been married since 2007 after meeting in a comedy club in late 1980.
Marjorie posed sideways, letting her long hair with highlights cascade down to her shoulder. While holding a phone, she hung her airplane handbag on her left arm with her left knee bent.
Marjorie's airplane handbag hung on a tilted angle, which left fans feeling dismayed. A fan described it as unconventional yet cool, while another suggested she could use it at fashion show events.
Meanwhile, celebrities admired the shape of her handbag. Rapper LL Cool J's wife Simone Smith adored the bag, while singer Tamar Braxton commented that Marjorie should show it off.
Actress Monyetta Shaw was speechless, simply dropping fire emojis to describe the fashionable item, while rapper and producer Swizz Beatz wrote Marjorie looked "fly" with her fancy handbag.
Marjorie's handbag did not only spark mixed reactions on Instagram; it earlier drew negative reviews on Twitter. Given the bag's high price, a Twitter user wrote that a person could buy an actual plane for a lesser price. 
In Abloh's defense, he said his inspiration for the handbag's design came from "tourist vs. purist" archetypes. Whenever he designed a bag, he said he relied on his organizing principles.
You can buy an actual plane for less. pic.twitter.com/Egwh3A7tcp

— 🦜 Valeska 🦈 Vaccinated 💉 (@vah0603) April 3, 2021
Marjorie and Steve are doting parents to seven blended children. They are known for having a jet-setter lifestyle, and traveling together is their way to bond with their large family. 
The proud mother of seven would document their travels on her social media feed. She recently shared a photo of herself enjoying a tropical vacation in St. Barts in January 2021. 
She also shared several snaps of herself looking chic and classy. She explored the picturesque spots in Cairo, Egpyt, including the Great Pyramid of Giza, the country's top tourist destination.
Steve and Marjorie have been married since 2007 after meeting in a comedy club in late 1980. While fans admired their long relationship, Steve admitted he and his wife once broke up due to the comedian being homeless.
But youthful-looking couple have evidently overcome all challenges that have come their way. They recently celebrated their 14th wedding anniversary in June 2021 and shared heartwarming tributes for each other online.