Meet Olympic Champion Allyson Felix's Husband Kenneth Ferguson and Their Daughter Camryn
Allyson Felix made history at Tokyo 2020 by becoming the most decorated track athlete in Olympic history. She is backed by her incredible family comprising her husband Kenneth Ferguson and their adorable daughter Camryn. 
On Friday morning, August 6, 2021, American athlete Allyson Felix won a bronze medal in the women's 400m finals at the just-concluded Tokyo Olympic Games. 
The medal was Allyson's tenth at the Olympics, making her the most decorated track-and-field Olympian ever. In the US, Allyson's mom, Marlean Felix, her dad Paul Felix, her brother Wes, and her two cousins watched the historic moment on television.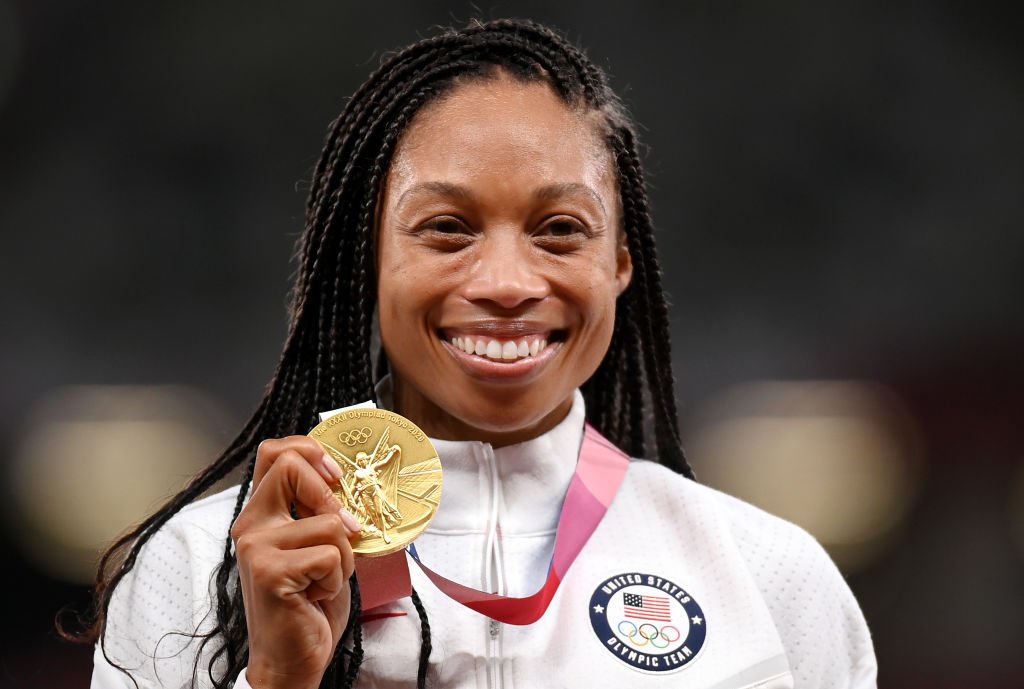 They were joined by the 35-year-old athlete's husband, Kenneth Ferguson, and their two-year-old daughter, Camryn, who was proud of her mom's achievement. 
However, there was more to come. On Saturday, August 7, Allyson and the US women's 4x400m relay team won gold at the 4x400m relay finals. It marked Allyson's 11th Olympic medal and solidified her as the most decorated female in US track and field history. 
The 4x400m relay finals at the Tokyo Olympic Games was also the final race of Allyson's Olympic career and was a fitting way for the iconic athlete to bow out of the games. 
Speaking to reporters after the race, Allyson noted it was a battle for her to return to the Olympics after welcoming Camryn in 2018, especially as critics questioned her ability to compete while being a mother. 
She said she went through challenges in the fight, and she is where she is supposed to be. The decorated Olympian said there had been many women before her who were silent about their fight. However, Allyson stepped out and said her daughter gave her the courage to do so. 
Allyson is a proud mom of her daughter and a loving wife to her husband, Ferguson. The couple shares a beautiful love story, which stays strong to this day. Like his wife, Ferguson is a former sprinter and hurdler. 
There is no certainty about when the couple met, but Ferguson hinted at it when he paid tribute to Allyson on her 35th birthday in November 2020. He shared a picture of them together and captioned it: 
"Its funny that lately you've been talking about your age and it seems that you and everyone else knows you turned a year older except me." 
Ferguson said that in his eyes, Allyson is exactly the way she was when he set eyes on her for the first time 18 years ago in Palo Alto. He added that she is beautiful and fine before wishing her a happy birthday. 
Allyson and Ferguson are private about their affairs. Hence, their wedding date is not publicly known. However, the love the couple shares is clear for all to see.
Besides having a great athletics legacy, Allyson also wants to have a mom legacy.
In April, Ferguson shared a picture of him and Allyson sporting white Fila tops, jeans, and white sneakers. Their daughter posed between them, rocking a blue-and-red Fila sweatshirt, jeans, and white sneakers. He captioned the post, "the year is 1995….you had to be there."
Camryn is a blessing to her parent's union. Since her arrival via emergency C-section in November 2018, the little tot has taken center stage in her super mom's life. 
In June, Allyson shared pictures and videos from the US track and field Olympics trials. The pictures and videos showed her and Camryn running on the track. The adorable girl was all smiles and looked very happy doing what her mom does best. 
In the post's caption, Allyson wrote, "After the race was THE race. The future is looking bright!" She congratulated the athletes who qualified for the Olympics and urged those who fell short to keep going because they are capable of more than they could possibly imagine. 
A day before taking to the tracks at the Tokyo Olympics, Allyson shared throwback pictures of herself and her daughter, including one showing them after Camryn's birth. She also shared videos showing how she discussed coping with athletics training after childbirth. 
In the post's caption, she said getting to the track to compete at her fifth Olympics was an incredible victory because she experienced the hardest years of her life in the journey. She hoped that people would understand her fight.
Allyson added that as an athlete who was told she was too old, a mother who was not sure she would live to raise her daughter, and a woman told to know her place, she hoped people would see that for her, it was much more than what the clock said. 
After an inspiring performance at the Olympics, Allyson returned home to her husband and daughter. Ferguson was glad to have his wife home and duly paid tribute to her in an Instagram post. 
He shared a picture of him and Allyson posing with their daughter while holding her bronze and gold medals. In the post's caption, the proud dad and husband wrote:
"So proud of her! To everyone else she's the 🐐. But to us she's just Shug/ Mommy 🤗 welcome home baby. You are so loved!" 
Now that the Tokyo Olympics is over, Allyson and Ferguson are looking forward to expanding their family. The multiple Olympic medal winner once said she would love to have more children after the Games and grow her family in the future. 
When the couple eventually has more kids, they will be ready to parent their brood as they have done effectively with Camryn. 
Allyson hailed her husband's fatherhood skills in a Father's Day tributary post to him, saying it has been pure joy watching him be a father to Camryn. She also appreciated her dad for being the greatest father and always being there to support her.
Besides having a great athletics legacy, Allyson also wants to have a mom legacy. Last week, she shared a picture showing her posing with Camryn while her mom stood behind them. In the post's caption, she said every mom has a legacy in the making and that hers is her daughter, Camryn. 
Allyson explained that as an Olympic athlete, her legacy is more than medals but about changing the world for her daughter and every daughter out there. There is no arguing the fact that she is doing just that.