Susan Lucci Tenderly Hugs Her Spouse, Who Predicted the End of Her Previous Engagement, in a New Romantic Snap
Veteran actress Susan Lucci and her husband, Helmut Huber, have come a long way together, having spent more than four decades as a couple. A recent picture of the duo showcased their sweet bond.
Actress Susan Lucci was only 18-years-old when she met her husband, Helmut Huber. The then aspiring actress was engaged to marry another man, but Huber had already informed Lucci's mother that the engagement was doomed to fail.
Howbeit audacious, the Austria-born Huber, who is nine years older than Lucci, felt he was a more competent suitor for Lucci, and his prediction seemed to have worked out fine for the couple.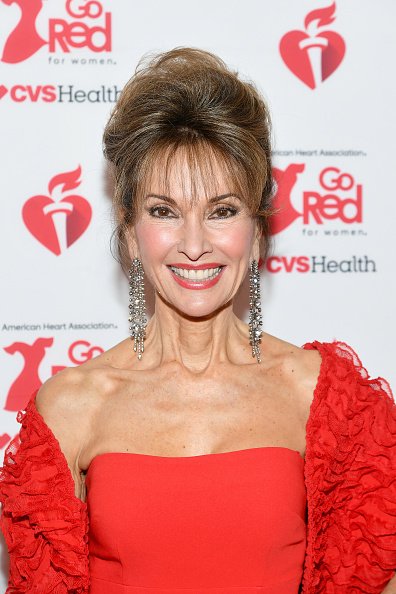 CALLING OFF HER ENGAGEMENT
Before she glued the world to her talent, Lucci was just a bright teenager working as a waitress at the Garden City Hotel in New York, where Huber worked as the executive chef.
At first, it was not love at first sight for the "All My Children" star when she met Huber. Their age gap and her engagement made it impossible to think of him as a man who could be after her heart.
Fortunately, Lucci's engagement was held at the hotel where Huber and Lucci both worked, and during the event, the bold chef spoke to Lucci's mom, explaining that the thing between Lucci and her fiance was not heading anywhere.
Luckily for the couple, Lucci ended her engagement a few months after that decisive night and, about a year later, got married to Huber. Since then, their relationship has stood the test of time, making them a pair to be envied.
LOVELY COUPLE SNAP
With more than forty years together, the 74-year-old actress looks immersed in love and admiration for her long-time spouse. The actress frequently shares pictures of the pair, and it is always a cozy sight.
Recently, the ageless Lucci posted a sweet snap of her and her husband enjoying a cool moment together in the sunset. From the caption of the post alongside the boats in the background, it looks like the duo had a fishing trip in mind.
The best part of the snap was the lovely affection shared between the duo. Lucci tenderly hugged her man, and the cheerful Huber affectionately responded with a smile on his face making sure to tighten her grip on his chest.
SECRET OF THEIR UNION
In a time when celebrity marriages crash in their numbers, it is almost certain that Lucci and Huber have a secret to their long-term relationship, and they are never scared to share it with their fans.
Lucci once revealed that she admired her husband's self-confidence and his ability to make her laugh. Huber's sense of humor has been his sweet hold on his famous wife.
The award-winning actress also enjoys being a hands-on mom to her daughters and a supportive grandmother. Lucci's daughter, Liza, once revealed that her son had cerebral palsy.
Lucci noted how proud she was of her family, especially her daughter, for publicly speaking about her son and his condition. The actress is always there for her family, and that is why everybody loves Lucci.