'Happy Days' and 'Brady Bunch' Stars Create Real-Life Mashup Posing Together in a New Snap
Legendary Hollywood stars Susan Olsen and her "Brady Bunch" co-star, Marion Ross, posed together for a picture, reminding fans of the good old days.
It would be a dream come true for most fans to see "Brady Bunch" and "Happy Days" star Susan Olsen and Marion Ross feature in a movie together again.
It has been over forty years since the pair were placed side by side in one of the most successful sitcoms of the 70s, "Brady Bunch," but a recent picture of the icons reminded fans of their thrilling combination.
Olsen took to her Instagram to share a lovely picture of her and Ross, informing fans of their latest collaboration together, "Josh Gates Tonight," which will be aired on Discovery Plus.
Fans who want a glimpse of the two stars together will do well to tune in to the show, but for many others, the mere sight of Olsen and Ross together was enough excitement.

Both stars appeared all smiles in what looked to have been a lovely moment spent together. Many fans rushed to the post to express their excitement. One fan wrote, "Cindy Brady and Mrs. C, can't go wrong with that combination."
Then, another fan added, "Mrs. C and Mrs. Brady, can't think of anything more special than that. Thank you both for blessing our childhood with innocence."

Olsen played the role of Cindy Brady, the youngest of the Brady girls in "Brady Bunch." From the series, little Olsen became a household name.
These days, Ross spends her time relieving her legacy.
After leaving the show which she spent five years on, the 60-year-old has been a part of all Brady-related specials and reunion movies.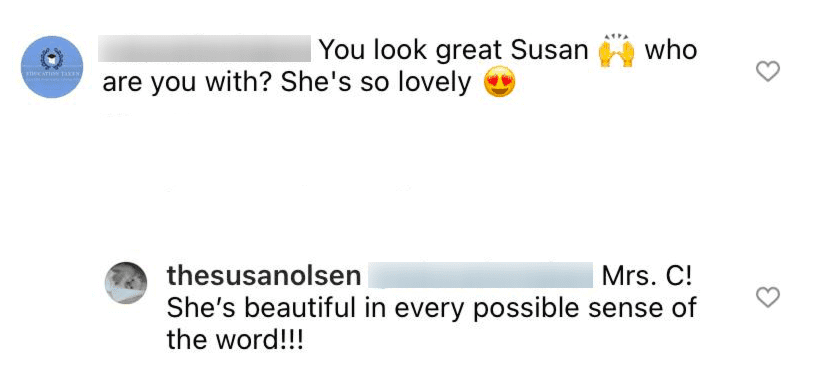 After a bit of break, in pursuit of self-development, Olsen returned to the movie world in the 90s only to be found in the midst of controversy; there were claims of her acting in adult movies. Since the turn of the century, Olsen has picked up minor roles where she flexes her acting skills.
Her old-time co-star, Ross, made her name as Marion Cunningham in the hit series, "Happy Day." Life as an actress was filled with ups and downs for Ross, but she has managed to keep her head above the water.
Her divorce and other personal struggles put a halt to Ross's career, and for a while, she found it difficult to get acting jobs. However, featuring on "Happy Days" was the game-changer for Ross.
After acting in the famous sitcom, Ross picked up other roles in both films and TV shows. These days, Ross spends her time relieving her legacy.