'Modern Family' Star Eric Stonestreet Is Engaged to Girlfriend Lindsay Schweitzer – Meet His Pediatric Nurse Fiancée
Eric Stonestreet from "Modern Family" announced his engagement to girlfriend Lindsay Schweitzer on social media. Their famous friends publicly congratulated them.
Even though Eric Stonestreet's outstanding portrayal of Cam in "Modern Family" made several fans believe he was gay, he's actually in a relationship with Lindsay Schweitzer, a pediatric nurse.
On August 22, Stonestreet posted a three-image slideshow on Instagram to reveal his and Schweitzer's engagement. His post got over 400,000 likes in less than a day.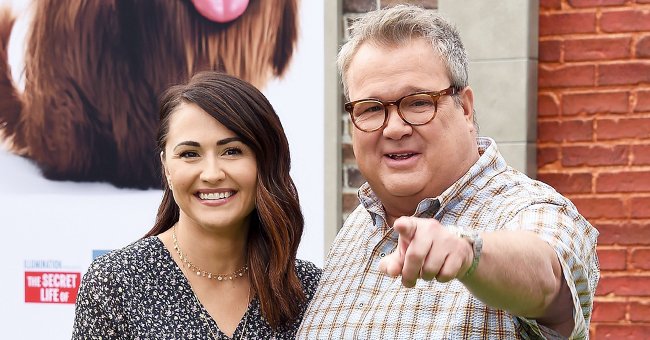 In each image, the actor showed a different emotion – nervousness, love, and over-the-top excitement. In Schweitzer's case, she flashed her beautiful smile in all three pics.
Shortly after sharing the slideshow (found at the bottom of the page), the couple's famous friends, including Michael Bublé, Bethenny Frankel, Gwyneth Paltrow, congratulated them in the comment section. 
The pair met during the Big Slick charity weekend in Kansas City in mid-2016, proving that she's involved in charity work. They were first reported as a couple in August 2017, though. 
Since they prefer keeping their relationship away from the spotlight, the details of their romance are scarce. However, Stonestreet has posted hilarious videos on social media of him playing pranks on her.
During an interview with Ellen DeGeneres, who once described Schweitzer as "lovely," he talked about the best prank he ever got on her, and it involved "Modern Family" creator Christopher Lloyd.
Stonestreet is not the only former "Modern Family" star who has attracted attention lately.
For about two months, he grew a "ridiculous" mustache that Schweitzer hated. To make things more believable, he told her the show would include it in the last season and even asked Lloyd to send him fake emails with "story ideas" for the mustache. 
The night before filming, Stonestreet got up in the middle of the night and shaved it. When Schweitzer woke up, she was understandably worried and confused, and he told her, "Oh my God! I sleep-shaved!" Luckily, she enjoys his pranks.
Before Stonestreet started dating Schweitzer, he and Charlize Theron sparked dating rumors. About it, he joked that he wished people would stop spreading those rumors as Halle Berry was getting jealous.
Stonestreet is not the only former "Modern Family" star who has attracted attention lately. Sarah Hyland and her fiancé Wells Adams shared how they are re-planning their wedding after two delays. Modern weddings are around the corner!