Bella Hadid Joined Dua Lipa's Girl Gang for the Singer's Birthday Vacation
Dua Lipa celebrated her 26th birthday in true pop star style: On vacation with her girl gang present. The "Levitating" singer pulled out all the stops for her big day and even invited Bella Hadid for the festivities. 
Dua Lipa is a chart-topping pop sensation who can use a little bit of a vacation here and there. As a result, the fun-loving Leo organized the perfect getaway for herself and her loved ones for her birthday. 
Although pop stars are surrounded by rich and famous peers all the time, that isn't always the case during their private moments. However, Dua Lipa could say the opposite about herself since her squad includes supermodel Bella Hadid.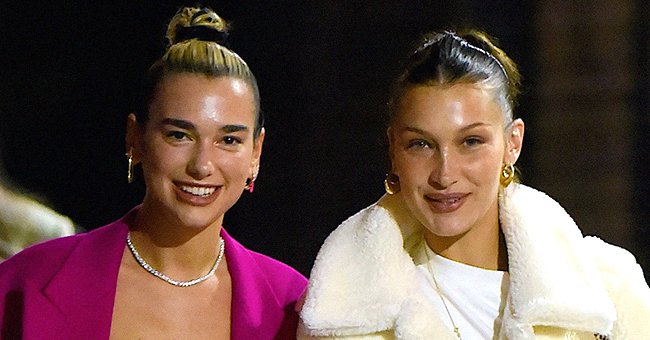 Lipa and Hadid may seem like a match made in Hollywood heaven; however, it's actually Lipa's boyfriend who brings them together. The 26-year-old superstar has been dating Anwar Hadid for almost two years now. 
The cool couple reportedly bonded over his music when Lipa was just friends with Anwar's older sister Gigi. Fortunately, they hit it off and subsequently created one of the most coveted squads of supermodels and pop stars. 
Lipa and her supermodel future sister-in-law have posted images from an unknown holiday destination over the past week. The pictures show the pair enjoying their time out with friends and family as they bond. 
Between Lipa and Hadid, fans were treated to images of the bikini-clad ladies holding hands and lounging around. The pictures also showed glimpses of the group enjoying the scenery and having private dance parties. 
Everybody looks at ease in the images, proving that having fun with your significant other's siblings is possible. Lipa's younger siblings were also part of the group vacation list and were tagged in both Hadid and Lipa's posts. 
Although this vacation probably is the most fans have seen Lipa and Hadid with each other, the famous women have hung out before. They were even spotted out at a restaurant in London before their trip. 
Lipa also celebrated Gigi Hadid's boyfriend Zayn Malik's birthday with the entire family back in January. Sources close to the star revealed that Lipa is close with everyone in the family after spending plenty of time with them. 
The feeling seems to be mutual for Lipa among the Hadid family. Gigi shared a birthday tribute to Lipa on her Instagram story and gushed about how much she loved her, and the matriarch Yolanda Hadid did the same on her page.