Bindi Irwin and Husband Chandler Powell Gush over Daughter in Sweet Instagram Posts
The young couple dotes on their little girl, whom they welcomed earlier this year, and continue to share glimpses into her upbringing with their fans. 
Bindi Irwin and spouse Chandler Powell took to social media to gush about their only child Grace Warrior as she reaches her fifth-month milestone. Taking to Instagram, Irwin wrote:
"Our Grace Warrior is five months old. She loves being outside on adventures with us, cuddling up to hear a good story feeling/grabbing everything around her and giggling."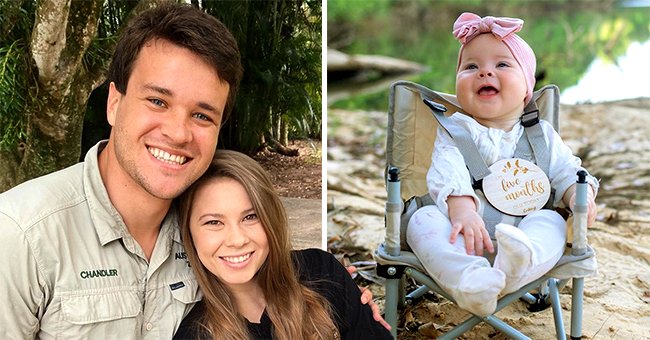 The 23-year-old continued: Every day she reminds us of the magic in even the simplest of things," she concluded. Along with the sweet post, Irwin posted cute snaps of her baby girl.
Little Grace was pictured adorably widely smiling in the first shot while looking up strapped in her miniature folding camping chair.
She switched up her mood by putting on a serious face in the next while focusing on her wooden medallion wrapped around her neck that read: "I'm five months old today Crickey."
She was dressed in a cute look for the outdoor adventure and sported a pink head wrap paired with a floral onesie. Fans in the comments section swooned over her, with one person commenting, "A ray of sunshine," alongside a rainbow emoji.
Child star actress Emmy Perry said Grace is pure magic and wrote, "Happy five months beautiful Grace Warrior!!! You are pure magic!"
Dad Powell, 24, also had a few heartwarming words for his princess in a separate Instagram post sharing the same photos, and he captioned it, "5 months of sunshine with our happy girl," adding:
"Recent weeks have been filled with smiles, laughter, rolling around and grabbing everything within reach. We love you, Grace."
It is not the first time that Grace has been spotted in the mini outdoor chair. Earlier this month, her mom shared a photo of her sitting in the chair between her dad and uncle Robert Irwin, who lounged in adult-sized versions.
The conservationist wrote on Instagram at the time, "Our Wildlife Warrior princess. Her smile is the best part of our day," alongside a yellow heart emoji.
The posts come while the couple enjoys a camping trip at the Steve Irwin Wildlife Reserve on Queensland's Cape York Peninsula.
Last week, Irwin revealed Grace had started to show signs of teething and shared a picture on Instagram of herself smiling with her beaming little angel on her lap.
The mother and daughter duo and other family members were enjoying some quality time together on the porch of their cabin at the time.