Tatyana Ali Shares Rare Breastfeeding Photo with Her 2 Sons Who Look like Twins - Check Them Out
Tatyana Ali shared one of the perks of motherhood as she confidently showcased a rare and precious breastfeeding picture with her two sons, who look like twins.
Actress Tatyana Ali has a successful career and a great family time with her husband and two sons. She has also been vocal about motherhood experiences, sharing her thoughts and stories via her social media platform.
Recently, the mother of two posted a photo where she wore an all-black sit-at-home type of outfit while relaxing on a couch, with her younger child by her chest, enjoying breastfeeding time.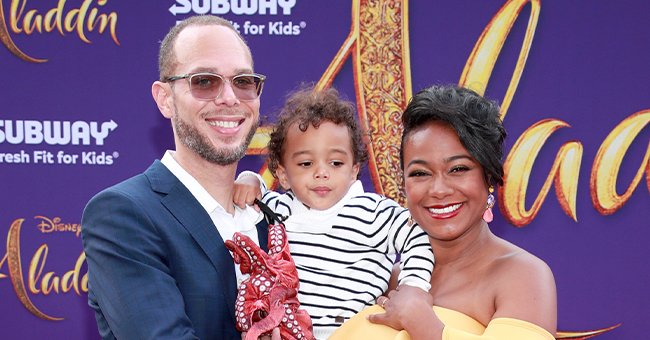 Ali's older child in his checkered shirt and jeans hovered around the feeding tot. The entire crew was engrossed in one or two things without paying attention to the camera; still, the unique snap was used to pass on a message.
The actress added a lengthy write-up to signify a "protest picture," as she lends her voice for black breastfeeding mothers' resistant movement. She wrote:
"I am bringing much needed hope and joy to my sisters who can and choose to breastfeed their babies but are bullied by "confused", uneducated people..."
She explained that she is on a quest to help mothers see that breastfeeding has "processes and nuances." The mother of two shared a peculiar story of a black mother who inquired about lactation from the hospital.
Sadly, the story did not end well, as CPS unjustly took her 15-month-old baby from her and another 6-day-old child. Nevertheless, Ali continued to explain the intricacies of the movement aimed at liberating mothers on all grounds about their kids.
The mother of two met her husband, Dr. Vaughn Rasberry in 2015, via a dating app.
ALI'S JOURNEY TO PARENTHOOD
The onscreen star became a mother in 2016 after welcoming her first son, Edwards Aszard, with her husband—the boy was named after his grandparents.
At first, it was a bit tasking juggling a career and family life, but the new mom maintained that heeding her grandmother's advice of making her own heaven, irrespective of the circumstances, helped her.  
Thankfully, she has had family and friends help out with their different words of wisdom and support in person. While speaking about being a new mom, she said:
"It's been great. My girlfriends have been awesome. The ones with babies, they're totally there for me...My sisters too!...Just having people come over..."
Ali stated that although she is a less strict parent than her folks, she has learned a few lessons from them, which would be implemented in her parenthood. The mother-of-two also described them as humble individuals who are polite to themselves and others.
HER PERFECT ROMANCE
The mother of two met her husband, Dr. Vaughn Rasberry in 2015, via a dating app. The following year, they announced their engagement, having established a concrete relationship and met face to face.
The pair celebrated their love in an intimate wedding ceremony in Beverly Hills, involving a few loved ones and close friends. In 2017, Ali admitted then that she was enjoying her 1-year-old marriage.
Ali talked about how they intended to celebrate the first anniversary and added that she and her husband have a dynamic connection that involves consistent communication.