Olympian Sydney McLaughlin Announces Engagement to BF Andre Levron Jr with Touching IG Tribute
Sydney McLaughlin is now engaged to her former NFL player boyfriend Andre Levrone Jr. The Olympian's engagement announcement came with a series of snaps and a heartwarming tribute on social media.
Olympian Sydney McLaughlin announced her engagement with former NFL star Andre Levrone with photos on her Instagram page. Sydney's announcement was also accompanied by a sweet message to her "future husband." 
The Olympic gold medalist's Instagram share left her 1 million followers stunned. Her fans filled the comments section with exciting emojis and congratulatory messages for the couple.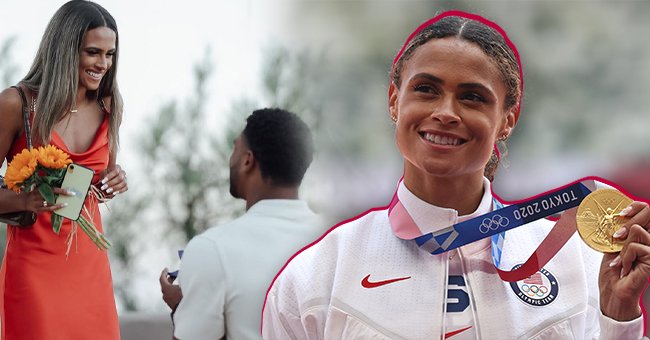 SYDNEY'S ANNOUNCEMENT
The photos showed Sydney and Levrone at a refreshing resort center with a beautiful flowery setting. The first slide captured the moment Levrone went on one knee and proposed to his bride-to-be.
Sydney wore a lovely shade of orange mini dress that looked perfect on her honey skin color. She matched her dress with a pair of brown high heel sandals and a brown shoulder purse, as seen in the second and third slides.
Levrone and Sydney, who have been together for more than 6 months, first made their relationship official in December 2020.
In her heartwarming letter posted alongside the photos, Sydney wrote about their beautiful relationship. She praised Levrone, referring to him as "the most God-fearing, passionate, honest, loving, hard-working, protective, and genuine man."
LEVRONE AND SYDNEY
Sydney isn't the only one who seems in love and happy about the advancement in their relationship, as Levrone Jr. also had nothing but praises for his fiance. Levrone wrote on his Instagram page: 
"May we never love one another cautiously, but instead always be eager to love one another extravagantly, in the manner that Christ loved the Church."
Levrone played for various teams, including the Baltimore Ravens and Jacksonville Jaguars, as an NFL player. He retired from the game at just 25. In his retirement announcement, he said it was a "difficult but necessary decision."
Sydney was quickly dubbed a top contender in the Tokyo Olympic Games after setting a new record in the U.S. Olympic Track and Field Trials in Eugene, Oregon, for the women's 400m hurdles.
The lovebirds, who have been together for more than 6 months, first made their relationship official in December 2020. The pair have been quite open about prioritizing their faith and each other in recent times.
Also, in 2016, during an interview with Catholic News Agency, Sydney explained the role that her beliefs played in her career. She noted that with the high demand and pressure on athletes, sticking to her faith has kept her running.
SYDNEY'S CAREER 
Sydney shares her love for sports with her siblings Taylor and Morgan and her parents, Willie and Mary. Her parents were both involved in track during their high school and college years.
Sydney's father, Willie, once noted that although he and his wife encouraged their children's love for sports and career choices, Sydney and her siblings are naturally interested in track and field.