Fantasia Barrino's Baby Daughter Has the Cutest Face as She Bonds with Her Big Brother in Touching Photo
After three months, Fantasia Barrino finally gave fans a glimpse of her baby daughter's face yesterday, and supporters could not hold back their joy. However, a recent post shared on Keziah's Instagram page left fans even more emotional.
American singer, songwriter, and actress, Fantasia Barrino got to experience the joy of motherhood for the third time after she welcomed her baby daughter— Keziah, in May 2021. 
Since announcing the birth of her bundle of joy, Barrino has let her fans in on the journey so far. She occasionally shares pictures that capture moments with baby Keziah, and a recent upload left netizens swooning.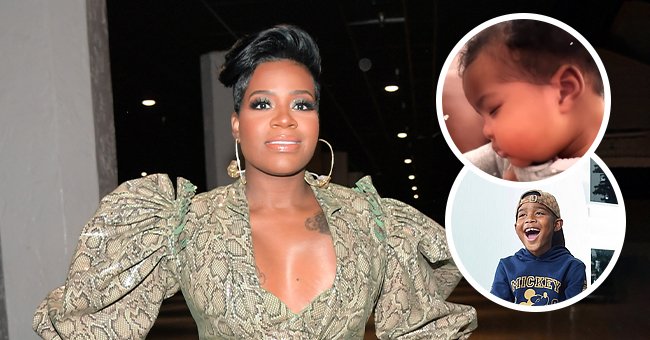 A post shared on Keziah's Instagram page featured Barrino's second child and son— Dallas Xavier, cradling his baby sister. The little man appeared to have a sweet bond with Keziah as he looked down at her pretty face.
Baby Keziah dressed adorably in a white onesie with yellow love designs. The cute infant rocked her short curly hair and beautified it with a white headband. She rested on her brother's bosom and appeared to be asleep. The post was captioned:
"Good morning from me and my other favorite Guy Dawwis🧸🎀💕 he said he has to go to school and that I couldn't go😔."
For months, Barrino's social media followers only got to see glimpses of what Keziah looked like. A majority yearned to see the child's face, but the singer kept her daughter's identity private until yesterday.
Taking to Instagram, Barrino shared the first snapshots of baby Keziah's face, as she commemorated three months since her arrival. The baby was dressed in a pink dress with polka dots and snuggled with a purple stuffed bear.
Barrino became a grandmother for the first time when Treyshaun welcomed a baby boy.
On baby Keziah's Instagram page, Barrino posted a picture of the little child in a bow. In the caption, the mother of three wrote in the infant's voice, noting that her mommy and daddy let her come out to play.
Barrino shares her daughter with her husband, Kendall Taylor, with who she tied the knot in July 2015. Although Keziah is the couple's first child together, the pair is also parents to kids from past relationships.
Barrino welcomed her first child and daughter, Quari, in 2001, and in 2011, the singer's representative— Sherlen Archibald, made the birth of her second child, Dallas, public.
According to Archibald, the child was born at Presbyterian hospital in Charlotte, North Carolina. Later on, Barrino noted that she felt blessed that Dallas was born healthy.
Furthermore, she thanked her fans for their well-wishes and continuous support. On the other hand, Taylor is a doting dad to his first child and grown-up son, Treyshaun. 
In 2016, Barrino became a grandmother for the first time when Treyshaun welcomed a baby boy, and in 2019, she experienced the joy again, following the birth of her step-son's second child.