Dark Side of Bob Ross' Empire - Former Partners & Steve Ross' Ugly War Over 'Joy of Painting' Legacy
Bob Ross shot to fame in the eighties, gradually building his flair for painting into a vast empire. However, the talented artist's world was not as picturesque as it seemed on the outside.
Best known for his TV show "Joy Of Painting," legendary painter Bob Ross built a legacy for himself that would last a lifetime. His posthumous recognition, spurred by his impressive internet presence, seemed to gain him more fandom among the younger generation.
The TV personality inscribed his name among legends with his artistic prowess, invaluable instructions, and priceless artworks. From games to memes and Google doodles, the late icon has somehow become a constant presence in today's world.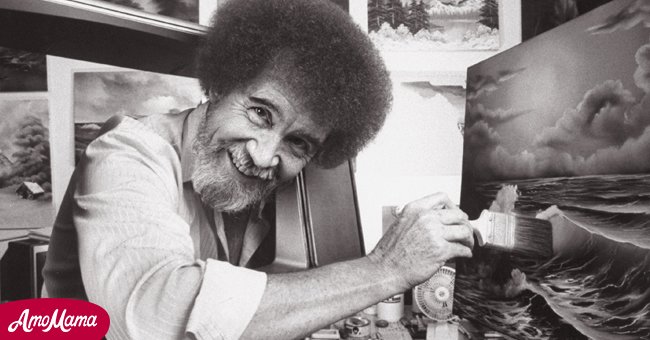 This strong posthumous presence has fueled more flames in Bob's empire, with the legend's son, Steve Ross, caught in the ugly war detailed in the Netflix documentary, "Bob Ross: Happy Accidents, Betrayal and Greed."
THE FATE OF BOB ROSS INC
Bob shot to fame under the management of his former business partners Walt and Annette Kowalski. The duo owned the company, Bob Ross Inc., which had sole rights over Bob's image and likeness.
Through their ownership of the company, the pair had a claim to the Bob name and everything pertaining to the brand. Ultimately, the mandate to carry on Bob's legacy fell on his former partners, and so far, they've done a great job at it.
Bob Ross: Happy Accidents, Betrayal & Greed is a maddening documentary about what actually went down behind the scenes of The Joy of Painting ... but rest easy knowing that the biggest revelation about this truly wonderful man is he secretly permed his hair. pic.twitter.com/Hq5VyFk1wU

— Netflix (@netflix) August 25, 2021
Following their retirement, the couple passed the management of BRI to their daughter, Joan Kowalski, who now runs the company. While this looks like a win-win situation, it wasn't for everyone.
RESULTING CONTROVERSIES WITH THE KOWALSKIS
The Kowalskis' ownership of BRI has stirred controversies since the nineties. Before his passing in 1995, Walt and Anette persuaded Bob to sign over the ownership of his name, likeness, and works to them.
Bob tried to reclaim ownership of his brand as he battled lymphoma in his last months, resulting in a protracted battle. In his final will, the painter specified that the rights to his brand would go to Jimmie, his half-brother, and Steve.
Them: How excited are you for the Bob Ross documentary?

Me: pic.twitter.com/VtyKpEt8z8

— NetflixFilm (@NetflixFilm) August 25, 2021
But the Kowalskis were not intent on adhering to his last wishes. Hence, they pursued lawsuits and made financial claims against Bob's family and estate, laying claims to everything related to Bob's work. The duo also warned Steve, who was also a painter, against using his dad's name for anything related to art and painting.
WHERE DOES STEVE STAND?
Born Robert Stephen Ross, Bob's son is upholding his dad's legacy in his little way, making waves as a prolific painter and art instructor. The 55-year-old was born in 1966, from Bob's marriage to his first wife, Vivian Ridge.
Growing up, Steve appeared beside his dad in most of his shows, as the grandmaster of painting thoroughly groomed him into a professional painter and "Ross-certified art instructor."
While Bob's efforts were in a bid to make Steve his deserving successor, the Kowalskis had other plans, which they effected seamlessly.
So you think you knew Bob Ross? From the painter's flirtatious ways getting him into trouble to the claws-out fight over who owns his name, here are 5 takeaways from the new Netflix doc about the cult hero who painted "happy clouds."
https://t.co/14g6wOs2sS

— Rolling Stone (@RollingStone) August 26, 2021
In the documentary, "Bob Ross: Happy Accident, Betrayal & Greed," Steve labeled the Kowalskis' actions as a betrayal of his dad's intended legacy. He accused the pair of trying to steal his father's name and succeeding.
In 2018, Steve sued BRI, accusing them of illegally licensing Bob's image. However, the judge ruled against him, causing him to lose his chance of reclaiming his dad's legacy.
After losing a lawsuit against the Kowalskis in 2018, Steve reached a settlement with them, allowing him to at least use his own name, Steve Ross, for business.
Wishing a happy birthday to our favorite painter, Bob Ross, who would've been 77 today.

We can all use a dose of his positivity right now ❤️ pic.twitter.com/mXPakt620v

— KQED (@KQED) October 29, 2019
ROSS' LIFE AND CAREER
Bob Ross was born in Daytona Beach, Florida, in October 1942. Being the son of Jack Ross, who was a carpenter and builder, the painting art legend learned carpentry from a young age. He also embraced his love for wildlife from his mom.
Before becoming a painter, Bob served in the Air Force as a drill sergeant. He picked up painting after being posted to an airbase in Alaska, inspired by the surrounding mountains.
The icon once disclosed that the mountains in his landscapes were reflective of his time in Alaska. He began working part-time in a bar to supplement his Air Force Paycheck, availing him the opportunity to sell his paintings.
Bob eventually learned the wet-on-wet technique, his signature painting style from William Alexander's TV tutorial, embracing it throughout his career.
Bob's passion soon led to his partnership with the Kowalskis, the establishment of his image, and the birth of his iconic show, "Joy Of Painting," which aired from 1983 to 1994," skyrocketing him to stardom.