Daily Joke: Daughter Encourages Her Retired Father to Do Something in His Spare Time
A daughter obsessed with controlling her father's life emailed him at night to find out how his day went and if he spent it productively. She was always concerned about her retired father's choices.
Irritated, the man replied that he spent most of the day sitting around the pool and drinking wine like always and couldn't understand why that was a bad use of his time. She always kept on nagging him about "doing something useful."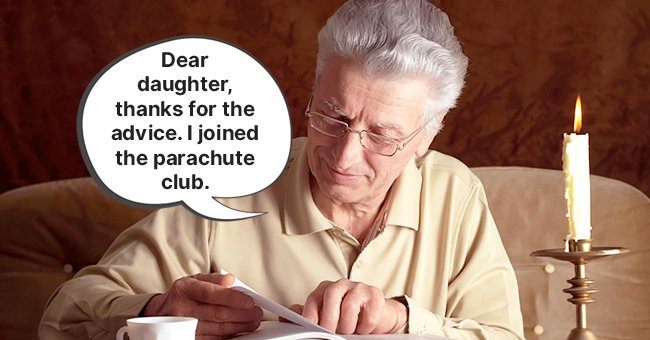 Whenever he countered her arguments about him doing something useful, his daughter would explain that she was "thinking of him" and wanted only the best for him. But he never understood.
Finally, she pleaded that he go down to the senior center close to his home and try to hang out with the guys for a while. The old man agreed but had it in mind to teach his daughter a lesson with his visit.
Off he went to the senior center the next day. At night, he emailed his daughter and informed her that he joined a parachute club. She replied, "Are you nuts? You're 73 years old, and now you're going to start jumping out of airplanes?"
Her father responded, telling his daughter that he even got a membership card before emailing her a copy. In no time, his phone rang, and on the other end was his daughter enraged:
"Where are your glasses? This is a membership to a Prostitute Club, not a Parachute Club!"
The old man pretended to be confused by the information and in a frantic voice, he said, "Oh man, I'm in trouble again. I really don't know what to do… I signed up for five jumps a week!"
The phone immediately went silent, and soon, another voice went on the line.  It was his daughter's friend. She informed the old man that his daughter had fainted.
A SENIOR WOMAN AND HER DOCTOR
After receiving a package from the hospital that contained her prescription, a senior woman immediately called her doctor, feeling troubled about the instructions she had gotten. She asked:
"Is it true that the medication you prescribed has to be taken for the rest of my life?"
The doctor told her that it was true. There was a long moment of silence on the phone before the woman said, "I'm wondering, then, just how serious is my condition because this prescription is marked 'NO REFILLS'."
If you enjoyed this joke, you might find this one even more hilarious. It's about an older man who was riding a bike but was determined to go faster than the required speed.
Source:
ViralGF Health
, 
Think Advisor