Rev Run's Grandson & Daughter Are Spitting Images of Him Posing in Matching Boxing Outfits in New Photoshoot
Rev Run Simmons's genes are strong enough and here is proof! The reality TV star's grandson and daughter look exactly like him while posing in matching boxing outfits.
The influential entertainer, and popular reality TV show legend Rev Run Simmons, has a well-organized and reputable family. He is a father of six, has four grandbabies, and has a beautiful, ageless wife.
Fans of the Simmons are familiar with the family's highlights following the reality TV shows that feature intimate details of the entire bunch. The show further showcases their lifestyle online, giving their audience an overflowing cup of information regarding their status.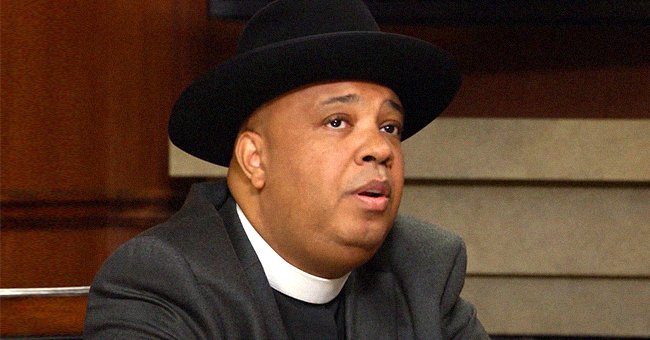 Recently, Rev Run's second daughter, Angela Simmons, shared photos of her modeling alongside her young son, leaving fans to notice their striking resemblance to the family's patriarch.
In the snaps, the pair were styled in Ethika designed threads, and the marketing strategy was to pose in a boxing ring, expressing all shades of fitness.
For the photo shoot, the mother of one rocked a two-piece yoga set—sports bra and women's shorts, while her mini-me wore masculine briefs, a string of gold chains, boxing boots, and gloves. One of the captions read:
"One thing about it. Two things for sure I got him @ethika. A mother and her son. Collaborations out now."
AWARD-WINNING GRANPA REV RUN
Rev Run's journey to grandparenthood began after his eldest daughter, Vanessa Simmons, welcomed a daughter, Ava, with her boyfriend. In no time, Angela added to the mix, and recently, their brother Jo Jo also became a dad of two.
Jo Jo welcomed his second child this month. The new dad was overwhelmed, sharing the exciting news online, and he got a response from the entire clan, who gushed on the recent addition.
This sums the TV personality's grandkids to four from his three oldest kids, and the rap star is ever ready to flaunt his incredible Papa skills. According to his eldest daughter, he has not been doing too badly.
In fact, grandpa has been highly responsible as a grandparent, that he often neglects the requests of his kids. She joked that he spoils the grandbabies with toys and different treats.
Vanessa maintained that her daughter, Ava, the first grandchild, gets more spoiling as Rev Run obsessively buys gifts and never listens to the mother when she urges him to stop.
THE PERFECT FAMILY
All the obsession and excitement in the world does not upset the balance of being an excellent family man. On the contrary, the rap icon cherishes family values and always supports his kids while impacting them with correct principles.
He shares his three oldest kids with his first wife, Valerie Vaughn, while his other three, Daniel, Rusell, and Miley, are from his second marriage to Justine Jones.
The couple had a daughter named Victoria, who died after her birth due to a congenital disability. It was a painful experience. However, they were able to heal from the hurt and adopted a daughter named Miley Justine.
The Simmons are very involved in successful businesses, either in entertainment or fashion, showing their likeness to their father is not just looks but hunger to leave a lasting legacy.