Amputee Is Told He 'Didn't Qualify' for a Blue Badge, His Doctor Writes a Savage Response
A doctor was beyond infuriated when his patient didn't receive a Blue Badge. He penned a letter expressing his utter disdain, leaving everyone applauding and at a loss for words. 
Ben Perry, who lost his right leg, was informed by Worcestershire County Council in the UK that he "didn't qualify" for a Blue Badge. This is a permit that enables disabled individuals to park closer to facilities. 
His doctor was unimpressed, sending a scathing letter to the council. A special constable and traffic light technician, Perry took to Twitter to share this story and his medical physician's viciously hilarious response.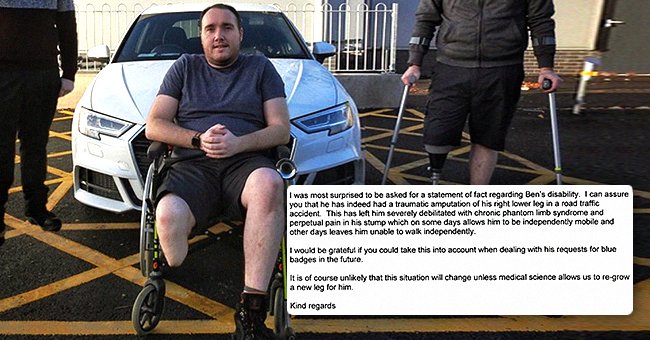 The amputee explained that the Worcestershire County Council requested more proof of disability while sharing his medical professional's letter. The doctor stated that he was surprised by the council, confirmed that his patient is an amputee, and sarcastically wrote: 
"It is of course unlikely that this situation will change unless medical science allows us to regrow a new leg for him." 
Perry encouraged all those who read the letter to express admiration for who he referred to as a legendary individual. Many in the comment section did praise the medical professional. 
I've recently tried to renew my blue badge but was told I didn't qualify for one and to supply more evidence of my disability.

After an appointment with my doctor, he composed a letter for me…

Please can we show some appreciation for this legend 🤣🤣🤣 pic.twitter.com/WahKMkne9q

— Ben. (@benperry_2001) August 29, 2021
The constable also commented on his post, expanding on the ongoing story. Perry shared the good news that they approved the badge, penning: 
"Thankfully, it appears that common sense has prevailed."
He also addressed those who questioned whether he indeed qualified for a Blue Badge. One asked why he would need it if he were a constable, which requires one to be active.
It's shocking how illnesses and disabilities that are definitely /not/ going to vanish are treated as impermanent by the government. It feels like the intent is to make life as stressful as possible and really make us work for every single accomodation they reluctantly 'give'.

— Marc Vandøosler (@OslerMarc) August 30, 2021
The technician explained that he could understand the perspectives of these critical individuals. However, he stated: 
"I need to open my door fully in order to swing my leg in and out. That is of course of days where I am able to be mobile."
Perry also thanked everyone who commented on his post, whether they were positive or negative statements. The Tweet has gone viral, accumulating just under 126,000 likes so far. 
Some days I'm unable to walk at all or even wear my prosthesis which means that I am only able to get around with the use of a wheelchair. Oh these days, a blue badge is critical to maintaining my independence.

— Ben. (@benperry_2001) September 1, 2021
This all began when, in March of 2018, a driver struck Perry and thereby caused his disability. This individual was driving with faulty tires without critical attention and was later charged on these grounds.
The 40-second video of his heroic actions was shared on Twitter.
This occurred while the constable was helping an individual that had crashed their car. He was in the hospital for just under a month before being released.
I used to work with a girl who had a blue badge for her sciatica but went to gym class every morning before work

— Mrs Robertson (@LMTGX) August 30, 2021
One does not need to be a doctor to help those with disabilities. A stranger, risking his life, rushed to help a man in a wheelchair who fell onto railway tracks just before the train approached.
The Good Samaritan managed to save the man just 10 seconds before the train came rushing past. The man jumped into the subway track and hoisted the wheelchair onto the platform. 
think this may depend on the GP ... T1 for nearly 20 years and haven't had to change anything or reapply yet. Or I may have slipped through the system and never had to do it by accident until it bites me one day 😂

— Chris Mather (@Chris_Mather) August 29, 2021
This incident purportedly took place at Union Square. It was recorded, and the 40-second video of his heroic actions was shared on Twitter.
The poster and commenters all lauded this mysterious man for his bravery. From doctors to strangers on subways, there will always be those willing to lend a helping hand. 
ⓘ The information in this article is not intended or implied to be a substitute for professional medical advice, diagnosis or treatment. All content, including text, and images contained on, or available through this NEWS.AMOMAMA.COM is for general information purposes only. NEWS.AMOMAMA.COM does not take responsibility for any action taken as a result of reading this article. Before undertaking any course of treatment please consult with your healthcare provider.