Woman Avoids Jury Duty by Wearing a Ridiculous Outfit to Court
A woman figured out the best way of avoiding jury duty hours before she was set to appear in court as a juror. She requested the help of fans in helping her pick one of four ridiculous outfits required to hatch her mischievous plans.
While being a juror is a remarkable way of serving society, the mandate can prove tasking, especially when imposed with no thought for the person's other plans. Such was Mia's dilemma, which led her to get creative.
The woman confided in fans how much she dreaded jury duty and tried in the past to wriggle her way out of it. However, she seemed to have run out of luck, as she found out a little too late that she had one scheduled for the next day and had to show up compulsorily.
Out of options to avoid the mandate on such short notice, Mia decided to take the drastic route of getting chased out of the court instead. All she could come up with to that effect was donning an outfit that screamed, "send her home!"
Mia sought the help of TikTokers in deciding between four ridiculous outfits that portrayed her as someone unworthy of "making decisions for America."
The first outfit was a black 3XL t-shirt paired with biker shorts, leaving the length of her legs exposed. Making the outfit more provocative, the words, "I love shoes, booze & boys with tattoos," were inscribed on the tee.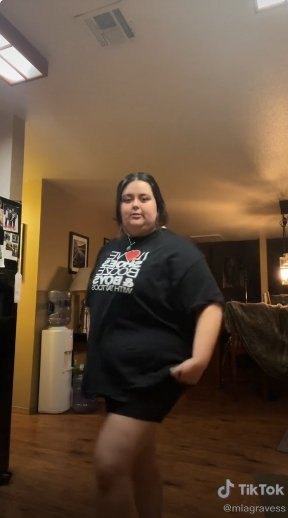 She sealed the deal with a pair of pink crocs that matched her hair clip. Mia explained the concept saying: "The theme is like… 'Menace to society.' It says I love shoes, booze, and boys with tattoos. I think that just screams 'I have terrible judgment and shouldn't be a juror.'"
For her second choice, the mischievous woman opted for a cowboy-themed outfit, complete with a red low-cut top, denim shorts, cowboy boots, and a hat. She explained:
"It just looks like a walking distraction. I wanted to show as much cleavage as I'm comfortable with..."
Mia admitted that choosing the second option would require her to speak in a southern accent. That way, the other jurors would figure she had better things to do, like "take care of my horse blue jeans." Explaining the concept behind the cowboy look, Mia said:
"This kind of screams she should not make any decision for America at all even though she represents it well."

The third look portrayed "overqualified." Mia admittedly took a page out of "Legally Blonde's" Elle Woods' fashion book. She looked the part in a gold blazer, white turtle neck top, and a skirt. She explained:
"If I showed up and the other jurors saw me in this fit, they would be intimidated and want to go home. Therefore they're gonna send me away because I'm just better than everyone."

For her fourth look, the TikToker opted for a frat t-shirt, leggings, and knock-off JB slides, crowning it with a mass of disheveled hair tied into a messy bun.
The appearance screamed, "I woke up like this," presenting Mia as disheveled and unwell. Not that she'd mind, provided it achieved the desired effect.

Getting more into the character, the woman applied mascara haphazardly to both eyes and applied water to each to make it look like she was sobbing. Smearing the wet mascara with her hands, she added: "If you saw this, you would not let my [expletive] into a courtroom."
With that, she broke into a bout of laughter, asking her followers to help her decide the best option. TikTokers obliged, offering their picks. The post garnered over two million views and thousands of hilarious comments. One user suggested:
"As much as I love the Elle Woods fit, it's gotta be the first one, but with the mascara touch."

Other users offered alternative outlets that have helped them avoid jury duty in the past. One suggested telling the judge she was biased, while another advised her to ask lots of questions as the judges always avoided picking the most talkative.
One user advised Mia to bring up a fabricated history of a relative with criminal records, making it more bizarre by admitting she enjoyed visiting the gun range as a pastime. Another shared:
"I showed up in my pajamas and half-drunk from the night before. Got sent home! (I want to serve but I had work and jury duty is cheap."
Many couldn't grasp why people tried avoiding jury duty as it was a way of serving society and always turned out enjoyable.
Clearly, Mia didn't think so. In an updated post, the woman revealed she went through with her plan the next day. She showed up in court dressed in the first outfit. Via caption, she admitted that the judge took one look at her and asked her to leave. Mission accomplished!