Hilarious Moment Woman Loses Her Wig as She Jumps into a Swimming Pool Goes Viral
The video of a woman diving into a pool by doing a skillful summersault has gone viral on social media. However, her skillful diving skills aren't what has everyone talking.
Twitter user @HldMyBeer shared a hilarious video on the platform, which has garnered vast publicity. The clip featured a dark-skinned woman clad in a black one-piece swimsuit, plunging into the pool from a diving board.
The video began with the woman standing on the edge of a diving board as she prepared to plunge into the pool while someone in the background urged her to jump.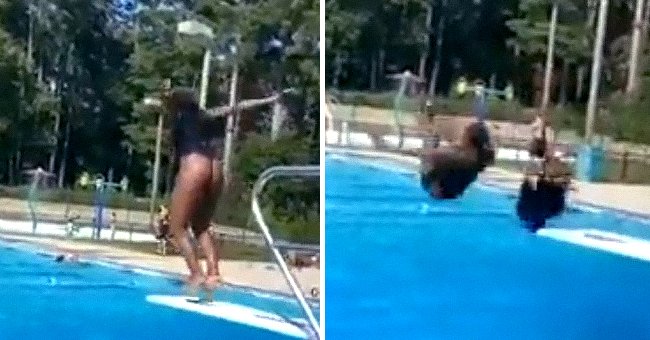 After gaining momentum by bouncing a few times on the board, she finally lifted her weight, became airborne, and did an impressive summersault before landing in the pool.
However, the flip caused her wig to fall off her head and land perfectly on the diving board, where her legs had been moments prior.
A loud scream was heard in the background as the hilarious moment unfolded, followed by bouts of laughter. The woman finally emerged from the pool, revealing her clean-shaven hair.
The poster's caption made the post more hilarious, as he wrote: "She didn't want to get her hair wet." The incident reportedly took place in Georgia during a hangout at the public swimming pool involving a group of friends.
The video immediately captured the attention of social media users, who found it hilarious. Twitter users had a field day laughing at the woman's plight.
The wig said "I am not getting in the pool" 🤣🤣🤣 pic.twitter.com/yGFZtRNjkY

— Lucia Princess (@LuciaPrincess8) August 30, 2021
With over 362 views, the clip attracted thousands of amusing comments as netizens analyzed the situation and shared their various reactions to the post along with hilarious memes. One user commented:
"The wig definitely had a mind of its own."
LMAO this is me all over!! Wig life for ever 🤣🤣

— L. (@jones_1_L) August 30, 2021
Another user agreed, adding that the wig knew what was coming and decided to save itself. Others called out the woman in the video for trying to swim with her wig on. A comment read:
"Well, that's definitely got to be embarrassing. But what did she expect to happen? Doing a flip like that, a wig not going to stay on."
I'm sorry but, who goes swimming with a wig??? 🙄

— GMartinezFreyssinier (@GMFreyssinier) August 30, 2021
Some netizens attempted to look past the irony of the moment, taking time to admire the woman's perfectly executed flip. One person wrote:
"Perfectly executed forward depilation dive. 9s across the board. Throw out the Russian judge's 6.8. She's 'follickly' challenged."
Athletically executed flip. Swimming in a wig is gross, and it must be uncomfortable.

That is all.

— bluespeddler7 (@bluespeddler7) August 30, 2021
One netizen gave a hilarious account of witnessing a woman lose her wig in real life, saying the video reminded him of the memorable day. He shared:
"My soldiers and I were playing basketball and all of a sudden I see what looks like a rodent running across the floor as one of my soldiers covered her head with both hands and runs screaming."
Well that's definitely got to be embarrassing, but what did she expect to happen. Doing a flip like a wig not going to stay on

— Kayla Borba (@borbakayla1) August 30, 2021
While the video is undoubtedly amusing, the woman in the clip might not deem it so, as most netizens pointed out. As far as embarrassing moments go, this certainly passes for one.