TikTok User 'Time Traveler from 2714' Warns People about 3 Dates in September
A TikToker claiming to have knowledge about the future has been trending online since he predicted three upcoming doomsdays in September, among other noteworthy dates.
Another prediction by a self-proclaimed traveler is going viral on TikTok, giving many reasons to worry. While the predictions seem like another hoax, the closeness of the date in question leaves room for a slight possibility that the earth might be heading towards impending doom afterward.
The TikTok user, who claimed to be a time traveler from 2714, shared video graphics of the orbiting planets. They accompanied it with screen captions proposing at least five dates to look out for in 2021.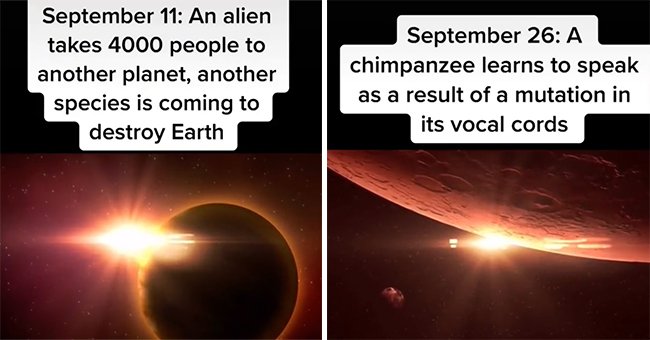 Three of these dates happen to fall in September, and as common with most faux predictions, involves an alien invasion. They began: "Many of you still don't believe I'm a real time traveler, so remember these dates in less than a month."
Bolstering their point, the poster, Aery Yormany, dropped the first prediction as September 11, a significant date representing one of the saddest occurrences in history. According to the TikTokers' prediction, the date was about to get even sadder. He wrote:
"September 11: An alien takes 4000 people to another planet, another species is coming to destroy earth."
The second prediction seemed a little worrisome, given the terror experienced in some regions hit by Hurricane Ida and Hurricane Katrina. Yormany foresaw something worse on the way, writing:
"September 14: The largest hurricane in history hits South Carolina, making it the first category 6."
Next, the poster predicted some kind of animal evolution resulting from a mutation on September 26. They wrote: "September 26: A Chimpanzee learns to speak as a result of a mutation in its vocal cords."

After predicting the three doomsdays to anticipate in September, Yormany gave netizens a look into other notable events set to happen this year. 
They revealed that come October 20, eight humans would mysteriously receive superpowers from the sun. However, the user warned that there would definitely be bad seeds among the good superheroes. For the next prediction, they shared:
"November 17: Over 30 species of larger versions of our animals are discovered, spiders, slugs, snakes."

The video has since racked thousands of reactions, with most users refusing to acknowledge the predictions. Many chided the poster for becoming deluded after watching too many fictitious movies, while others pointed out the flaws in the prediction. A TikToker wrote:
"If another species destroys the earth, how will the other events happen with humans?"
Another pointed out that the hurricane predicted in the second event would have been forming already if it were to strike on September 14.

Several users pointed out that the poster contradicted himself, as some of the predictions contrasted with those in previous videos. One of the comments read: "You said in one of your other videos the superhumans would happen on December 20, not October."
Most people tried to humor the supposed time traveler, asking questions to clarify some of their misgivings about time traveling. One asked:
"Ok hear me out. If you really are from the future and you came back in time to tell us these things, wouldn't that cause a change in the timeline?"

While the poster offered no reply or explanation, other TikTokers responded, explaining that since timelines were infinite, one could hardly alter the outcome of pre-destined events.
The majority of TikTok users simply dismissed Yormany's predictions as a hoax set to mislead people and earn the poster more popularity. Whether that's the case or not, time will tell.