Woman Kicks Her Mother-in-Law Out to Be Not Kicked Out Herself
It's no secret that the relationship between people and their mothers-in-law can be pretty tricky to navigate. Unfortunately, not everybody is blessed with amazing MIL who we magically get along with from the first day. One Redditor clearly understood how her MIL was plotting a way to separate her from her husband, but before the older woman even tried, the Redditor kicked her out of her house. 
One woman on Reddit said her mother-in-law was honestly an inspiration to her. The MIL was a self-made entrepreneur and worked hard for everything she owned. The family got along well until the Redditor announced her pregnancy.
The MIL, who once supported the woman in her professional decisions, disapproved of her son's first baby. The Redditor was shocked when her MIL candidly told her she would support them if they didn't want to have this baby. 
The Redditor and her husband had promising careers, and in her MIL's opinion, having an early baby would hinder their careers. However, the husband assured her that everything would be fine and that his wife would be a stay-at-home-mom for a year after the delivery. Months later, the couple welcomed a beautiful baby girl, and the newbie mom was all caught up with her maternal duties. 
Her husband supported her, but the mother-in-law felt that he was bearing an enormous burden of responsibilities on his shoulders. Eventually, the MIL proposed an "experiment" to the Redditor. She told her she could back to her parents while her husband stayed back and that he would visit her on weekends "if" he had the time for it. Shocked beyond belief, the Redditor told her mother-in-law that it wasn't fair as he had equal responsibilities towards their child. She received the biggest jolt when her MIL blamed her for ruining her son's life with an early baby and being jobless for a year.
The Redditor was infuriated and kicked her mother-in-law out of her house. She informed her husband everything, and the couple eventually decided to cut contact with his mother. The Redditor revealed that she wasn't planning to remain a stay-at-home-mom forever and wanted to get back to work very soon. Several people from the online community applauded her for prioritizing her baby over her career. Meanwhile, some people lashed out against the mother-in-law. One person wrote:
"The exact moment she opened her trap wide enough to outrageously suggest you get an abortion was the moment BOTH of you should have stormed out, if at her house, or demand she leave if she was at yours."
Clash of Opinions
In many cases, learning to cope with different opinions under the same roof is part of growing up and maturing in a relationship. In other words, you chose your partner, but neither you nor your spouse can choose your parents. Another Redditor shared her story highlighting how her mother-in-law turned out to be an antagonist who tried gaslighting her husband against her.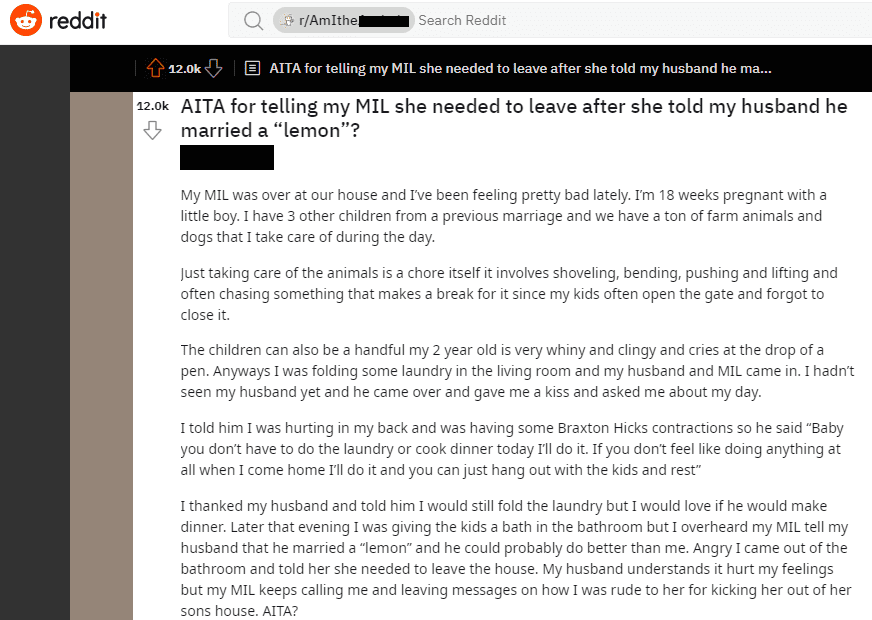 The mom-to-be was 18 weeks pregnant when her MIL visited her. The Redditor had three children from a previous marriage. Apart from her usual chores, she was mostly occupied tending to her farm animals. She'd normally be exhausted at the end of the day, but thankfully, her husband was always by her side when she needed some help. He would often share chores like cooking to help his pregnant wife relax with the kids. One day, the Redditor experienced the shock of her life when she overheard her mother-in-law telling her husband that he'd married a "lemon" and that he should do better than her. 
Hmmm … that was a mean comment to tell a soon-to-be father. Infuriated by what she heard, the Redditor stormed out of the bathroom and asked her mother-in-law to leave their house. The MIL kept calling her later and would often leave messages condemning her for being so rude to her. 
Quite a few people from the online community empathized with the Redditor and shared their shreds of advice. One person commented saying that her husband should've kicked his mother in the spur-of-the-moment:
"She disrespects you in your house, talking dirty about you behind your back, and has the nerve to call you rude? Even your husband should've kicked her out at that point because that is unacceptable and just disgusting."
Some Are Just Being Judgmental
Some MILs are notorious for being judgmental, overbearing, and critical. One Redditor's story resonates with this concept. In her post, the woman exposed the nasty side of her mother-in-law, who, in her opinion, is always judgmental. 
While everything seemed serene in the Rediditor's household, her mother-in-law couldn't remain calm over why her husband planned to leave for Florida alone on the weekend. According to the backstory, the Redditor's father passed away during the holiday season. Her husband shielded her from his mom's harsh comments after the older woman insisted he go to a party instead of attending his father-in-law's funeral.
Over the next few months, the Redditor battled several legal and banking issues to support her mom. She worked from home on weekends and couldn't go on a vacation with her husband because of the tight schedule. 
The mother-in-law was so curious and asked them about the matter during a family dinner. Deep inside, she got the wrong picture of the mother-in-law, thinking she'd raised a concern about her not going on the vacation. To her dismay, her MIL raised her voice and said:
"How do you two even stay together?? This isn't even a real marriage! You have separate names and bank accounts, and you won't have children, and YOU DON'T EVEN WEAR HIS RING!!"
The Redditor was infuriated by what her mother-in-law said and walked out on her immediately. To many people, dealing with in-laws' drama is normal—however, even though the Redditor knew about her mother-in-law, she didn't see this coming from her. Thankfully, her husband was supportive and asked his dad to keep his mom away from them for a while.
People began questioning and commenting on the toxic relationship this person had with her mother-in-law. Several people from the online community rallied behind the couple's decision via their comments. One person wrote:
"Well, you rock, and your spouse rocks, and it sounds like you've both agreed his mom can go kick rocks. Good for you two, and good luck getting caught up at work. It sure sounds like you've got your hands full."
Some people mask a whole new character when they become in-laws. Their sweetness and kindness fade away soon after their kids got married. Meanwhile, the relationship between a daughter-in-law and a mother-in-law becomes complicated, and the road is not easy with controlling or manipulative mothers-in-law under the same roof. Do you think the Redditor was right in kicking her mother-in-law out of her house to save her from being kicked out herself? Your comments are much appreciated! Thanks for reading!