Two Students, Girl & Boy, Wear Crop Tops to School but Get Different Punishments
Two high school students documented their day at school wearing similar outfits to prove that the dress code was biased toward females.
Many schools implement a dress code policy to keep students from wearing revealing clothes, but some teens believe that the rules favor boys over girls.
An Illinois high school student, Drew Jarding, wanted to prove that dress codes were biased toward females and went as far as experimenting on TikTok.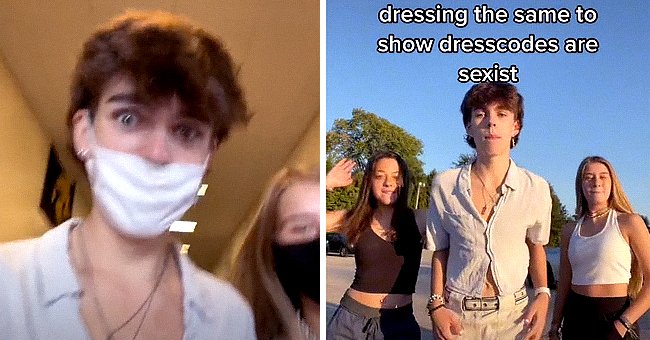 In a video he recently posted, Jarding, who goes by the TikTok username @drooscroo, documented his day at school while wearing a similar outfit to his female friend, Kenzie Crimmins. He captioned the post:
"Dressing the same to show dress codes are sexist."
Jarding dressed in athletic shorts and a cropped tee, which showed part of his stomach. Meanwhile, Crimmins wore black leggings and a cropped shirt that was slightly longer than her friend's.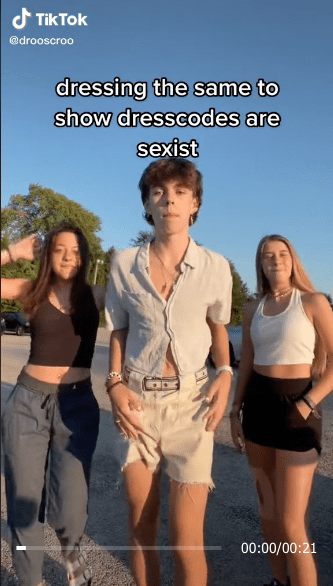 Throughout the day, the two walked side-by-side and even danced in front of five teachers. However, by the day's end, only Crimmins was disciplined for violating the dress code. 
According to their school staff, Crimmins revealed too much of her core with the top she wore. In an interview, Jarding said:
"I had known that dress codes had been unfair for a while. I just didn't know to this extent. I was wearing multiple outfits that were going against the code or whatever, and they hadn't said a single thing [...].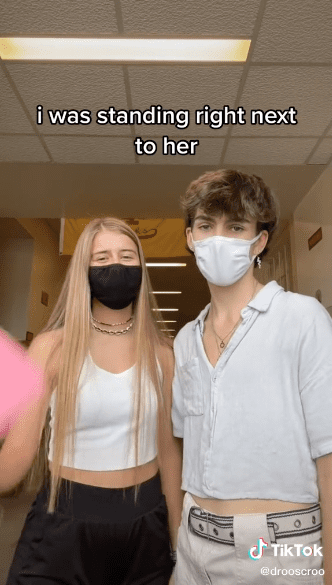 He also shared the dress code rules in their school, which prohibits spaghetti straps, ripped jeans, crop tops, and shorts, skirts, or dresses that go above the knee, among others.
The video has since gone viral with over six million views and over a thousand comments of furious TikTok users. One comment read:
"My principal straight up told us the other day that the dress code is mainly for girls because he doesn't want them to distract anyone."
Many users also asked Jarding to dress exactly like one of his female friends to see if the results would still be the same.
Richardson's post racked several comments from furious TikTok users who could not believe such a mindset still exists.
Recently, another TikTok user went on the famous app and accused a hardware store of promoting sexism because of how the store grouped the female toilet and the parent room.
According to the mom, Madi Richardson, the store did not offer a place for fathers to change their infant's diapers, assuming that it was a mother's job.
Richardson's post racked several comments from furious TikTok users who could not believe such a mindset still exists.