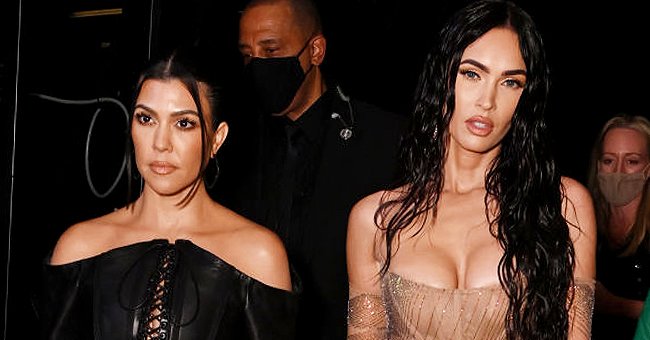 Getty Images
Actress Megan Fox & 'KUWTK' Star Kourtney Kardashian Team Up in New SKIMS Shoot

Kourtney Kardashian and Megan Fox are sizzling hot mamas in their individual capacities. However, a new SKIMS campaign turns up the heat by putting the rockstars' girlfriends best friends in one shoot.
Those who have been paying attention to media reports over the past couple of months would know two hot it girls are taking over the town. The two women taking sexiness to a whole new level are Megan Fox and Kourtney Kardashian.
The new friends have always been considered lookers in their own rights, but their beauty is amplified when they are together. A recent SKIMS campaign proves that the new best friends are better as a duo.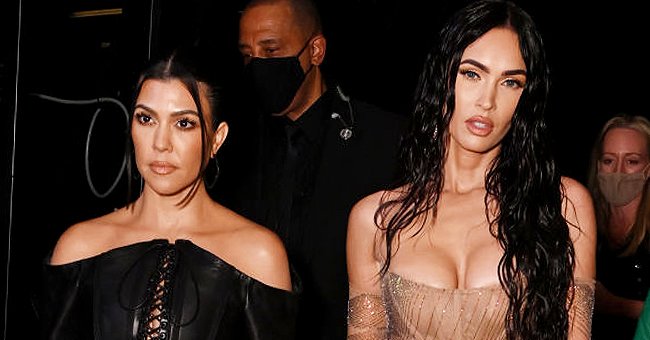 Kourtney Kardashian and Megan Fox attend the 2021 VMA's , September 2021 | Source: Getty Images
Kim Kardashian has proven herself as a marketing genius who is always on the pulse of what's hot and happening. The SKIMS founder recently put her marketing skills to work for the relaunch of her SKIMS cotton collection.
She enlisted the two hottest rockstars' girlfriends to pose in the newly restocked SKIMS cotton underwear garments. Of course, these two women are none other than her sister Kourtney Kardashian and "Jennifer's Body" actress Megan Fox.
Both Fox and Kardashian shared shots of themselves in the comfortable, yet stylish SKIMS cotton undergarments. The duo wears black pieces from the restocked SKIMS collection as they strike different poses.
In one image shared by Kardashian, the pair share an apple that they hold up with their mouths. The following picture in Kardashian's fruity post shows the friendly duo feeding each other's cherries in their underwear.
Fox also chose to share the images where the two women share fruit but initially posted a riskier shot. The first picture the actress shared featured the duo posing topless, showcasing matching green manicures.
This recent SKIMS shoot is not the first time Fox and Kardashian have gotten up close and personal for a picture. The close friends recently turned heads with pictures of them making out with their respective partners in a bathroom.
Kardashian shared the VMA behind-the-scenes bathroom moment in a slideshow to her Instagram page. Fox also posted images from the night showing her and Kardashian posing in front of urinals with the caption:
"Kourtney and I are in love."
While many may be confused about when Kardashian and Fox got so close, the pair have actually been inseparable for months. Although they were only first spotted together in March, sources say they'd hung out several times before:
"Kourtney Kardashian, Travis Barker, Megan Fox, and MGK have had double date nights many times and are all good friends,"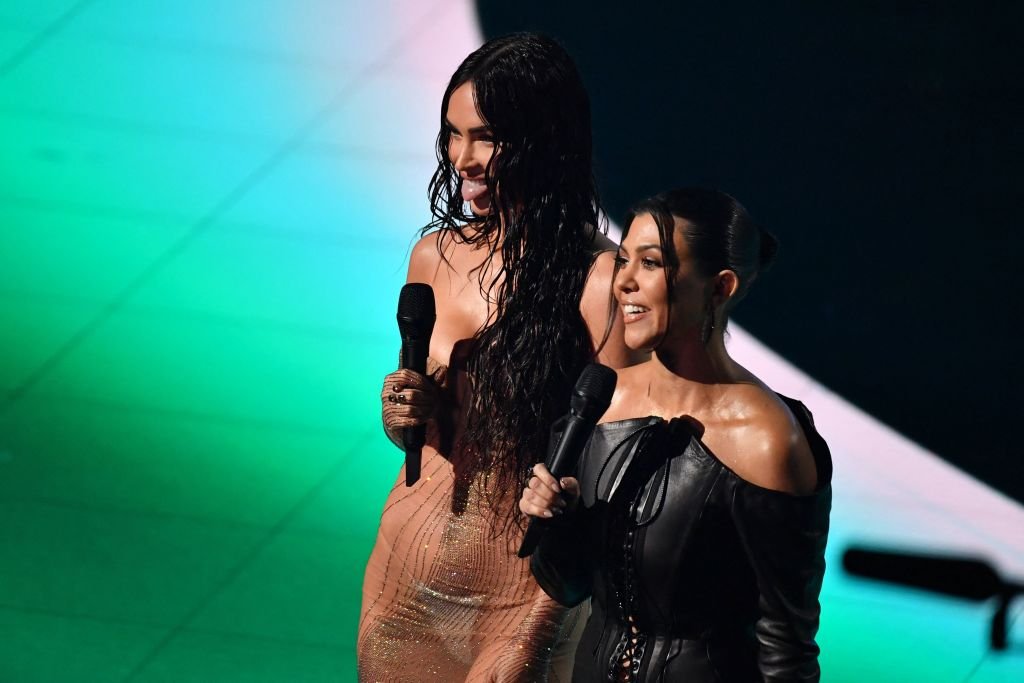 Megan Fox and Kourtney Kardashian speak on stage during the 2021 MTV Video Music Awards, September 2021 | Source: Getty Images
The pair's significant others have been working together for many years and grew close as a result. Travis Barker and Machine Gun Kelly, who are dating Kardashian and Fox, respectively, even have matching tattoos.
If the rockstar drummer and superstar rapper's relationship is anything to go by, fans can expect much more from Fox and Kardashian in the future. Thus, they should keep their eyes peeled for any other collaborative efforts.
Please fill in your e-mail so we can share with you our top stories!