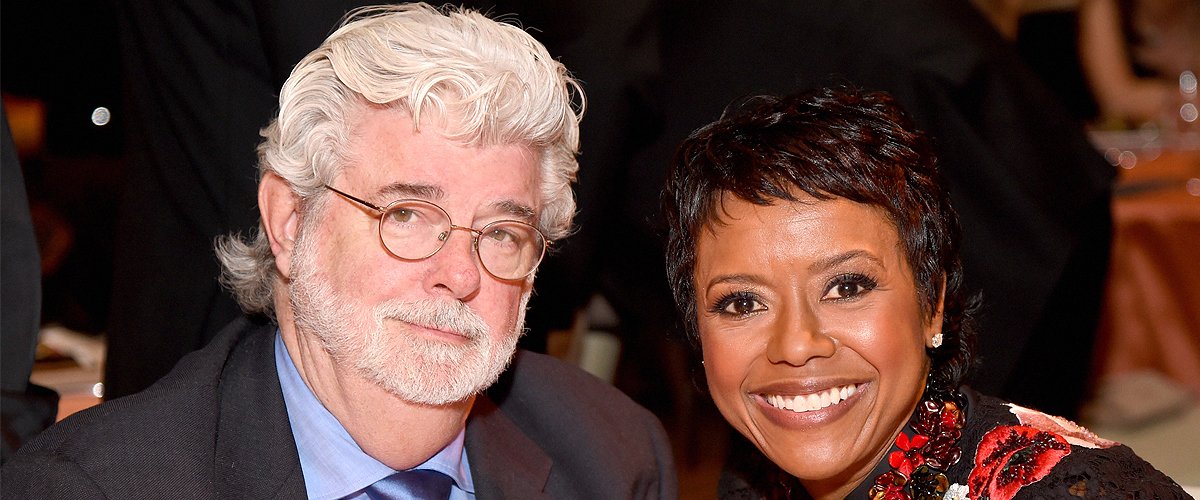 Getty Images
Inside Billionaire 'Star Wars' Creator George Lucas & Wife Mellody Hobson's Longtime Marriage
George Lucas and his longtime sweetheart Mellody Hobson have a beautiful relationship. The couple has opened up about their love story on several occasions, and here is an insight into their affair.
Billionaire "Star Wars" creator George Lucas and his wife, businesswoman, and co-CEO of Ariel Investments Mellody Hobson are one of the most adorable celebrity couples. Apart from creating "Star Wars," Lucas is also well-known as the founder of Lucasfilm Games.
The billionaire and Hobson dated for six years before he finally popped the big question, and Hobson said yes to his proposal. Lucas is 77 years old and 25 years Hobson's senior. The businesswoman is only 52.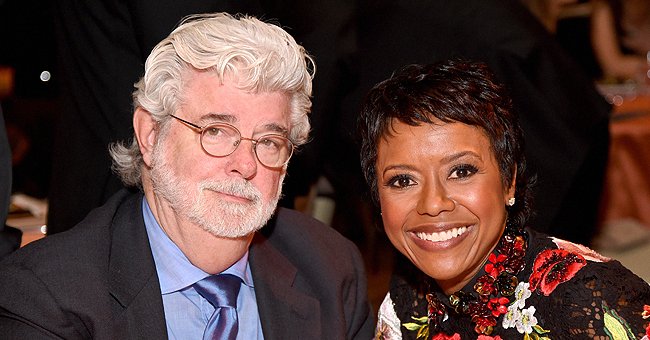 George Lucas and Mellody Hobson attend Ambassadors for Humanity Gala at Hollywood & Highland Center on December 8, 2016 in Hollywood, California | Photo: Getty Images
INSIDE THEIR AMAZING LOVE STORY
Lucas and Hobson's union is the American businesswoman's first marriage, but the screenwriter was previously married to film editor Marcia Lou Griffin. He also has three adopted children. Lucas and Hobson first met in 2006 at a business conference in Aspen.
The two were involved in a long-distance affair, but that didn't stop their love from blooming. While Lucas lived in California, Hobson resided in Chicago. Hobson graduated from Princeton University in 1991 and later joined Ariel as an intern. She became president in 2000.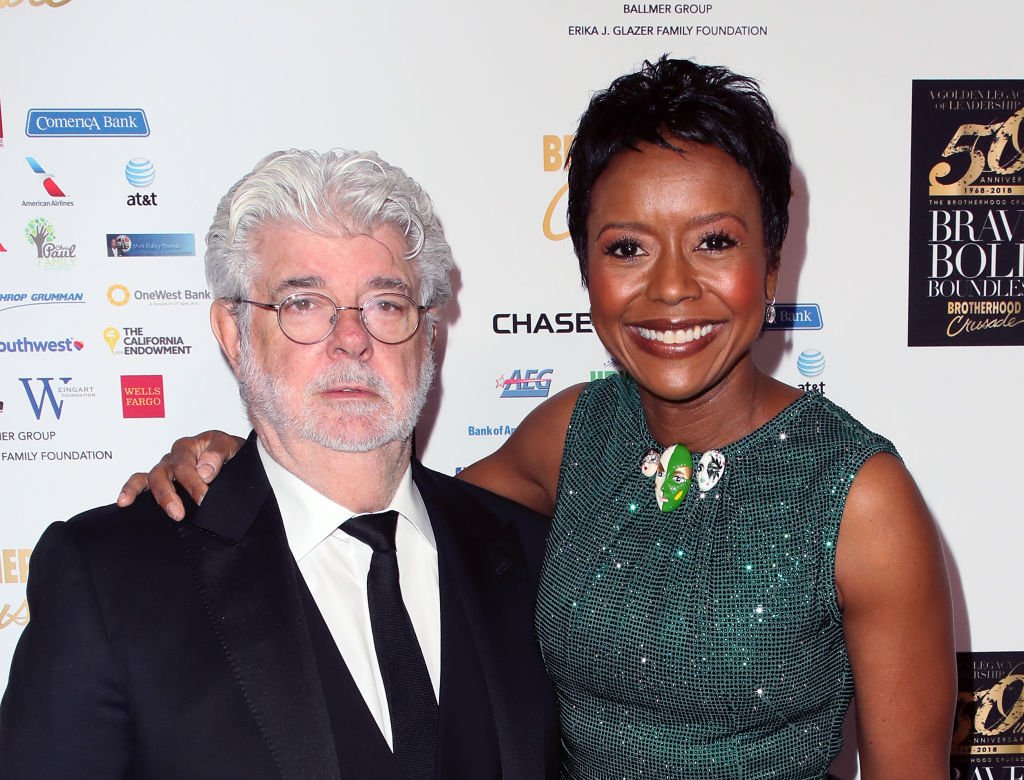 George Lucas and Mellody Hobson attend the Brotherhood Crusade's 50th Pioneer of African American Achievement Award Dinner on December 07, 2018. | Photo: Getty Images
Lucas sold his Lucasfilm production company to Disney for 4.05 billion dollars, most of which was used for educational philanthropy. And, in an interview, he revealed that he was happy to devote more time to resource philanthropy.
Although the two lovebirds have demanding careers, it didn't get in the way of their relationship. Hobson once opened up about how their love affair survived the distance and other obstacles during an interview with Oprah.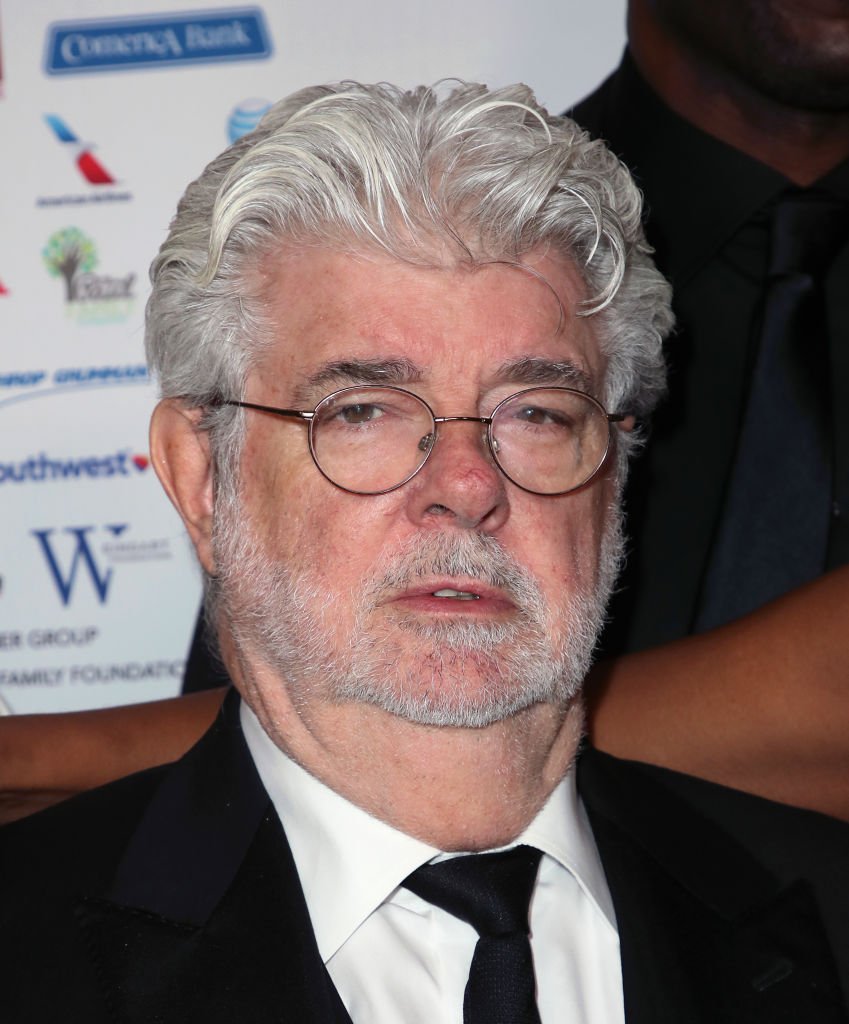 George Lucas attends the Brotherhood Crusade's 50th Pioneer of African American Achievement Award Dinner on December 07, 2018. | Photo: Getty Images
In the clip uploaded on YouTube, Hobson noted that dating Lucas was easy because they both were "extraordinarily open-minded people." She also said they were open to what the world had installed for them and added:
"we didn't have preconceived ideas about what a partnership should be and so we allowed ourselves to discover something that was unexpected."
The acclaimed director also talked about their great union during the interview. Throughout the interview, he held Hobson's hand as he talked about how they met in a conference meeting.
WEDDING BELLS
Fans of the DreamWorks Animation chairman and the entrepreneur eventually saw the power couple get married at the film director's Skywalker Ranch in California.
Huffington Post founder Arianna Huffington, who attended the wedding, shared a picture of the couple from the celebration. Lucas wore a white tie with a white flower on his label, and his bride looked stunning in a white dress with a veil.
According to Huffington, the "Star Wars" filmmaker's second wedding was anchored by U.S. journalist Bill Moyers, and friends, families, colleagues were present at the celebration. Irish singer Van Morrison also performed at the reception.
They expanded their adorable family after the couple's marriage when they welcomed their daughter Everest Hobson Lucas. Huffington announced the birth of their daughter via a post on social media.
Everest is the couple's first biological child, and she was delivered through surrogacy. She joined her siblings Amanda, Katie, and Jett, making the family more adorable.
The "Star Wars" creator once noted in a statement that children are the whole point of life.
A LOOK AT HOBSON
The chairman of Dreamworks Animation and a financial contributor with C.B.S., Hobson, has been appreciated on several occasions for her remarkable work over the years. Her list of fans runs way into top prominent figures.
Facebook chief operating officer Sheryl Sandberg once met Hobson while both board members at Eve Ensler's V-Day organization. She noted that Hobson's comment got her to stop thinking she does not want to make her gender difference into a thing.
Sandberg explained that Hobson stated that she wanted to be unapologetically black and a woman. The Facebook chief operating officer noted that her life changed after she met Hobson.
The chairman and C.E.O. of Starbucks, Howard Schultz, also described Hobson as "the most unique individual." Hobson, 52, has contributed to A.B.C.'s "Good Morning America" show and works with C.B.S. News.
In addition, Duck Parsons, the former head of Time Warner, who is also one of Hobson's admirers, once said the businesswoman had a pixie feature with her brown eyes and hairstyle. She explained that she could be warm and strict when necessary.
In the '90s, Hobson and John Rogers co-founded Ariel Community Academy, a public institution located on the South Side of Chicago. The Academy teaches courses on financial literacy, and in 2002 Ariel launched the Black Corporate Directors Conference.
Also, once, while arguments were sprawling about the location for a "Star Wars" Museum, Hobson called out the non-profit organization Friends of the Parks for depriving "young black and brown children" opportunities after they prevented the "Star Wars" museum project.
However, people didn't understand why she associated the $743 million museum project with less privileged children. But some noted that the passion with which Hobson addressed the issue is what made her a successful woman.
Hobson wasn't born with a silver spoon, and she worked her way to success. Her mother was a single parent, and she is the youngest of six children.
As a child, she accompanied her mother, Dorothy, to her workplace, where she fixed apartment buildings to be sold as condominiums.
MORE ON LUCAS AND HOBSON
Amidst the pandemic, the C.E.O. couldn't go to work as the pandemic laws restricted movements. She spent her days attending zoom conference meetings. She also revealed that her sweetheart Lucas helped her during this time.
A news report revealed that Lucas is a doting husband and lover of children away from work and the screen. The "Star Wars" creator once noted in a statement that children are the whole point of life.
The dad of four explains that he was in his '40s when he started having kids, and since he was already successful, he enjoyed "the pleasures of children."
He noted that he held his oldest daughter for the first time when she was 10 hours old, and it felt like an electric current had passed through his body.
Please fill in your e-mail so we can share with you our top stories!