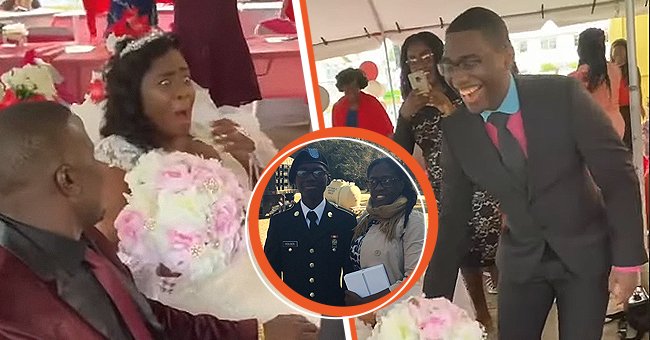 youtube.com/Happily
Woman Is at the Altar When She Suddenly Notices the Son She Had Not Seen in Years
A mother was rendered speechless when her military son decided to make a surprise entry on her big day. The woman shared she had not seen her son for three years and was thoroughly elated to have him around.
There are some joys in life that are so genuine, nothing can ever replace them. Reuniting with your loved ones, especially when you least expect it, happens to be one of the most luxurious feelings in the world.
Seemingly enough, a mom in Guyana experienced this blissful sentiment firsthand when her beloved son crashed her wedding and left her in complete shock.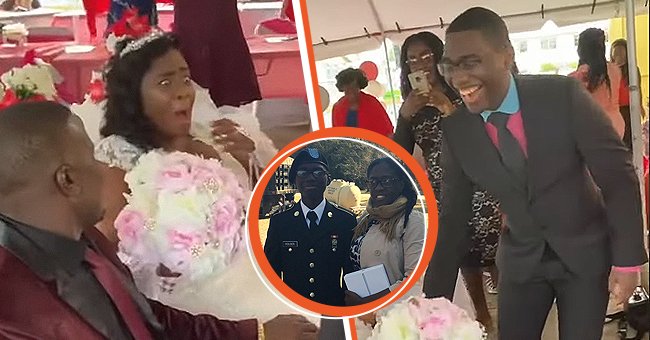 Colice Parris was left astounded to see her military son on her wedding day. | Photo: youtube.com/Happily
The 45-year-old Colice Parris said that she learned of her son's presence when the officiating minister asked: "Who here gives this woman's hand in marriage?" She couldn't believe her ears when she heard a familiar voice answer, "I do." She also added:
"Upon looking over my shoulder, in the direction from where the response came, I saw Raphael walking towards the altar (sic)."
To her astonishment, the owner of the voice was none other than her 23-year-old son, Raphael Holder, a member of the US army who had been stationed at Fort Drum, New York.
Parris shared that her son walked in at the exact moment when she was ready to accept her 46-year-old partner, Rolf Baird, as her husband. The wedding event took place on January 10, 2021, but it only became a viral sensation recently. She also expressed:
"Always have an open mind — I was closed, because I truly didn't expect to see my son on my special day, but the video and pictures proved otherwise (sic)."
The Guyana bride explained she had talked to her son a night before, and he had shared how he was heartbroken for not making it on her big day. She last saw him at his army graduation at Fort Jackson, South Carolina in November 2017.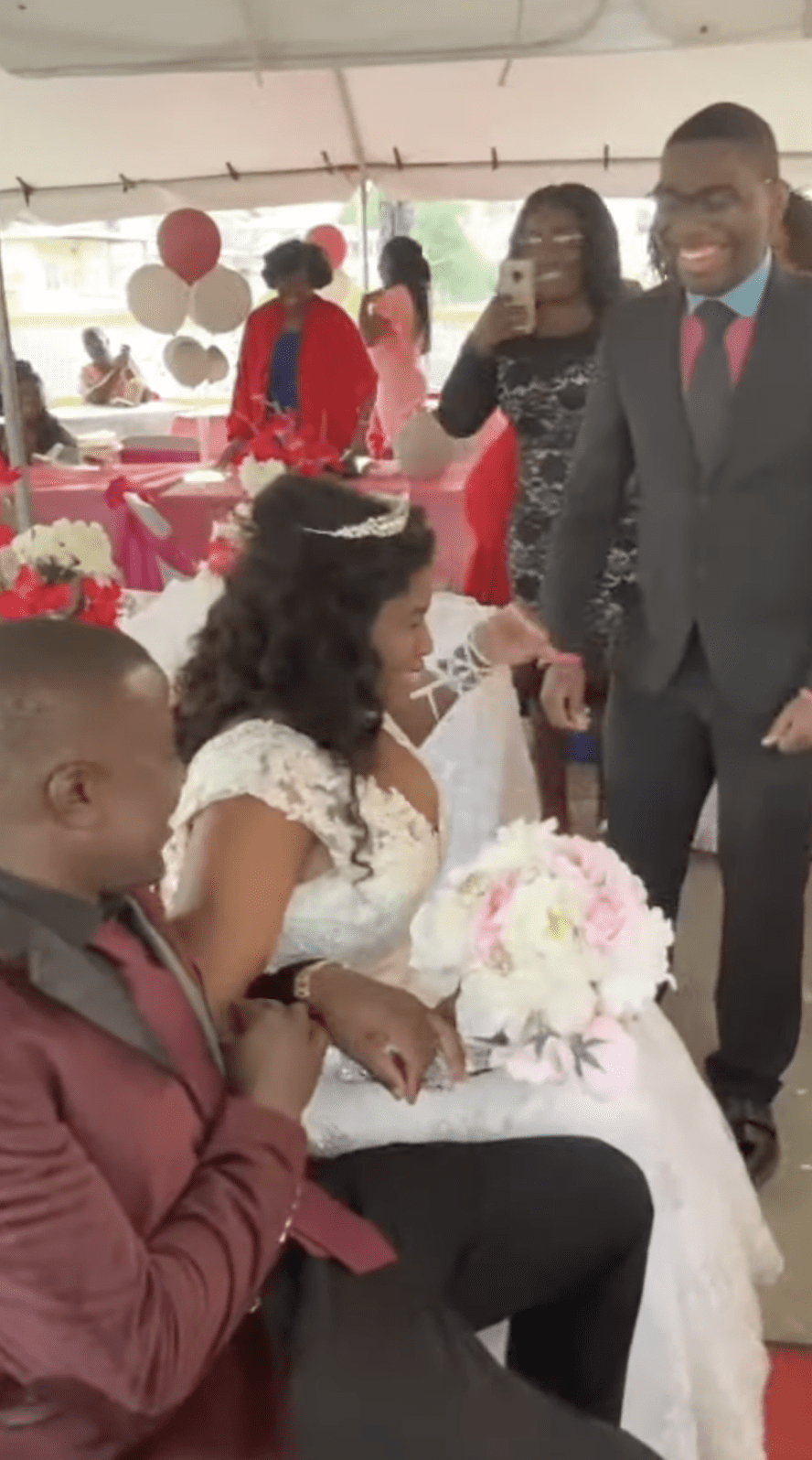 Parris was overcome with emotions after seeing her son on her wedding day. | Photo: Facebook.com/Daily Mail
ANOTHER GRAND ENTRY
It seems Holder wasn't the only military soldier who left his mother speechless with his surprise entry. A similar scenario unfolded in Tallahassee, Floria, in July 2021 when a military official returned home to his mom after 2 years. His mom shared:
"And I think I screamed, of course out of pure joy, but it was like, 'is Ethan here in the flesh? Am I really actually about to touch, feel, see, hug and kiss (sic)?'"
Ethan Houston wanted to call in the Fourth of July celebrations with his mother, Lana Hill. He shared he had always seen emotional moments of reunion on television, and wanted to experience the joy for himself.
EMOTIONAL REUNION
Much like Holder and Houston's surprise appearances for their beloved mothers, another heartwarming reunion took place in the southern Chinese province of Hunan when a mom was taken aback to see her soldier son standing at the door.
The woman was overwhelmed with emotions and hurried to hug her dear son, who she hadn't seen in a very long time. Her son had reportedly returned home following his retirement and kept it a secret from his mom until he showed up in front of her.
What did you think of these heart-melting stories? Indeed, meeting your loved ones after ages, especially if it comes in the form of an unexpected surprise, can be deeply profound, and we're glad these mothers and sons were finally reunited.
Please fill in your e-mail so we can share with you our top stories!