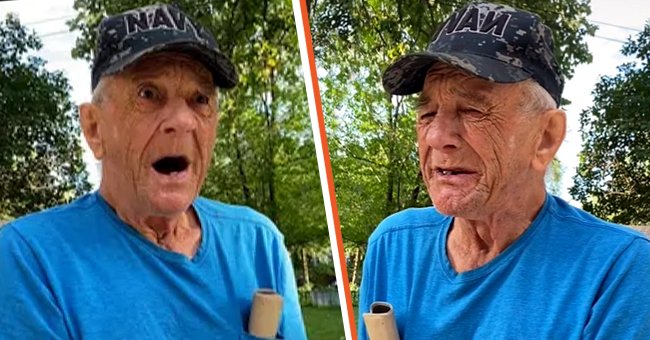 tiktok.com/patriotickenny
Navy Veteran Bursts into Tears after Thousands Raise Money to Buy Him a New Scooter

A navy veteran received an emotional surprise after news of his broken scooter went viral. Thousands of people united to buy him a new one, raising an unbelievable amount in no time.
Kenny Jary, a 79-year-old Navy veteran, has been making the rounds on the internet since his scooter broke down. The former military man, who surprisingly maintains an active TikTok account, took to the platform in September to share a video account of his ill fortune.
He hoped the clip would move kind-hearted TikTokers into helping him raise a few hundred dollars to replace his beloved means of transportation.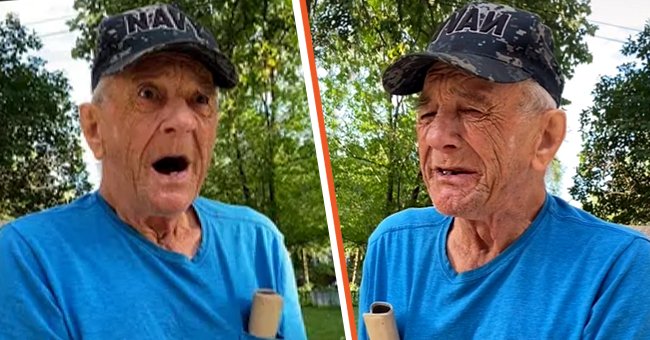 A screenshot from the viral TikTok video of the Army veteran | Photo: tiktok.com/patriotickenny
Seeing how broken he was by the fate of his scooter, netizens responded wholeheartedly, donating $5000 to his GoFundMe account within hours. Jary could barely control his emotions after learning that TikTokers joined forces to raise so much money for him.
A video shared on his TikTok page showed the tear-jerking moment he learned the good news. In the video, a woman could be heard addressing the Navy vet, who was seated on a chair outside his home. She divulged:
"[...] In 24 hours, people on TikTok, strangers who have never met you, but love you, donated $5000 for you."
Upon hearing the bonus sum, the elderly man hung his mouth open in disbelief before breaking into tears, saying: "No, you're kidding. I don't know what to say, Amanda. $5000 on TikTok? That is so wonderful. I'm sorry for being emotional, but I can't help it."
Jary went on to admit the cash donation was the nicest gift he ever received in his life, aside from his kids. The clip racked up to eleven million views and 2.5 million likes on the platform.
His emotional outburst left many in tears, as they reminded him he deserved so much more for his service to the country. One commented, "This is the most genuine response I think I've ever seen on this platform. How amazing is this man! And the people who gave."
Several TikTokers admitted the video served as an inspiration to them, with one adding that they could get through anything after watching it.
Many thanked the man for his service to the country while expressing grievances that the government failed to provide Jary with a scooter after spending years fighting for his country. A comment read:
"There is no reason any honorable veteran should need for anything. Thank you for your service sir."

A netizen's comment on the viral TikTok video | Photo: tiktok.com/patriotickenny
Following the veteran's emotional post, several TikTokers expressed their desire to do more for him, as they were moved by his heartfelt appreciation. More donations kept pouring in, with his GoFundMe page garnering donations over $100,000 since.
Back in May, another veteran, David Sickles, shed tears of appreciation after the Palm Coast community raised money to get him and his dog off the streets.
The homeless former army veteran, who spent years roaming the streets and camping with his dog in the nearby woods, ended up having a permanent home that changed his life.

A netizen's comment on the viral Tiktok video | Photo: tiktok.com/patriotickenny
Other ways of helping out former military men after their years of service to the country include donating to the DAV platform and volunteering at a local VA facility.
Sending out "thank you" notes to them periodically also helps lift their spirits, knowing the world appreciates their years of service and sacrifice.
Please fill in your e-mail so we can share with you our top stories!