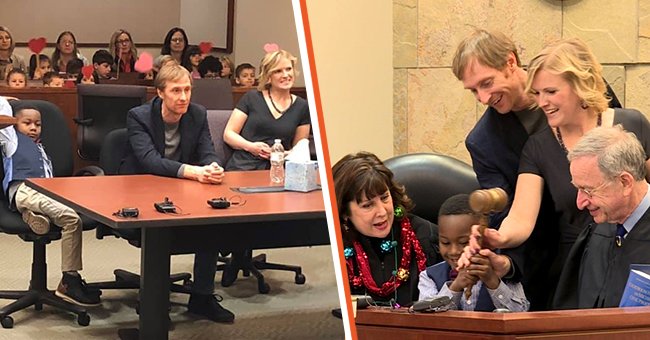 facebook.com/Ashton Kutcher & facebook.com/KentCountyMI
Entire Kindergarten Class Turns up to Courtroom to Support Their Friend at His Adoption Hearing
A soon-to-be-adopted kindergartener wanted his class to be there for the special moment. He invited them to the courtroom, and they held up heart signs to celebrate the big step.
A 5-year-old boy living in Grand Rapids, Michigan, didn't want to face his adoption hearing alone. The youngster's classmates showed up in full support of him and his new family.
In 2019, Michael Orlando Clark Jr. joined his forever family. When Judge Patricia Gardner's gavel struck down and secured the ruling, the little boy was visibly emotional and overjoyed.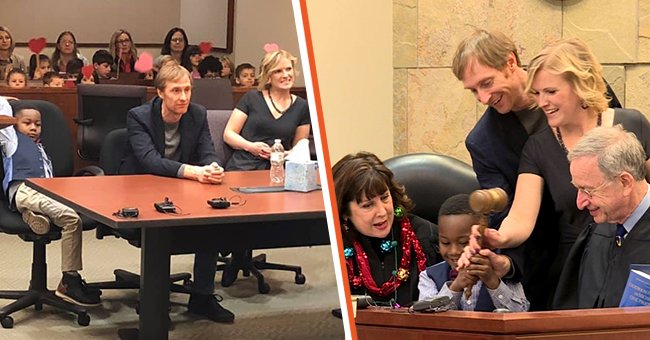 An entire class showed up to support their friend at his adoption hearing | Photo: Facebook/KentCountyMI & Facebook/Ashton Kutcher
THE WHOLE CLASS SHOWED UP
The Kent County Courthouse was full. The court shared a touching image of Clark, his parents, and classmates in the background on their Facebook page.
The class bore witness to the moment, and so did the world. Clark's adoption was recorded, and the little boy spoke with broadcasters about this big day.
FAMILY IS SUPPORT AND LOVE
In a heartwarming moment, Clark repeatedly said that he loved his daddy. The classmates also had the opportunity to interact with the judge. Each of them told her their names and added a sentence about why they loved Clark.
It was a moving encounter, and the kindergarten teacher expressed that her class was like a family. She said: "Family doesn't have to be DNA because family is support and love."
TEAR-JERKING ADOPTION DAY
The Kent County's annual Adoption Day saw 37 kids join new homes and families. On their Facebook page, they shared that the day was full of emotion. Their comment wrote: "There is not a dry eye in Judge Patricia Gardner's courtroom."
The online community was moved by Clark's story and expressed how special it was for him to have a network of support. One user wrote: "What a beautiful moment!"
THE ONLINE RESPONSE
Someone else said: "This is a kind act by the school and community and especially by this couple. The adoptive parents deserve praise for adopting and loving a child who didn't have a family for whatever reason."
Others shared their own journies of adoption. A user expressed: "Adoption is near and dear to my heart. This had me crying happy tears. And the innocence of children is beautiful."
THE POST WENT VIRAL
The user added that they were also adopted. They said: "I spent time in foster care. And seven years later, my adoption was FINALLY official." These and many other special messages flooded the comment section of the court's viral post.
Clark's adoption story touched many hearts with over 50 thousand likes and over 100 thousand shares. Various commenters also shared they will never forget the day they were adopted, and there is no doubt that Clark feels the same.
Please fill in your e-mail so we can share with you our top stories!