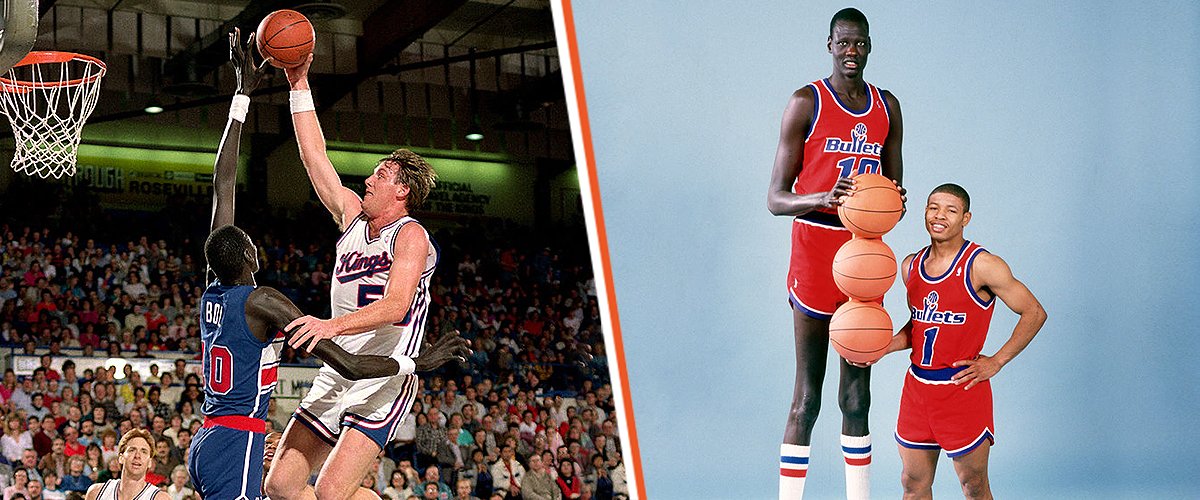 Getty Images
The Incredible Life of 7'7 NBA Legend Manute Bol That Tragically Ended When He Was Only 47
Manute Bol, one of the tallest players in NBA history, lost most of his money in humanitarian work after retiring from basketball. He always believed he would die young, and he passed away at 47.
Manute Bol's life is nothing short of extraordinary as he grew up in a village so far away from Western civilization and culture that he didn't even know what basketball was.
A big part of the money he earned in America went back to the people in South Sudan. Sadly, he passed away a few months before his home country became independent.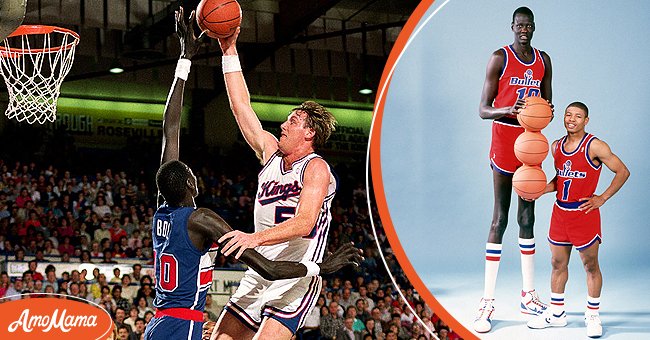 Manute Bol on February 14, 1987 at Arco Arena in Sacramento, California and Manute with Muggsy Bogues in 1987 | Photo: Getty Images
MANUTE'S CHILDHOOD
Most 7-foot men in America have thought of playing basketball at least as a hobby, so it would be fair to imagine that playing in the NBA was Manute's dream as he was 7 feet 7 inches tall. However, he never even heard of basketball growing up.
Manute was raised in the Dinka tribe; a Nilotic ethnic group believed to be the tallest people in Africa. Right from the start, Manute's life was out of the ordinary.
In Dinka culture, parents name their kids Manute only if their siblings pass away. In the NBA star's case, his mother had previously delivered two sets of stillborn twins.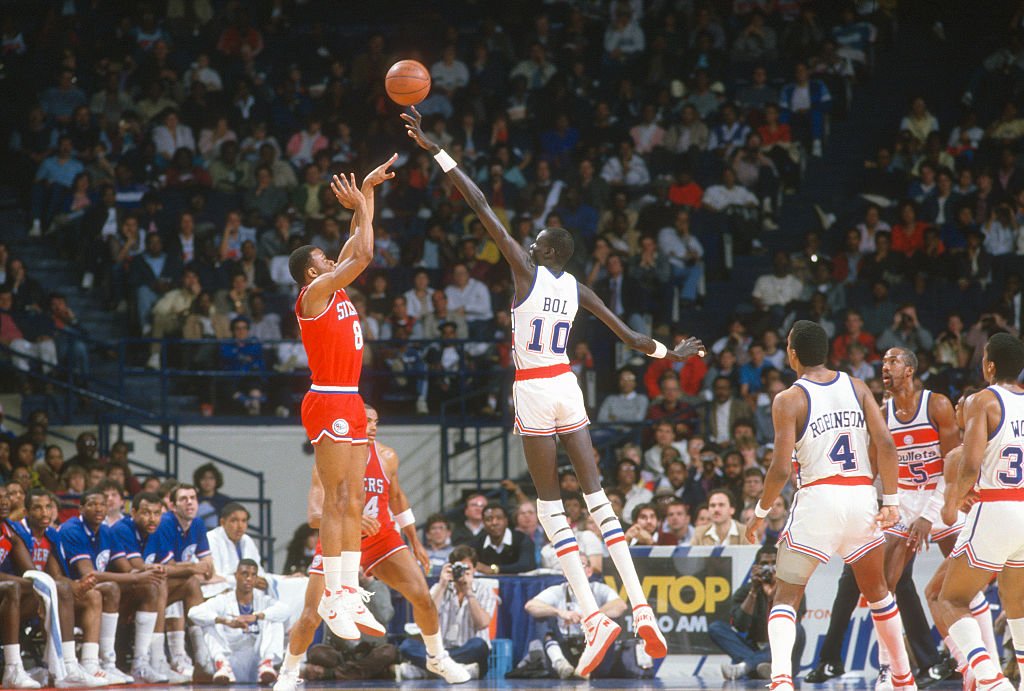 Manute Bol playing for the Washington Bullets blocking Michael Young's shot at the Capital Centre in Landover, Maryland in 1986 | Photo: Getty Images
It is essential to point out that Manute wasn't a fan of his people's culture growing up, especially Dinka's manhood rites. He ran away from home when he was eight years old to avoid getting his lower teeth removed.
Four years later, when he was supposed to undergo ritual scarring, he left home again. Manute's father, a tribal elder, eventually convinced him to participate in the ceremonies because Dinka girls would think of him as immature and never marry him otherwise.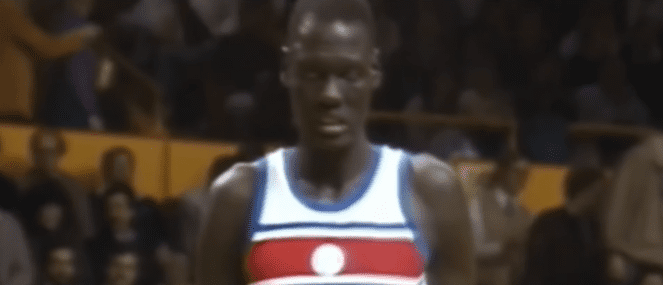 Manute Bol playing for the Washington Bullets | Photo: YouTube/La Magia Del Basket
When he was 14, Manute became a man to his tribe's eyes and had six of his teeth removed and four incisions cut around his head. He didn't cry or show signs of fear as it would have disgraced his family.
In 1981, Manute traveled to Southern Sudan's capital, Khartoum, where he learned what basketball was for the first time. He also joined the military basketball team as part of the parachute corps.
[Manute] set a rookie record by blocking five shots per game on average.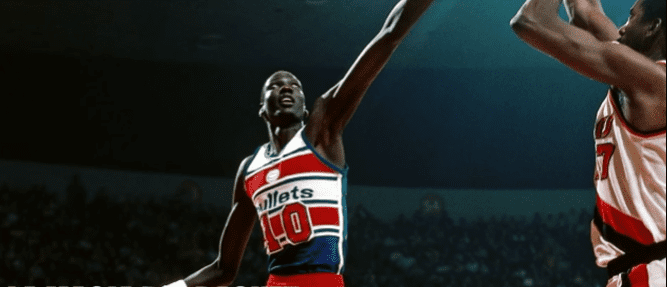 Manute Bol blocking a shot while playing for the Washington Bullets | Photo: YouTube/La Magia Del Basket
That decision changed his life as Don Feeley, a coach from Fairleigh Dickinson University in New Jersey, went to Khartoum in the summer of 1982 to coach the Sudanese military team and discovered Manute.
In 1983, after Manute made it to the US, the San Diego Clippers (now the Los Angeles Clippers) drafted him. However, they considered he was too skinny and sent him to college, which proved to be a challenge.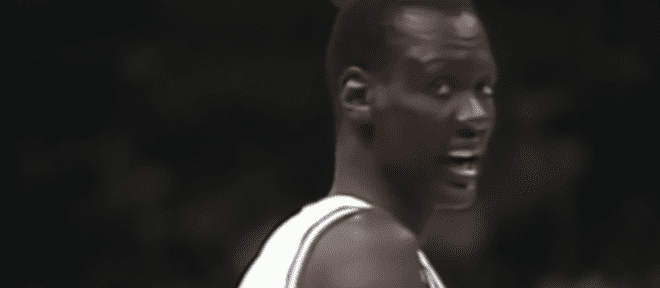 Manute Bol playing for the Washington Bullets | Photo: YouTube/La Magia Del Basket
COLLEGE YEARS
Given that most of his childhood revolved around cows, he never went to school. Adapting to student life and learning English was difficult. He studied the language for a year at Cleveland State but failed to qualify for college admission.
In 1984, he joined the University of Bridgeport even though he read at a third-grade level at the time. It was a different story on the court, as he averaged 22.5 points and 13.5 rebounds per game.
For the first half of the season, Manute also averaged 15 blocks per game, something nobody had ever done. In 1985, he became an NBA player after the Washington Bullets (now Wizards) drafted him in the second round.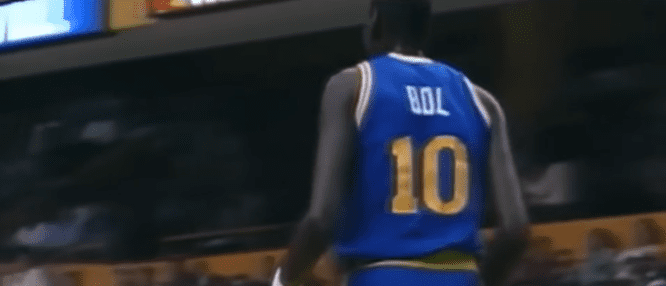 Manute Bol playing for the Golden State Warriors | Photo: YouTube/La Magia Del Basket
NBA CAREER
Manute dominated the defensive game of basketball so much that he set a rookie record by blocking five shots per game on average for a total of 397 during that season.
People might believe that being tall enough to reach the rim flat-footed was a guarantee of easy buckets, but that was not the case with Manute. He averaged fewer than 4 points per game in all his seasons as a professional player.
One of the main reasons he couldn't score that much was a deformity that left his fingers in a curled position. According to his biographer Leigh Montville, he couldn't even palm a basketball and had to dunk with two hands.
After three years with the Bullets, Manute was traded to the Golden State Warriors, leading the league in blocked shots for the second time. He played for the Warriors for just two seasons and was eventually sent to the Philadelphia 76ers.
Manute ended his NBA career with the Warriors in 1995 after briefly playing for the Miami Heat. Throughout his ten seasons as a professional basketball player, he blocked 2,086 shots.
The "pasteurized stuff" that Americans drink [is] nothing like the milk straight from the cow [Manute] drank in Sudan.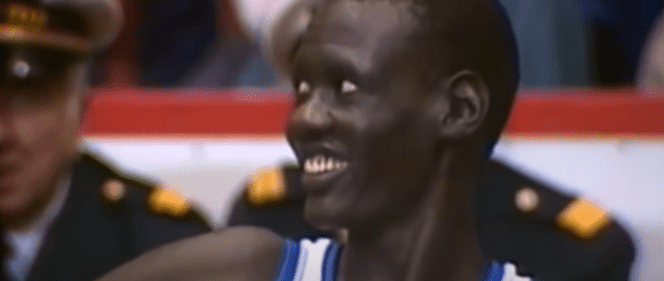 Manute Bol playing for the Golden State Warriors | Photo: YouTube/La Magia Del Basket
It is important to remark that Manute's actual age is unclear. Even though his biography claims he was born in October 1962 (or 1968, depending on the sources), former Cleveland State coach Kevin Mackey confessed he came up with that date. Mackey said:
"I gave him his birthday because they didn't know how old he was. [...] I wanted to make sure he was young enough because he didn't have an age."
Mackey went as far as to say that he believed Manute was in his 40s when he played in the NBA. He emphasized that nobody will ever know for sure how old he was.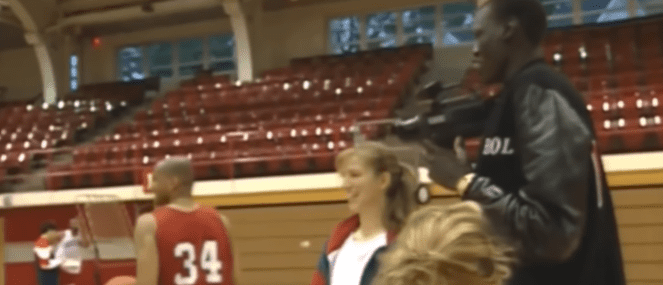 Manute Bol recording a training session | Photo: YouTube/La Magia Del Basket
Even if he wasn't in his 40s, the fact that he stayed healthy most of his career despite his slender frame was remarkable. Manute once credited his strong bones to "real" cow's milk.
He said that the "pasteurized stuff" Americans drink was nothing like the milk straight from the cow he drank in Sudan as it made his bones strong enough to endure injuries.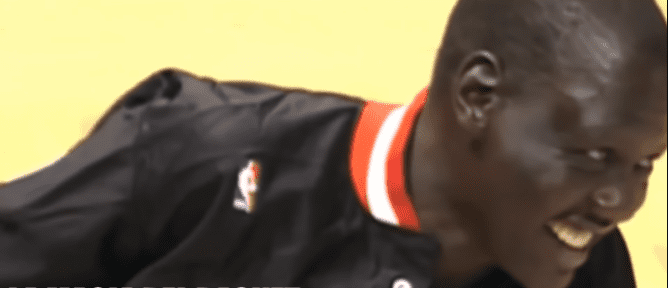 Manute Bol stretching before a game | Photo: YouTube/La Magia Del Basket
HUMANITARIAN EFFORTS
After playing in the NBA for ten seasons and making a little over $5 million, Manute focused on helping his country achieve freedom. He spent about $3.5 million to support Southern Sudan's largest rebel group, the Sudan People's Liberation Army (SPLA).
The SPLA fought for years so that the mainly animist and Christian population of the south had more freedom from the mostly Muslim, Arabic-speaking north. Manute explained:
"When you find that your people are living in a bad situation, then you have to help your people. We thought that we had been forgotten by the world."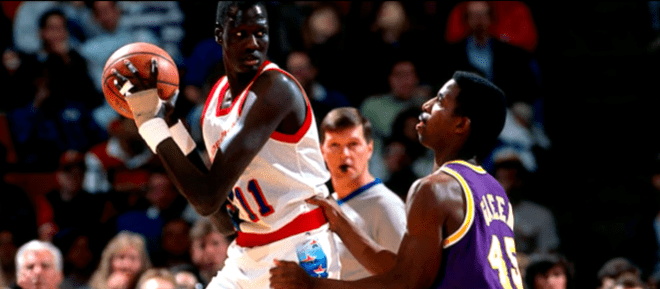 Manute Bol playing for the Philadelphia 76ers | Photo: YouTube/La Magia Del Basket
Apart from donating money, Manute would frequently travel to his home country to personally help victims of the civil war and rebuild destroyed communities.
Unfortunately, he dealt with some problems with alcohol, had a gambling habit, and suffered from rheumatism in his final years. By 1996, he had less than $100,000 in savings.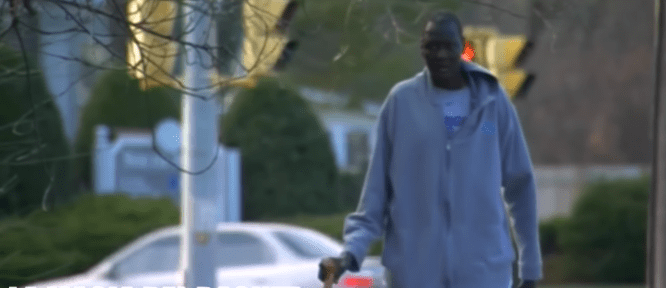 Manute Bol after leaving the NBA | Photo: YouTube/La Magia Del Basket
FINAL YEARS
When Manute ran out of money, he was living in Sudan. He was desperate to return to the States and did it as a refugee. Once in America, he tried to make some money by fighting William "The Refrigerator" Perry on Fox's "Celebrity Boxing 2."
Sadly, the NBA star passed away in June 2010 from acute kidney failure and complications from Stevens-Johnson syndrome. Less than a year later, in July 2011, South Sudan gained independence.
Later on, I plan on going back and finishing everything [my dad] started.
Manute Bol in South Sudan | Photo: YouTube/La Magia Del Basket
While he didn't live long enough to see his country become independent, his legacy lives on. In August 2015, former NBA player Luol Deng officially opened the Manute Bol Court in Juba, South Sudan.
Deng and his family fled from Sudan's civil war to Egypt, where he met Manute. Deng's older brother learned to play basketball from Manute, which became a family tradition, so it was only natural for Deng to pay tribute to the NBA star.
At the time of his passing, Manute was survived by his second wife Ajok Kuag and ten children, including Denver Nuggets 7-feet 2-inch player Bol Bol.
Born in Khartoum, Sudan, in 1999, Bol Bol became a professional player in 2019. Unfortunately, he has not received as many opportunities to play as he would like (as of September 2021, he had only 39 career Nuggets games played).
However, everything suggests that the 2021-22 season will be his best as he led his team during the Summer League with 21.9 points, 6.7 rebounds, and 2.3 blocks per game.
Bol's confidence also improved. While he prefers to play as a Power Forward, he can play any position due to his dribbling, passing, and shooting skills.
Bol is working hard by staying with Michael Porter Jr. on late-night shooting sessions and other "culture-building" activities to get more minutes per game.
Outside of the court, Bol would love to follow in his dad's footsteps and help people in South Sudan. However, he admitted he didn't want to run out of money as Manute did. Bol added:
"Later on, I plan on going back and finishing everything he started. But that is later in the future. It is where I was born, so I have to go back and visit."
Only time will tell if Bol will be as dominant as his father was in the defensive end. One thing is clear: Manute would be very proud. Way to go!
Please fill in your e-mail so we can share with you our top stories!
news.AmoMama.com does not support or promote any kind of violence, self-harm, or abusive behavior. We raise awareness about these issues to help potential victims seek professional counseling and prevent anyone from getting hurt. news.AmoMama.com speaks out against the above mentioned and news.AmoMama.com advocates for a healthy discussion about the instances of violence, abuse, sexual misconduct, animal cruelty, abuse etc. that benefits the victims. We also encourage everyone to report any crime incident they witness as soon as possible.