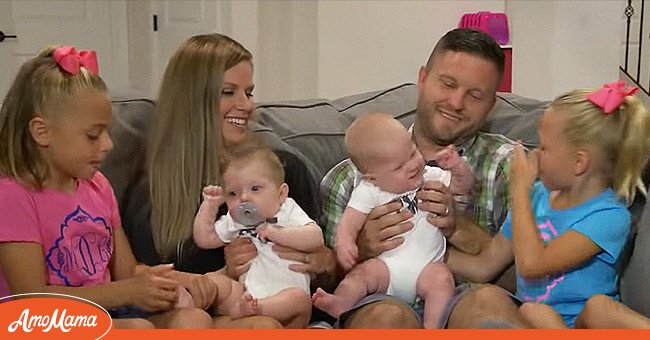 Couple Adopts Two Sisters and Two Weeks Later the Mom Finds Out She's Pregnant with Twins
Calena Durel was thunderstruck yet over the moon when she discovered something both she and her husband BJ Durel thought physically impossible.
A couple from Cincinnati, Ohio, struggling to conceive, had no idea what was coming their way. BJ Durel and his wife Calena Durel had always intended to adopt after having given birth.
However, following their 5-year-long fertility struggle, this goal became a more immediate reality. The pair, then starting as foster parents, met sisters Aubree and Mariah in 2016.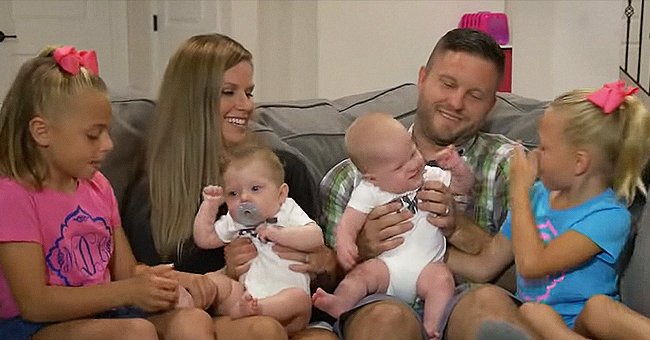 BJ Durel and Calena Durel with their daughters Aubree and Mariah and their twins Gavin and Grace. | Source: youtube.com/Good Morning America
AN IMMEDIATE CONNECTION
BJ and Calena were only meant to look after the two girls for a while, so they took them to the park, where they felt an instant bond with the sisters. BJ expressed:
"The way they played, the way they laughed, the way they got along with us. We knew from that day it wasn't gonna stop."
The two kept in contact with the pair, and eventually, they became their legal parents on August 6, 2019. At that time, Mariah was 10 years old, and Aubree was 7 years old.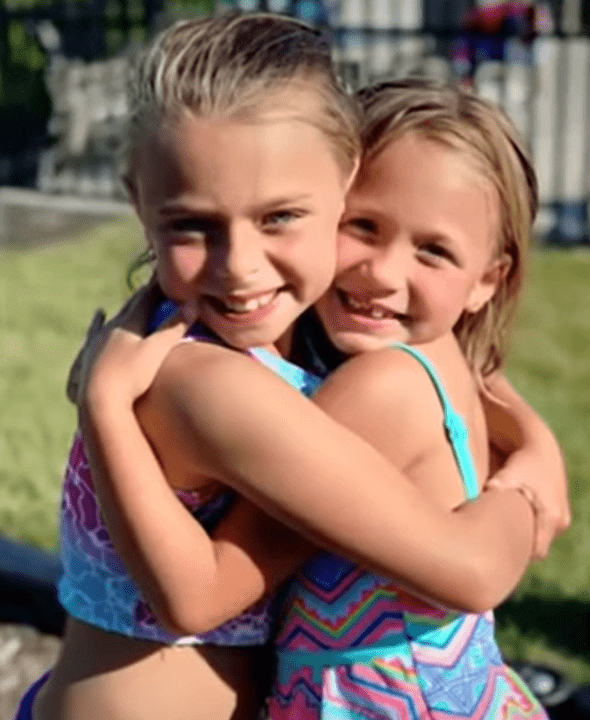 Sisters Aubree and Mariah hugging. | Source: youtube.com/Good Morning America
THE UNEXPECTED
However, before the adoption and just around a fortnight after agreeing to go through the adoption process, the upcoming mom and dad found out they would have two more children; twins. After their fertility issues and the decision to adopt, this came as a huge shock. Calena expressed:
"I thought it was impossible...I thought God had this plan and it was for us to adopt."
In February 2019, Mariah and Aubree became older sisters to their two newborn siblings. Calena stated that Aubree, who was younger than Mariah, was excited to be a big sister for the first time.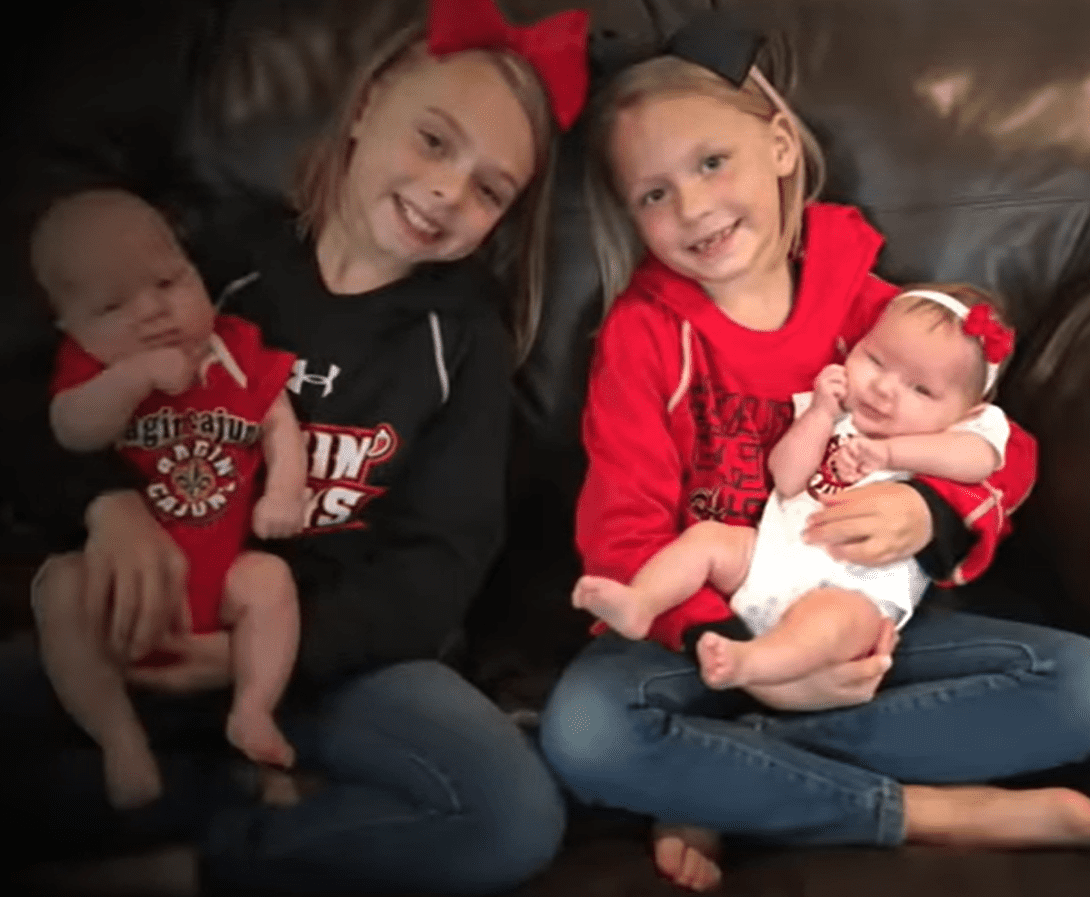 Sisters Aubree and Mariah with their baby twin siblings Gavin and Grace. | Source: youtube.com/Good Morning America
FULL OF GRATITUDE
The new father expressed his disbelief and joy over the miraculous turn of events that had left him and his wife with four gorgeous kids. BJ stated:
"We've waited so many years to have one child and now we're getting blessed with four. It was amazing."
As if hinting at the future, in December 2018, BJ and Calena moved into a 5 bedroom house with Mariah and Aubree. The then-new-mother stated that she and her husband were wishing that all these rooms would someday be filled.
You May Also Like: Entire Kindergarten Class Turns up to Courtroom to Support Their Friend at His Adoption Hearing
CELEBRITIES WEIGH IN
The family was invited as guests on Good Morning America in 2019 when, upon learning about the older sisters' passion for sports, they had a surprise for them. Zach Ertz, who plays for the Philadelphia Eagles, and professional soccer player Julie Ertz spoke to the family with Zach saying:
"We heard about your guy's story and we just and we just wanted to say thank you for being such an inspiration."
Julie spoke directly to the sisters, huge soccer fans, encouraging them to have fun with the game. The Chicago Red Stars player thanked the family for sharing their story.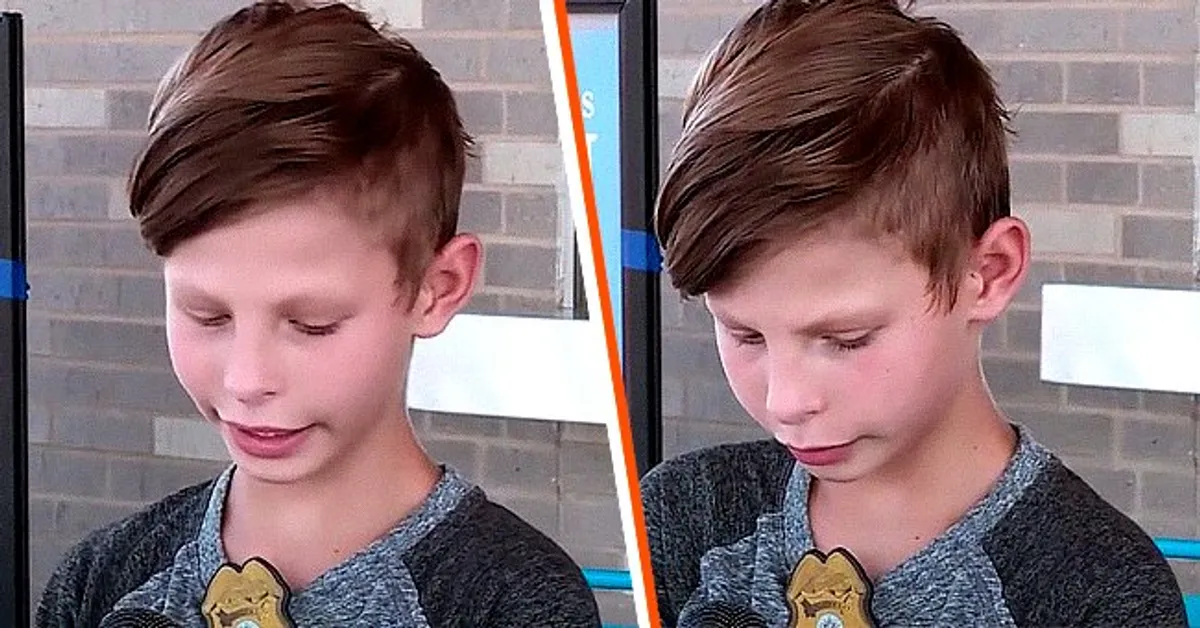 Nine-year-old Jordan. | Source: youtube.com/kfor4news
LONELY NO MORE
Although part of a loving family now, Aubree and Mariah may have also gone through the heartache many children in the foster system experience. Nine-year-old Jordan was one of those kids, and when he asked to be picked in an emotional television speech, there was a tremendous response.
Living in a group home, when asked what he would want if he had three wishes, he listed family as all of them. After the story was aired, the Oklahoma Department of Human Services (DHS) was taken over by many applications from foster parents who wanted to take the boy in.
Since then, and after spending 6 years in the system, Jordan has been officially adopted. Now Aubree, Mariah, and Jordan all have a loving place to call home, which is all that any kid lost in the foster care whirlwind could ever ask for.
Please fill in your e-mail so we can share with you our top stories!