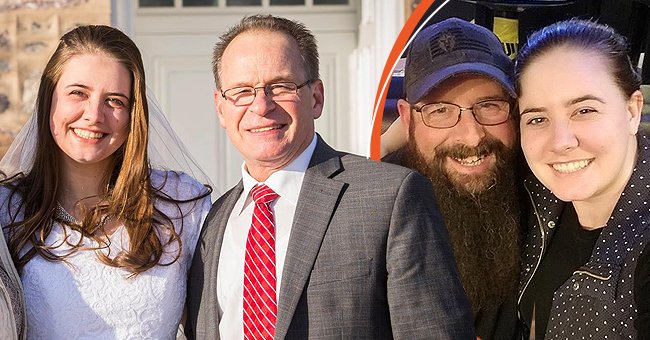 facebook.com/kara.ashby.75
Adopted Bride Finds Biological Father and Asks Both Dads to Walk Her Down the Aisle
A young woman had the most memorable wedding ever as she covered the first half of the trip down the aisle with her birth father and the remaining distance with her adoptive dad.
For a woman, nothing can be as special as her wedding day, and the moment she takes her father's hand to walk down the aisle, she's swept over by a whirlpool of mixed feelings.
While having your family around on such life-altering occasions is monumental for every woman, this adopted bride from Utah was fortunate to be surrounded by her two dads on her big day in early September this year.
Kara Miller pictured with her birth dad and adopted dad. | Photo: facebook.com/kara.ashby.75
Kara Miller had been adopted by Doug and Dana Ashby when she was only 2 days old. She had always been keen to find out about her birth parents, so her adoptive mom told her about MyHeritage's DNA Quest in 2019. Talking to People, Miller shared:
"It was just exciting."
Unlike adopted parents who keep their adopted children from digging out details related to their birth parents, the Ashbys were extremely supportive of Miller's decision.
In February 2021, Miller was able to get DNA matches with her paternal grandma and aunt, who ended up connecting her with her birth father. The revelation was just about as overwhelming for her biological dad, Mark Wadley. He later added:
"I never knew that the day would ever come. I never thought it would. I've always wondered where she was, how she was, but I never knew if it would ever happen or not."
After a few weeks of connecting with her birth father, Miller was also able to meet her birth mother. She then learned that her parents were 19 and 16 years old when they had given birth to her.
Wadley shared that he had wished to do a final DNA test to confirm Miller was his daughter, but his mother and sister assured him that their uncanny resemblance was all the proof they needed.
Before meeting in person, the daddy-daughter duo talked for three hours straight on the popular social media platform Facebook.
Wadley also added that he was ecstatic to find he and Miller only lived at a 2-hour drive from each other, and their grand reunion after 25 years was indeed a memorable one.
Fortunately for this daddy-daughter duo, Miller's wedding day was just around the corner, and after getting to know her birth family, she invited them to be with her on her big day.
Miller's birth dad was overjoyed, and on her wedding day, she walked down the aisle with not one but two fathers. The happy bride clearly got a wedding to remember, and we're glad everything worked out so perfectly for her.
Please fill in your e-mail so we can share with you our top stories!