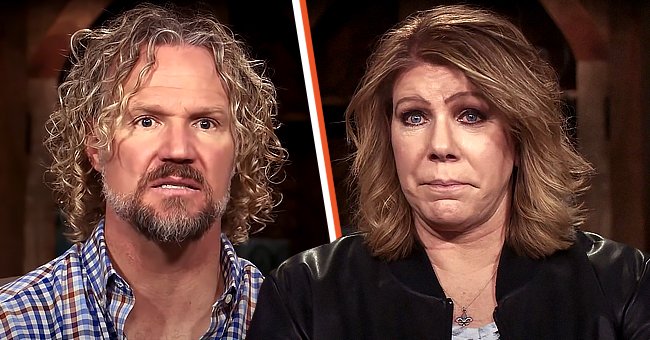 Getty Images
Meri Brown Crossed the Line with a Catfish Scam That Made Her Connection to Kody 'Dissolve'

Meri Brown was catfished after she and Kody Brown decided to stay together in a "spiritual union." Their tumultuous relationship fell apart, but Meri stuck to the Brown family years after the event.
In 2015, Koby's first wife, Meri, was involved in a catfish scandal that made headlines. The "Sister Wives" star later revealed that she started online dating during an emotional and vulnerable time.
The online relationship turned out to be a catfish — it was a woman impersonating a man. The term "catfish" was coined by Nev Schulman's documentary on MTV that later turned into a TV show. It refers to people faking their identities in online dating.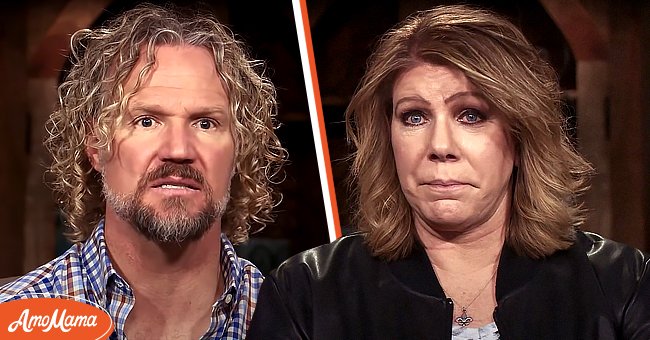 Image extracted from YouTube video "Kody and Meri's crumbling relationship," TLC channel. | Source: You Tube
SISTER WIVES
The TLC reality show "Sister Wives" premiered in 2010 and is currently in its 14th season. The show follows the life of a polygamist family, which includes the patriarch Kody Brown and his wives, Meri, Janelle, Christine, and Robyn. They have 18 children.
Polygamy is illegal in all 50 states; however, Kody affirms that his only legal union is with Robyn. The other three wives are married "spiritually." The Brown family decided to partake in the show to overcome social prejudice against polygamist families.
When the show premiered in 2010, it received mixed reviews from both critics and the public. One of the fascinating aspects to the public was the wives union and how they positioned themselves.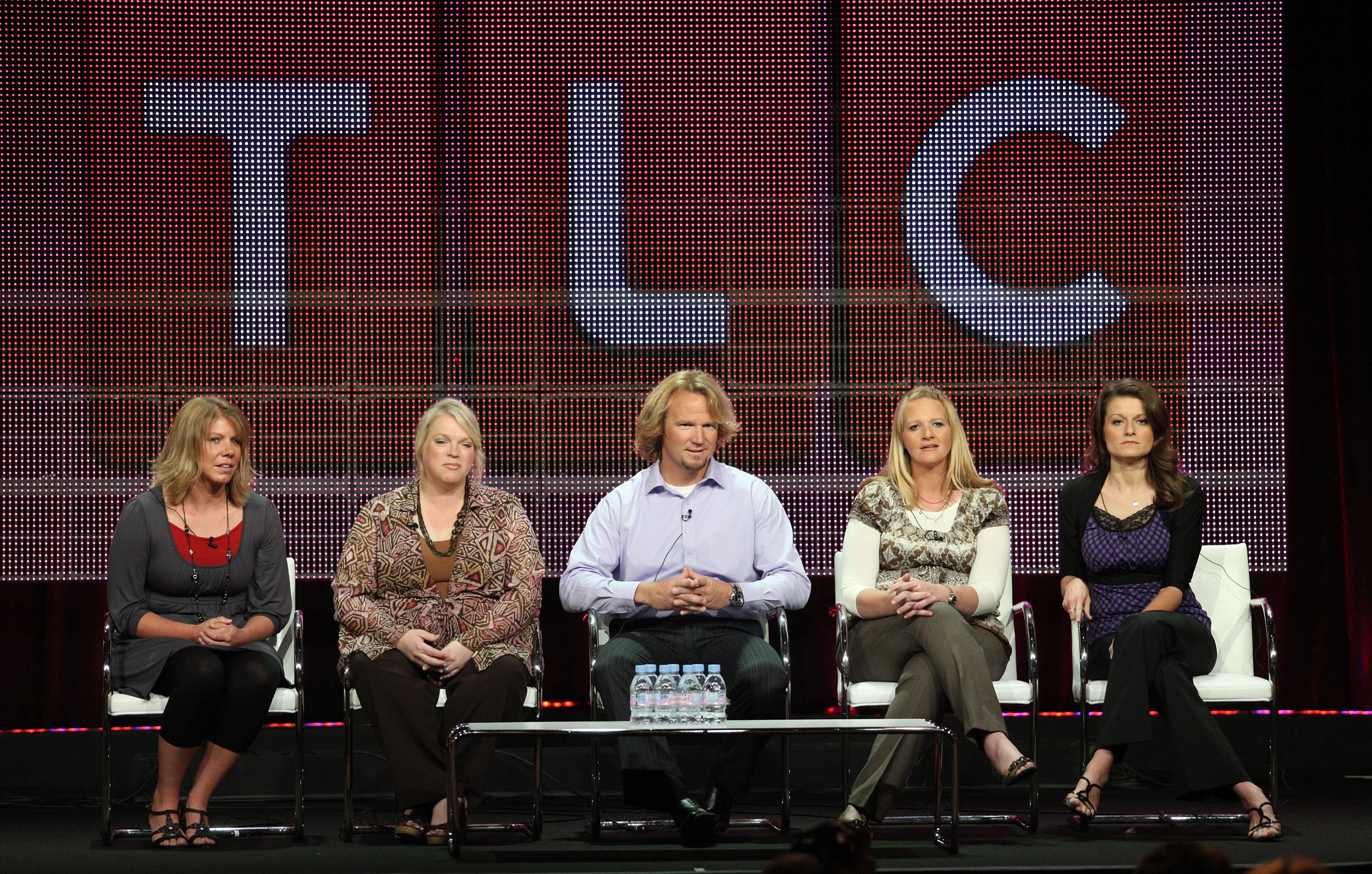 Meri, Janelle, Kody, Christine, and Robyn Brown during the "Sister Wives" panel on the Summer TCA press tour on August 6, 2010, in Beverly Hills, California. | Source: Getty Images
They turned a traditional patriarchal interaction usually seen in polygamy into a matriarchal one. The bond between the sisters is far stronger than their interpersonal relationship with the husband in the house.
After the show's debut, Oprah invited the Brown family to appear on "The Oprah Winfrey Show." The TV host found the interaction and relationship between the sister wives particularly fascinating. In 2011, Kody wrote about his family:
"We have chosen to live in a plural family for many reasons; above all we have a testimony that this is what God wants us to do, and that it will make us better people."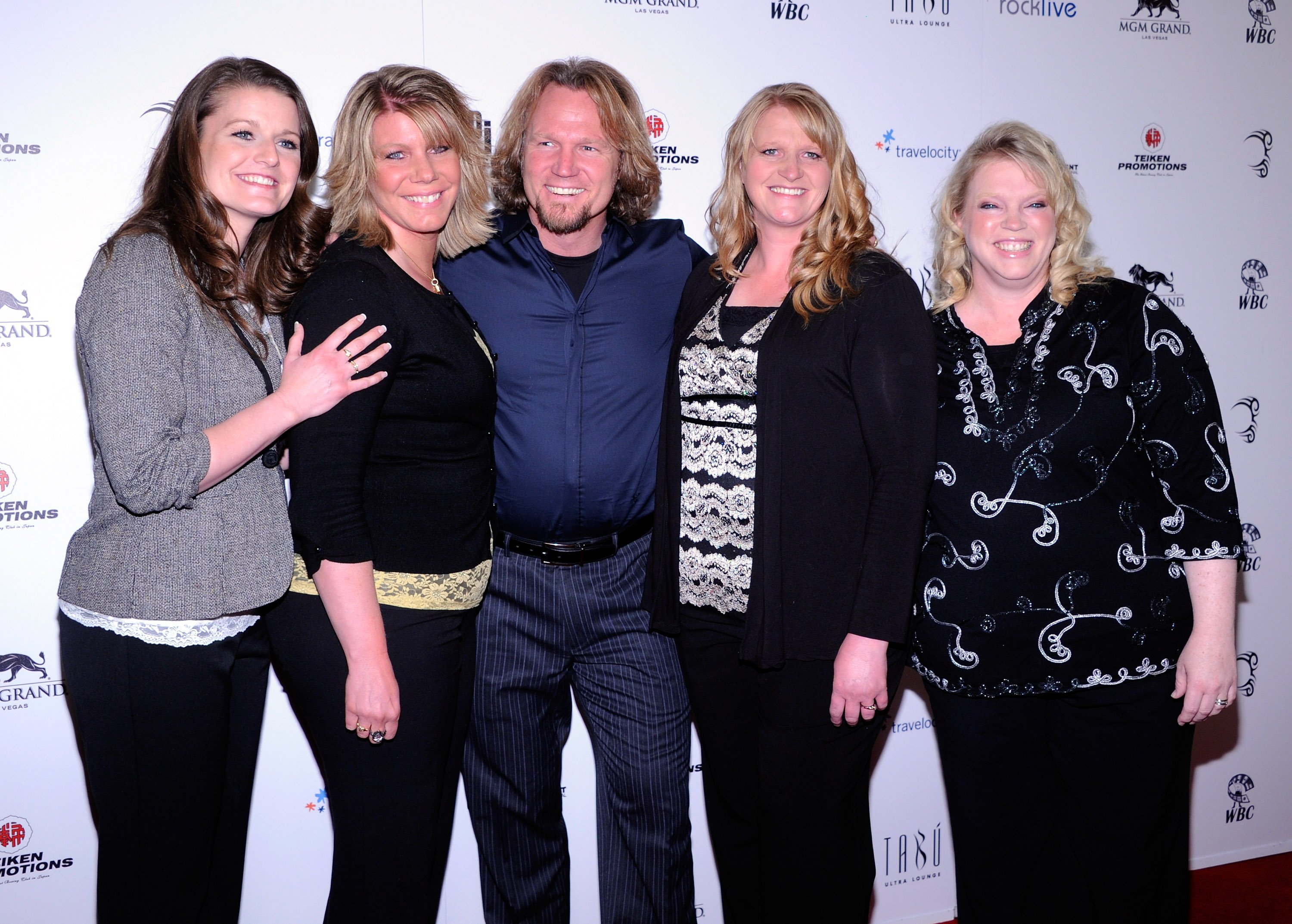 Robyn, Meri, Kody, Christine, and Janelle Brown at the grand opening of Mike Tyson's one-man show on April 14, 2012, in Las Vegas, Nevada. | Source: Getty Images
However, the show received plenty of criticism too. Some people found it "sensationalist," and some felt that the sisters are jealous and have "self-worth" problems.
KODY AND MERI
Meri is Kody's first wife, and before Robyn, Kody was legally married to his first spouse. The duo tied the knot in 1990 but lawfully divorced in 2014. In 1993, Kody "spiritually" married his second wife, Janelle, and a few months later came Christine.
Robyn was the last wife to join the polygamist family in 2010. In September 2014, Kody divorced Meri to marry Robyn, allegedly to adopt Robyn's three children. Despite the divorce, the couple stayed together, in a "spiritual union."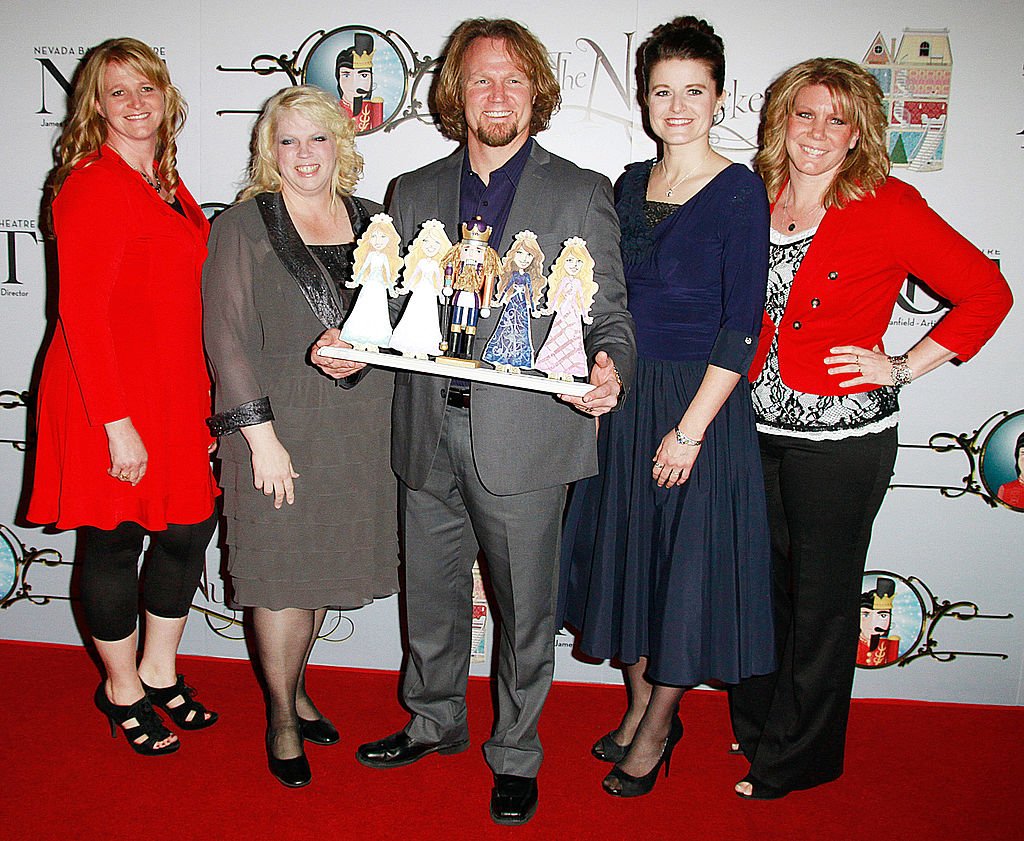 Cast of TLC's "Sister Wives" Christine Brown, Janelle Brown, Kody Brown, Robyn Brown and Meri Brown at the Smith Center on December 15, 2012 in Las Vegas, Nevada. | Source: Getty Images
After their divorce, Kody and Meri's relationship hit a breaking point. Apparently, before the catfish episode, Meri said in season 15 during a therapy session that the couple's romance was "dead over."
THE CATFISH SCAM
That's when Meri resorted to online dating, but unfortunately, things didn't go well for her. She was tricked into a relationship with a female fan and her friend who was impersonating a man.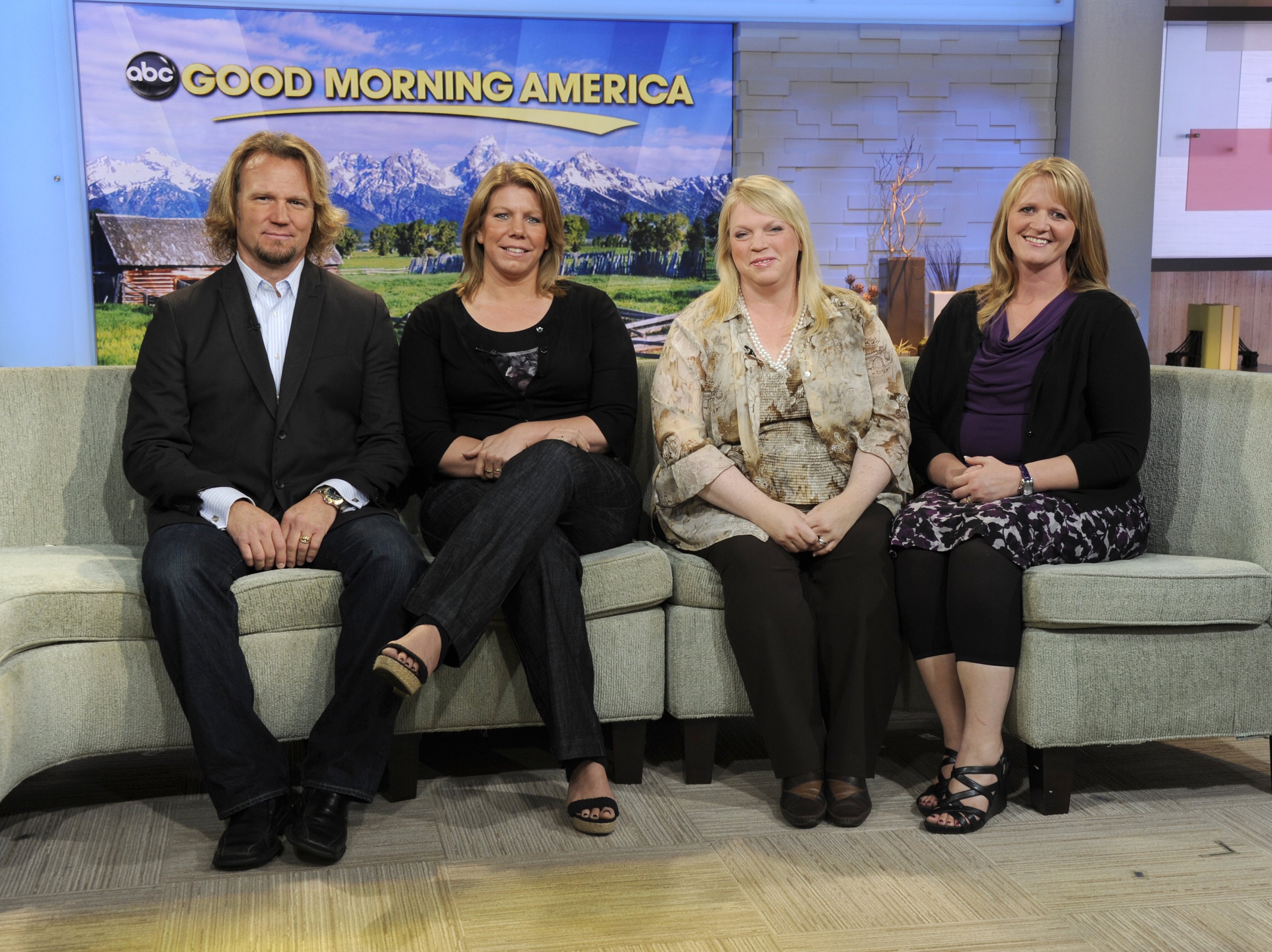 Kody Brown, joined by three of his four wives Meri, Janelle, and Christine (his 4th wife Robyn is too pregnant to travel), talks about their show "Sister Wives," .on GOOD MORNING AMERICA, 9/21/11. | Source: Getty Images
They never met in person; however, Meri was sent pictures by the impersonators — unfortunately, they were photos of an actor. What at first looked like a romance turned into an abusive and exploitive relationship:
"She is the one I would talk to, and there would be times I would be talking to him on the phone, and he would have a temper tantrum of sorts and hang up the phone."
Meri hid her online affair from Kody and her sister wives. But Robyn knew something was odd. Due to their close relationship, Robyn noticed that Meri was hiding something.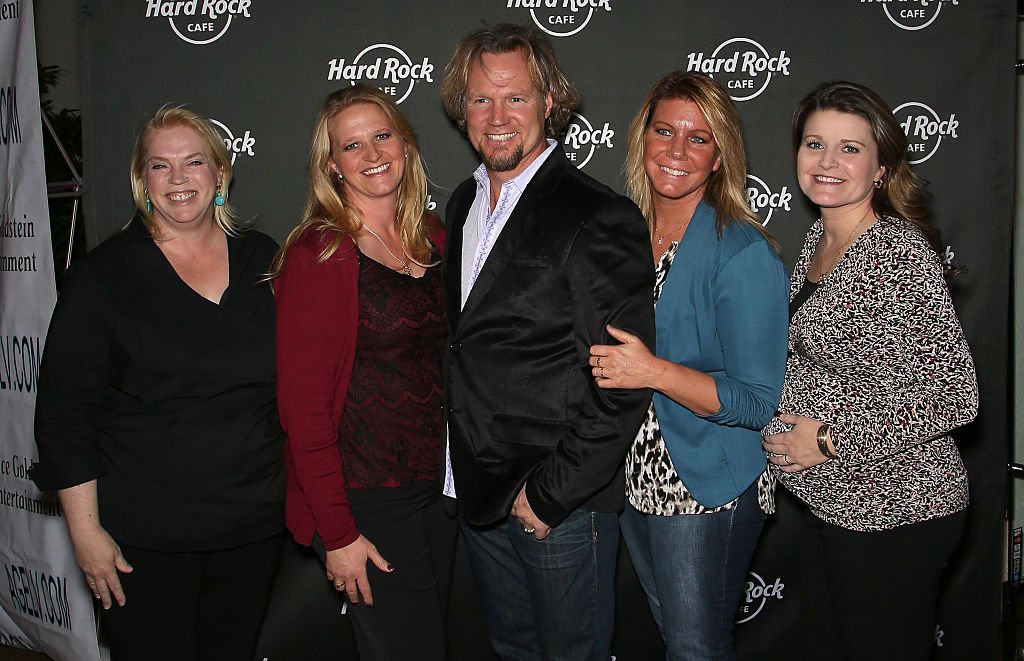 Kody Brown (C) and his wives, (L-R) Janelle Brown, Christine Brown, Meri Brown and Robyn Brown, attend Hard Rock Cafe Las Vegas at Hard Rock Hotel's 25th anniversary celebration on October 10, 2015 in Las Vegas, Nevada. | Source: Getty Images
After the divorce and the catfish scam, Kody and Meri became even more distant from each other. In February 2021, the patriarch said that he and his first wife hadn't been "on the same page for some time." However, he admitted:
"In plural marriage, I don't feel like I've got the right to say, 'This is over, this is ending.' I have dominion over my own body and where I'm at, but I'm not in a place where, like, I can say, 'Hey, I'm divorcing you.' I can't do that."
In his 2012 memoir, "Becoming Sister Wives: The Story of an Unconventional Marriage," Kody shared that he thought Meri was his soul mate when they first met. He described his first wife as "cute and sweet."
Two months after Kody's declaration, Meri officially left the Brown family and decided to get back to her Utah bed & breakfast business. In April, Meri's mother passed away, and according to her, it was a time of laughter and tears.
In the same month, Kody declared his favoritism towards the fourth wife, Robyn, resulting in Meri demanding apologies from his side. Kody later stated he had been deceived into marrying Meri, claiming their relationship was "very different from what he expected."
Throughout the series, Meri mentioned her wish to leave the Brown family several times. The pair went to couples therapy in an attempt to make the relationship work as she admitted that their marriage "was pretty rocky for a while."
CHRISTINE MOVED ON TOO
Christine contemplated moving back to Utah at the end of last season, but the sister wives and Kody shut down the idea. That's when Christine said that she couldn't "do marriage with Kody anymore."
According to The Sun, the third wife left the Brown family and moved into a $1.1million duplex home. The mother of six will likely live in her new home with her 11-year-old daughter, Truely, as the older children have already moved out.
Please fill in your e-mail so we can share with you our top stories!