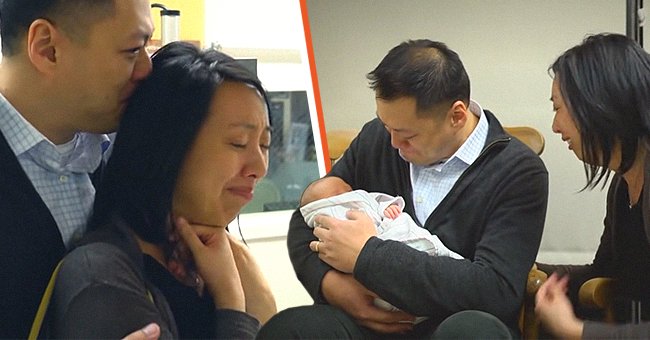 YouTube.com/The Austin Stone
Touching Moment a Couple Who'd Been Trying to Become Parents for 9 Years Finally Meet Adopted Son
A couple's infertility issues made them unable to have a child of their own. After waiting for 9 years, their lifelong dream to become parents came true when they traveled from Texas to California to meet their beloved son.
Becoming parents to a bundle of joy is indeed a precious feeling. However, some couples can have a hard time embracing this simple joy, which is why opting for adoption can seem like a possible solution under dire circumstances.
For 9 years or more, Dennis and Carita Chen kept trying as hard as they could to have a child. They went to see doctors, took different opinions, and did everything in their power to become parents. However, nothing seemed to help.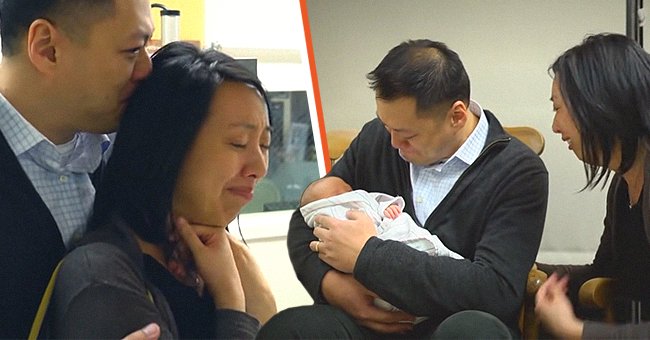 The heart-touching moments when the Chen family held their son in the hospital. | Photo: YouTube.com/The Austin Stone
BECOMING PARENTS AFTER 9 YEARS
The Chens were then informed about their fertility issues, which basically meant they couldn't have a baby on their own. After much thought, they decided to adopt a child. At first, they planned to go for foreign adoption until they heard from a friend.
Soon afterward, their friend told them about an adoption attorney who wished to be connected to an Asian couple to adopt a baby who hadn't been born yet. The couple was so delighted that they immediately agreed to meet the attorney.
Much to their dismay, the biological mother changed her decision and said she wanted someone from her own family to adopt her child. Dennis and Carita were truly heartbroken, as their only chance at becoming parents was now dead and gone.
Luckily, the adoption failed to pull through, and the hospital social worker contacted the Chens again, asking if they were still interested in taking the child. In March 2011, the happy couple traveled from Austin, Texas, to Fresno, California, to meet their baby. Dennis shared:
"No trip I've ever taken, regardless of distance, has felt longer than this one."
When they reached the Emergency Room of the Madera Community Hospital in California at 9:30 pm and met their son, they couldn't believe their eyes. They told the nurse who escorted them to their child how incredibly glad they were to become parents.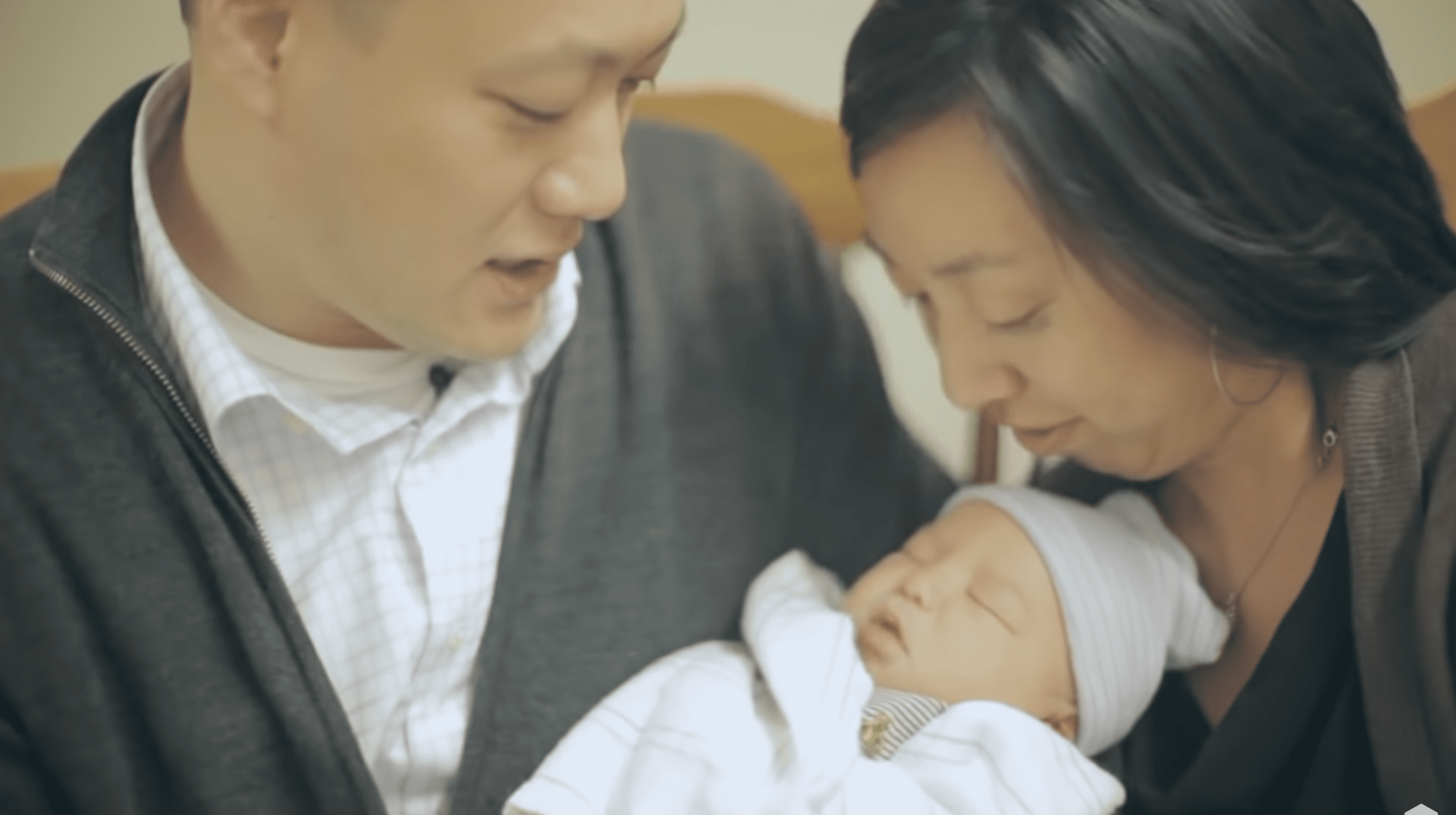 The heart-touching moments when the Chen family held their son in the hospital. | Photo: YouTube.com/The Austin Stone
The same nurse then asked them what they wanted to name their son, and the Chens simultaneously replied, "Jacob." They now had an adorable bundle of joy who belonged to them for the rest of their lives. Dennis also recalled:
"I [found] myself weeping uncontrollably at the intensity of seeing my son for the first time. At some point in those tears, I notice Carita clinging to my arm, hand over her mouth, crying along with me."
The Chen family was given a private room and two chairs at the hospital so they could sit with their emotions for a while and celebrate the beautiful moments of becoming mom and dad to their son.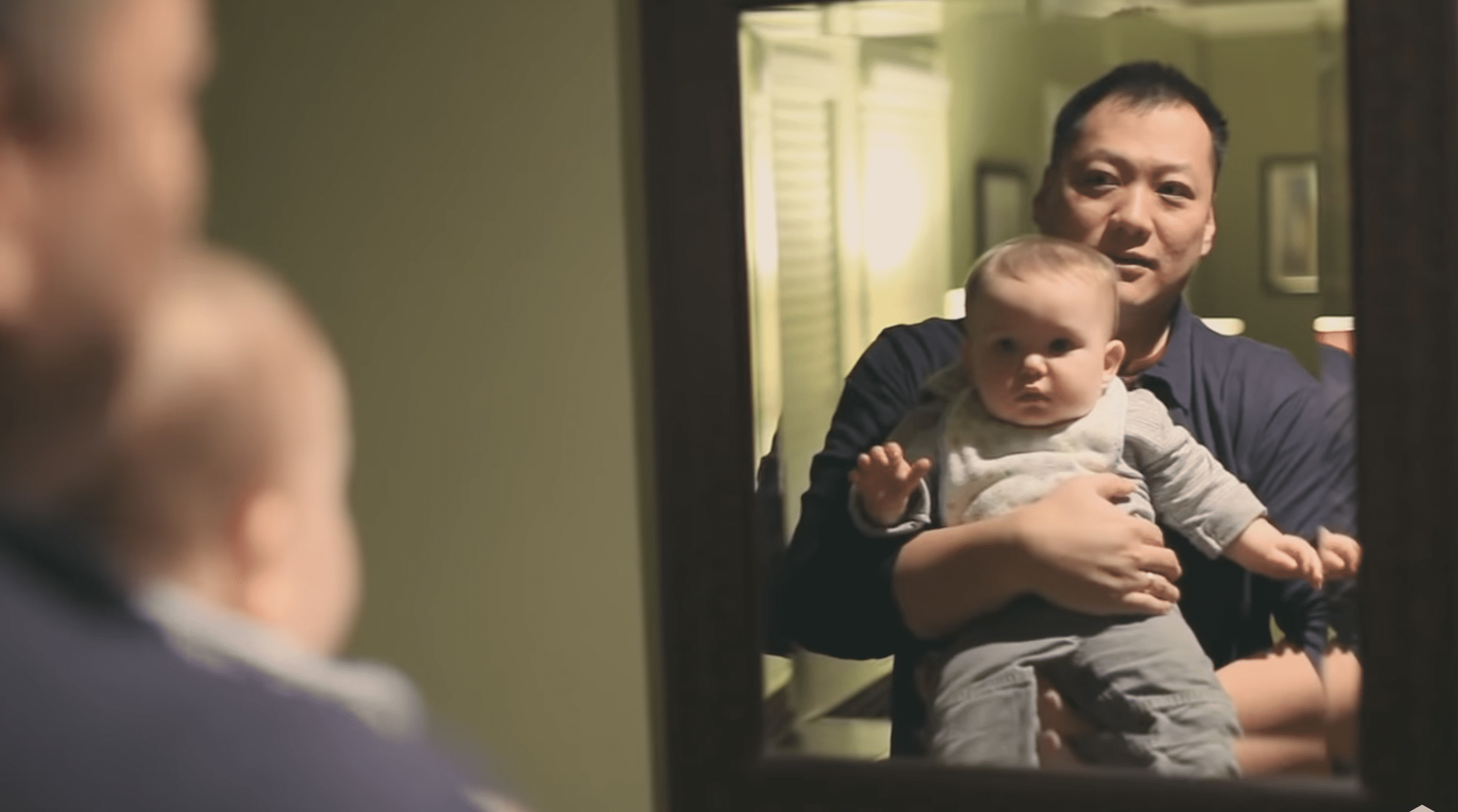 Litte Jacob pictured with his father, Dennis Chen. | Photo: YouTube.com/The Austin Stone
The Chens run a WordPress blog where they document their journey of parenthood and how Jacob changed their life for the better. In a special Mother's Day tribute to his wife in 2015, Dennis wrote:
Today, Jacob and I celebrate our good fortune to have you in our lives. The only regret that I have, on this day, is that I do not celebrate you enough the other 364 days of the year (sic)."
Indeed, Dennis and Carita's lifelong dreams of becoming parents became a reality thanks to adoption, and we wish them more joyous days ahead with their adorable son, Jacob.
ANOTHER MOVING ADOPTION STORY
It turns out that the Chens weren't the only ones longing to become parents. Another gay couple shared the heartwarming story of adopting a little princess. Ben and Aaron Ptashinsky-Skinner revealed how their life changed after becoming dads.
The couple first met in 2006 when Ben accepted a "boyfriend application" that Aaron had shared on his MySpace page. They decided to put a ring on it in 2011 and finally got married in 2015.
By that time, America's approach toward the LGBTQIAP+ community had started to change, which pushed them to consider becoming parents and opting for adoption to complete their family.
The couple was then matched to a birth mom who was 6 months pregnant. Due to a family incident, she moved away from them, but they managed to move closer to where she was in the last weeks of pregnancy.
Their daughter, Charlotte Ptashinsky-Skinner, was born on July 28, 2017, and they couldn't have been more delighted. Ben and Aaron revealed how welcoming Charlotte brought them closer together as a family and made everything more meaningful for them.
Undoubtedly, the incredibly moving adoption stories of the Chen family and the Skinners teach us that the only thing that truly matters is love, for it has the power to persevere in the darkest of times.
Please fill in your e-mail so we can share with you our top stories!