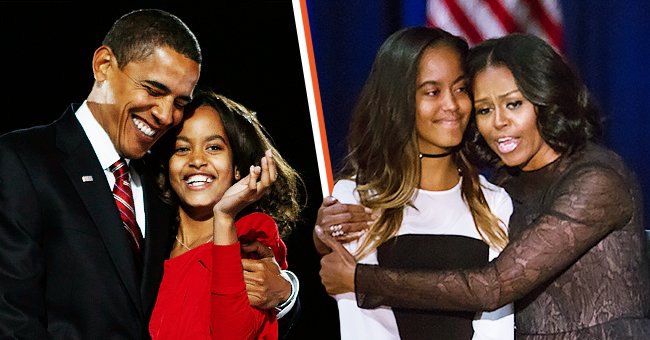 Getty Images
Malia Obama Received Only 1$ Pocket Money a Week and No Birthday Presents as a Kid

Barack and Michelle Obama, who ran two terms as the POTUS and FLOTUS, devised a structured plan to handle their parenting—they gave their firstborn only $1 weekly for pocket money, and she received no birthday presents as a kid.
Malia Obama's father, Barack Obama, is the only African-American to have sat in the presidential seat. The record-breaker who became America's 44th president served for two terms consecutively. He was a passionate individual who, regardless of race, connected with many citizens.
On his home front, he is known to exhibit the same devotion, and over the years, he has been the protector of his family. Before assuming office in 2009, Barack, who shares two daughters, Malia and Sasha, with his wife, Michelle, revealed their parenting method.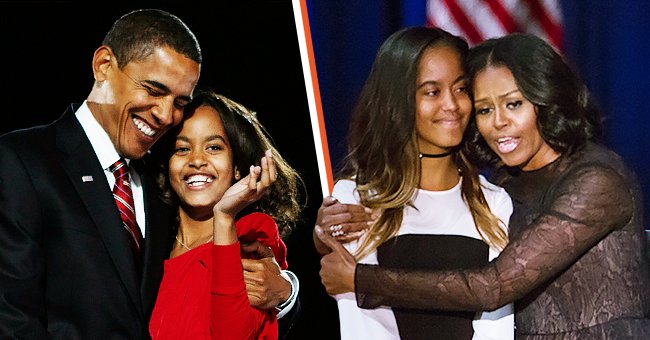 Barack Obama embraces his daughter Malia after Obama gave his victory speech in Grant Park on November 4, 2008 [left]. Malia Obama, and her mom, First Lady Michelle Obama, share a hug onstage, after U.S. President Barack Obama delivered his farewell address to the American people at McCormick Place Convention Center[right]. | Photo: Getty Images
These days they go about their business, enjoying their lives, and trying to make a difference while residing in their nine-bedroom home in Washington DC.
PARENTING BEFORE ASCENDING THE PRESIDENCY
In 2008, Barack and Michelle had a sitdown with People to talk about why they are wary about spoiling their kids and would love to teach them contentment, a value they already ingrained in them at a young age. At the time, Malia had just celebrated her 7th birthday.
According to Michelle, her daughters never get birthday presents because of the money spent to make the day special. Her husband added that the sleepovers are more than enough, as friends show support by attending and bringing gifts. The mother of two added:
"They get so much stuff that it just becomes numbing. Malia believes there is still a Santa Claus...But Malia says, 'Ma, I know there is a Santa because there's no way you'd buy me all that stuff.'"
The interviewer was interested in knowing if they gave their kids an allowance or pocket money. The duo mentioned that at the beginning, Malia earned $1 a week only after completing her chores.
She was committed to the deal, and her dad felt guilty when he couldn't hold up his end of the bargain due to his busy schedule. Still, this did not make her relent in her efforts to please her parents or carry out the assigned chores.
During their childhood, the siblings' compliance did not mean that the girls never fought or whined about the set rules in the home; in the end, they were made to listen to mommy's lecture or be stripped of some privileges.
Regardless of these disciplinary measures, the Obama family is one big and happy bunch, where everyone has a role to play. They are also close-knit and talk about every decision and life choice, especially when it affects them all.
For example, before becoming the 44th president, Barack admitted that his kids were nervous about what other kids might think of them.
Ultimately, they supported their dad and adhered to the series of advice that helped guard their confidence and attitude towards their peers.
THE FIRST DAUGHTER
Malia Obama is the firstborn of her parents and was the First Daughter for eight years, during her father's tenure as a president. She is a 23-year-old adult who had her life reconfigured for a while.
As the First Daughter, Malia had her schedule reorganized, as well as her wardrobe and most of her life; however, the lessons she learned helped her navigate through.
When she became a teenager, an age where many would love to explore and add a string of activities into their list, like learning how to drive, among other things, she did not enjoy the privilege of having her dad around to teach her.
As president, Barack was not allowed to drive, neither was his wife allowed to fill in the position, so their daughter was left in the company of the Secret Service to teach her such essential skills.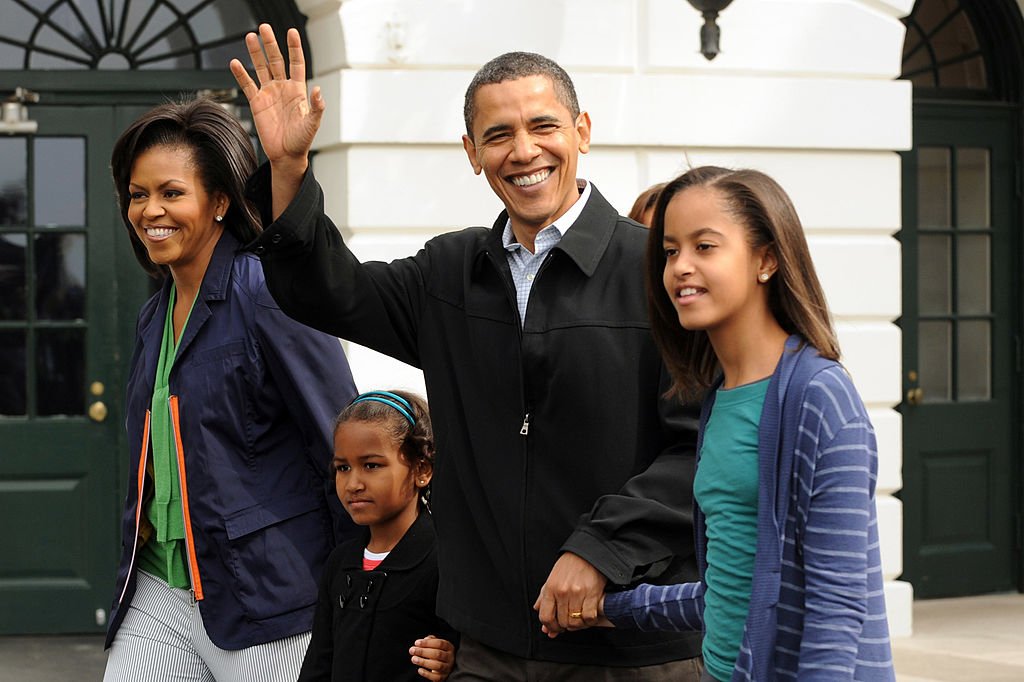 Michelle, Sasha, Barack and Malia Obama pictured at the annual White House Easter Egg Roll on the South Lawn, 2009 | Photo: Getty Images
INTRIGUING FACTS ABOUT MALIA OBAMA
Malia is a young, intelligent woman who studies at the prestigious Harvard University. After high school, the former First Daughter took a hiatus for a year before attending the University.
In between her break, she worked as an intern in the US Embassy of Spain. Although it is not certain if the young lady had political ambitions, she is very involved in civil rights movements and showcases her activism when necessary.
She has attended several protests where she lent her voice or listened to the possible provisions for a solution, including the Dakota Access Pipeline protest and the Sundance Festivals to hear the chairman from Standing Rock and other water protectors.
Malia's protests may be a means of exercising her civic responsibilities and nothing linked to a passion for a political career; however, she is interested in other fields.
Michelle explained that her daughter is an avid reader like her dad and has long expressed her love for filmmaking. The young beauty with brains has interned as a production assistant on the set of HBO's "Girls" and "Extant" and with the Weinstein Company.
As an intern, she received genuine compliments for her efforts from top-notch entertainers like Halle Berry and Lena Dunham. The duo admired her work ethic and commitment to the job.
While Malia seems to have inherited her dad's sharp wits and dedication to completing tasks, she has also been influenced by her mom's fashion sense.
Many style magazines have noticed her ability to whip up fantastic casual ensembles, which complements her body frame and personality.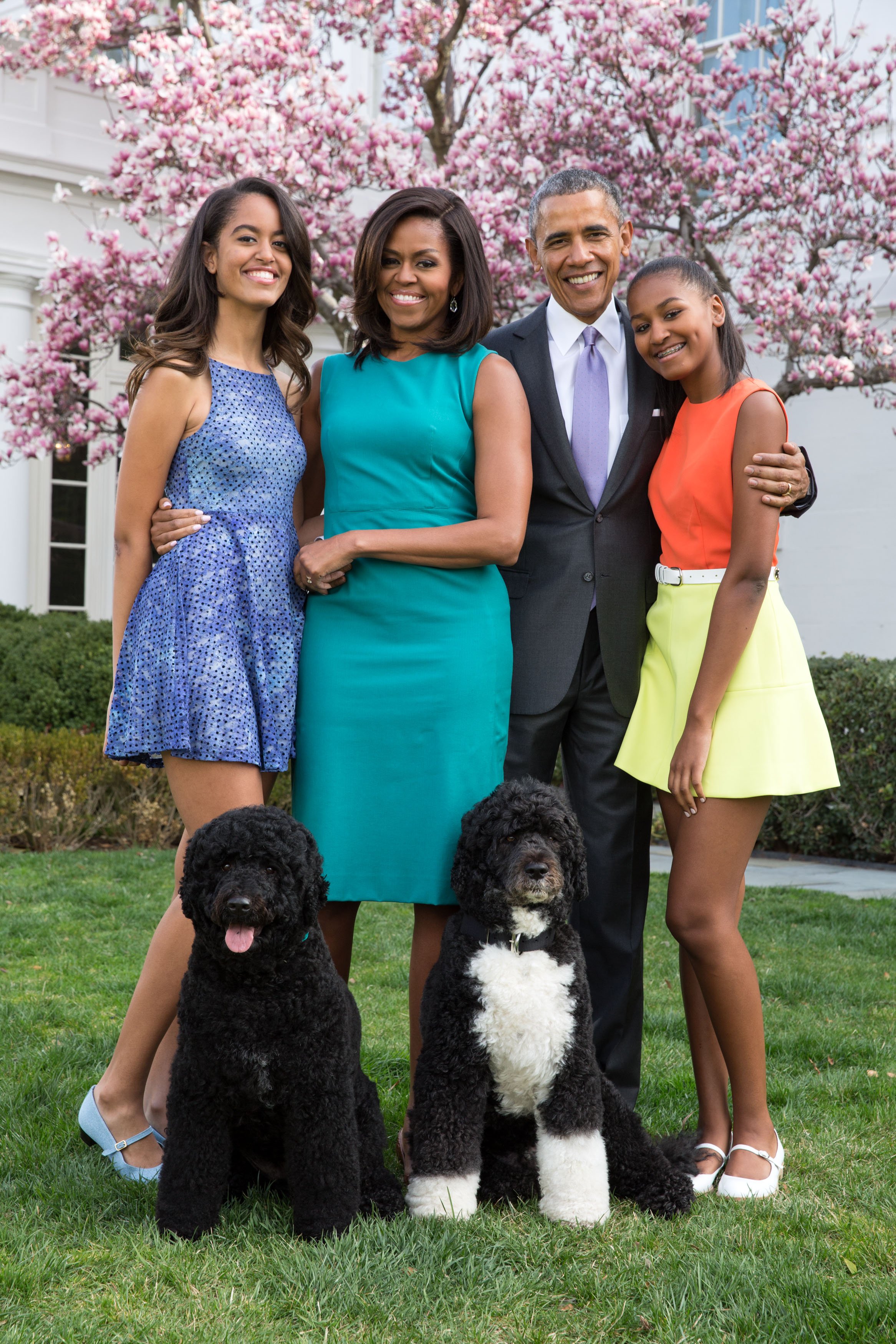 Former U.S. President Barack Obama, Michelle Obama with Malia and Sasha in the Rose Garden of the White House, in Washington, DC. | Photo: Getty Images.
ROMANTIC RELATIONSHIP
Malia has been living a somewhat low profile lifestyle until she became a student at Harvard University. The young adult is photographed in different spots; she still seems to possess her conservative attitude, even though she was once involved in a controversy; she was seen smoking.
The Harvard student is also in a relationship and has done little to conceal who she is dating. Malia is seeing another Harvard student, Rory Farquharson. Farquharson is a British native who shares similar traits as his lover. His fashion sense is impeccable, and he does not mind smoking.
In the beginning, it was unclear whether Barack was bothered about his daughter's romance with Farquharson, as many publications have labeled the young man a bad influence on Malia.
However, in a previous interview, the former president made it clear that he trusts his daughter's choices when it comes to dating because they learned from the best mother. After all, his girls are very disciplined, thanks to the values instilled in them.
Recently, the family embraced the young Brit by inviting him to quarantine with them. The former president praised Farquharson and claimed the entire family loved spending time with him.
Leaving the office has made Barack and his wife bond more with family, but that does not mean they neglected their country. The duo has continued to engage in other activities by lending their voice to different causes.
Please fill in your e-mail so we can share with you our top stories!