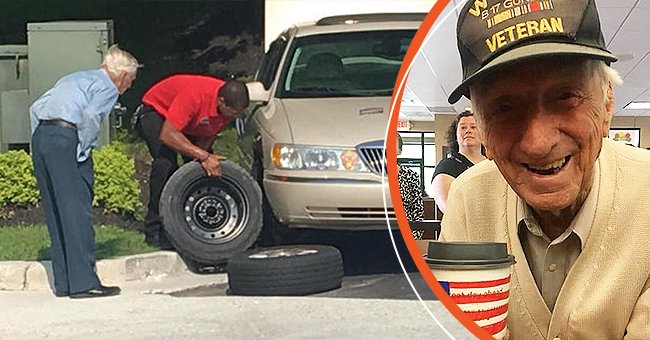 YouTube.com/CBS News
Veteran Nearly Cries after Getting a Flat Tire, Restaurant Manager Drops Everything to Help Him
When a World War II veteran drove to the Chick-Fil-A one Thursday in 2019, he wasn't looking for his usual meal. Instead, he was shaking badly and almost in tears. A restaurant manager decided to leave everything to help him.
No matter how strong we are, there are moments that can get the best of us, leaving us emotionally and physically compromised. For adults and particularly elderly people, these feelings tend to heighten.
A 96-year-old veteran was battling with the same exhaustion after an extremely tough day took its toll on him. When he couldn't bear things anymore, he decided to turn to a place that was familiar to him.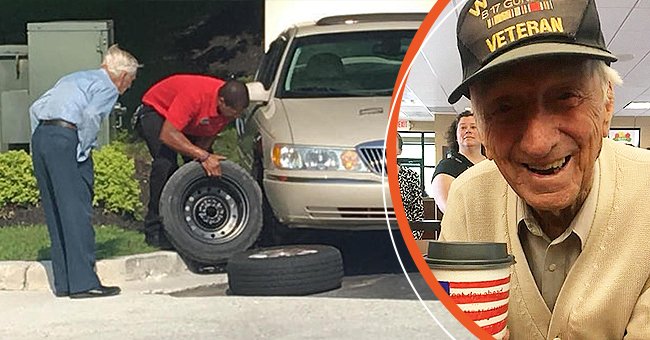 One of the managers at the restaurant volunteered to change the veteran's flat tire. | Photo: YouTube.com/CBS News
ACT OF KINDNESS
The elderly man was a regular customer at Maryland's Chick-Fil-A in Severn, so nearly everyone at the popular fast-food chain knew him. In fact, the restaurant employees lovingly referred to him as "Mr. Lee," as he often dropped by twice a week.
As soon as they saw Mr. Lee's car, they recognized him. However, he wasn't there to order his favorite chicken biscuit and coffee. There was something else on his mind, and it was bothering him.
As it later turned out, the old man had driven to the restaurant with a flat tire, and he seemed to be in a terrible condition.
One of the Chick-Fil-A managers, Rudy Somoza, revealed more details about Mr. Lee's condition while talking about the incident to CNN. He shared:
"He was shaking, almost in tears saying he barely made it to the store on three tires because one was bad (sic)."
Somoza explained that he saw the veteran converse with the restaurant employees, telling them that he had nobody to help him.
One of the managers at the restaurant volunteered to change the veteran's flat tire. | Photo: YouTube.com/CBS News
The old man wasn't even done talking when one of the restaurant managers, Daryl Howard, jumped to his rescue without even the slightest bit of hesitation. Appreciating Howard's kind act, Somoza added:
"His action of kindness was beautiful. Daryl has always been so helpful to anyone in need and deserves this recognition."
While Howard was busy replacing the flat tire, another employee at the restaurant captured the heartwarming moment, and the pictures soon became a viral sensation online. Indeed, the world could use more people like Howard.
THE PERFECT BEACH VACATION
Being kind to someone doesn't cost a thing, but its impact should never be underestimated. What Howard did for the World War II veteran was indeed generous, but he isn't the only one making headlines for his considerate nature.
A few lifeguards at Orange Beach in Alabama have gone viral for helping a 95-year-old lady, Dottie Schneider, who was on vacation with her daughter, Kimberly Waterbury, in October this year.
One of the guards was seen carrying the elderly lady in his arms, while the others offered her a ride in the beach patrol vehicle. Throughout her stay at the hotel, the lifeguards took turns bringing her to the beach and then taking her back.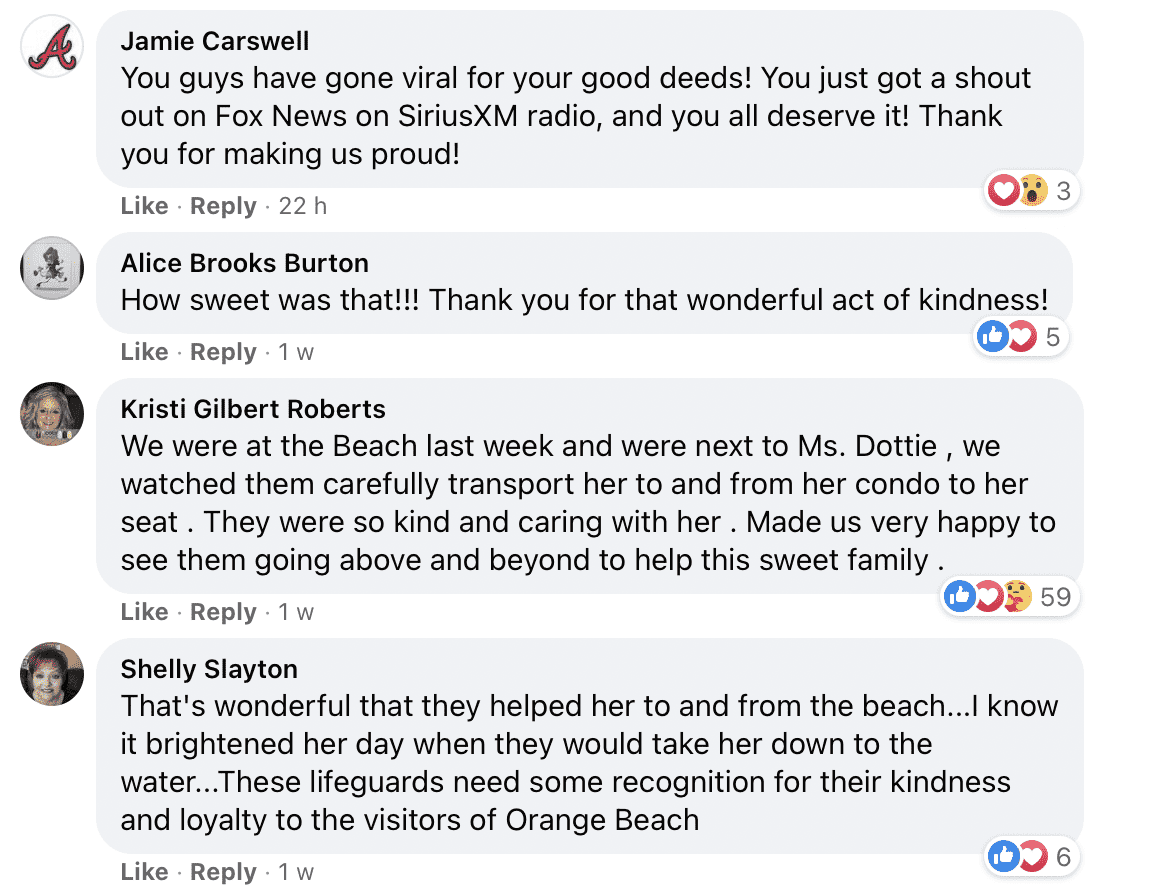 Netizens leave heartwarming comments, hailing the lifeguards' act of kindness on social media. | Photo: Facebook.com/OrangeBeachSurfRescue
The older lady, who traveled from Chandler, Indiana, and was ridden to her wheelchair, thanked the kind gentlemen for making her holiday so special. Her daughter also appreciated the efforts of the Orange Beach Surf Rescue team.
Undoubtedly, the incredible stories of Howard and the lifeguards at the Alabama beach teach us how important it is to be kind to one another and do good deeds without expecting anything in return.
Please fill in your e-mail so we can share with you our top stories!