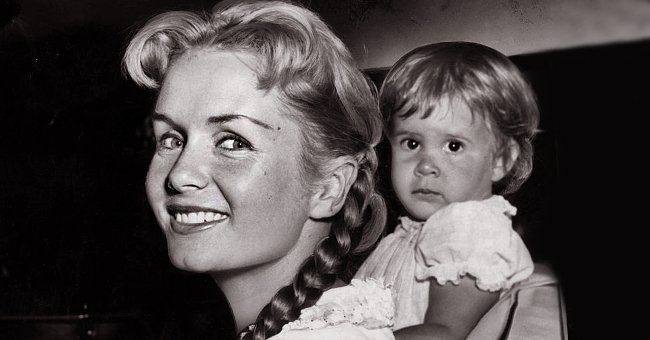 Getty Images
Debbie Reynolds and Her Daughter Carrie Fisher Died within a Day of Each Other in 2016
The iconic Movie Star Debbie Reynolds enjoyed fame and lived a long life. But sadly, it all ended after the death of her daughter, Carrie Fisher. The women passed away a day apart in 2016.
Debbie Reynolds from "Will and Grace" proved to be an exceptional actress. From the onset, Reynolds wanted to establish a legacy in the entertainment industry and was not motivated by fame.
Her dedication to the craft was impeccable and witnessed by roughly two generations. The entertainment connoisseur succeeded in leaving a legacy, which generations of artists to come will follow.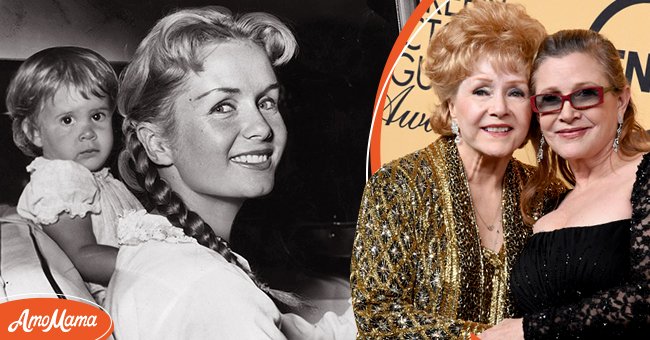 Debbie Reynolds con su hija Carrie Fisher el 9 de septiembre de 1958 saliendo a visitar a unos amigos en Los Ángeles [izquierda]. La homenajeada Debbie Reynolds (izq.) y la actriz Carrie Fisher posan en la sala de prensa de la 21ª edición de los Premios del Sindicato de Actores en el Shrine Auditorium el 25 de enero de 2015 [derecha] | Foto: Getty Images
Reynolds lived until 84, when she died of a stroke. Her death was even more painful since it happened a few hours after her only daughter, Carrie Fisher, passed away. These two were buddies, and Carrie learned a lot from her famous mother.
In addition, she was an actress and author who looked up to the "Will and Grace" alum for advice, inspiration, and even validation. The women worked on some projects as a team, and before their deaths, they co-starred in a documentary titled "Bright Lights."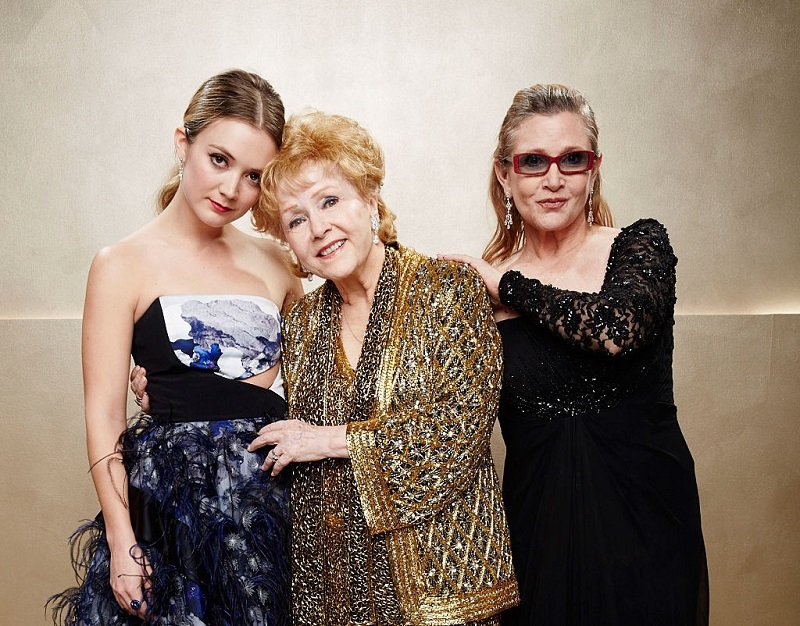 Billie Lourd, Carrie Fisher and Debbie Reynolds on January 25, 2015 in Los Angeles, California | Photo: Getty Images
WHO WAS DEBBIE REYNOLDS?
Debbie Reynolds was a captivating actress dedicated to bringing life to every character on stage and the big TV screens. Her stardom quickly rose as she was an attractive young woman who made the best of her talents and looks.
At age 16, she participated in a beauty pageant that won the hearts of one of the biggest production names in the movie industry, Warner Bros. It did not take long before she bagged a role in "Singin' in the Rain."
Apart from an acting career, Reynolds enjoyed remarkable family life. She was married three times and had two kids with her first husband, Eddie Fisher, a musician.
REYNOLDS' HEARTBREAKING DEATH
Sadly, Reynolds passed away in 2016, shortly after her daughter, Carrie Fisher, and a few months after suffering a minor stroke. Her son, Todd Fisher, confirmed the sad news of his mom's passing following a severe stroke.
The grieving son added that his mother was significantly hurt by his sister's demise and would mention wanting to be with Carrie. According to Todd:
"The last thing she said this morning was that she was very, very sad about losing Carrie and that she would like to be with her again."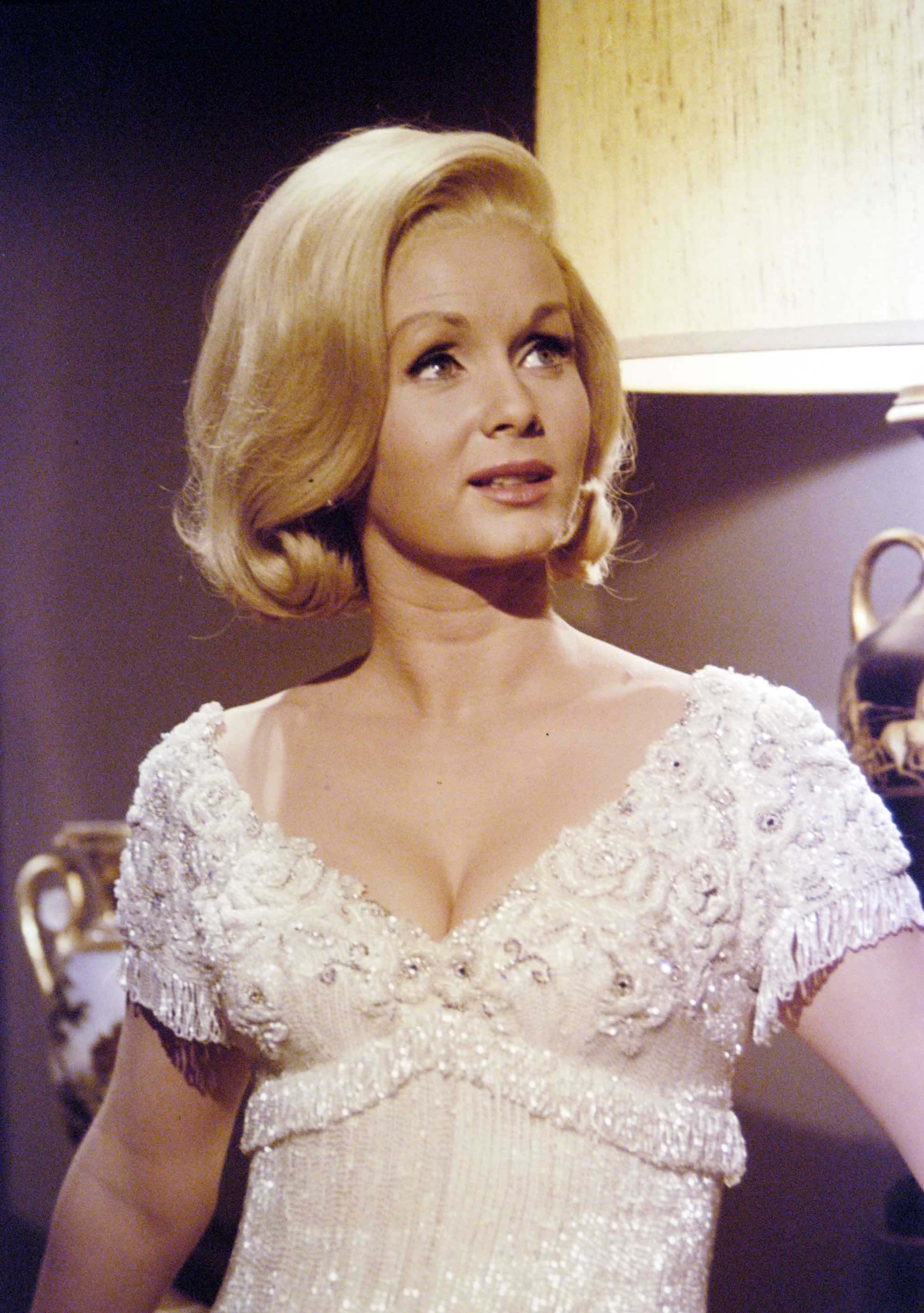 Debbie Reynolds In the film 'the Singing Nun', September 1967. | Photo: Getty Images
A few minutes after her declaration, the legendary actress suffered a severe stroke that eventually claimed her life at the Cedar Sinai medical center. Before her death, Reynolds was in her son's company in his Beverly Hills residence.
Todd revealed that the loss was intense, but the family would take solace in resonating with Reynolds's idea of caring for her daughter, a real-life role that she performed flawlessly.
The loss of the Hollywood powerhouse saddened many of her loved ones, including former co-stars and fans. Joely Fisher, Reynolds's ex-husband's daughter, tweeted a heart-melting photo and added a few words to capture her thoughts.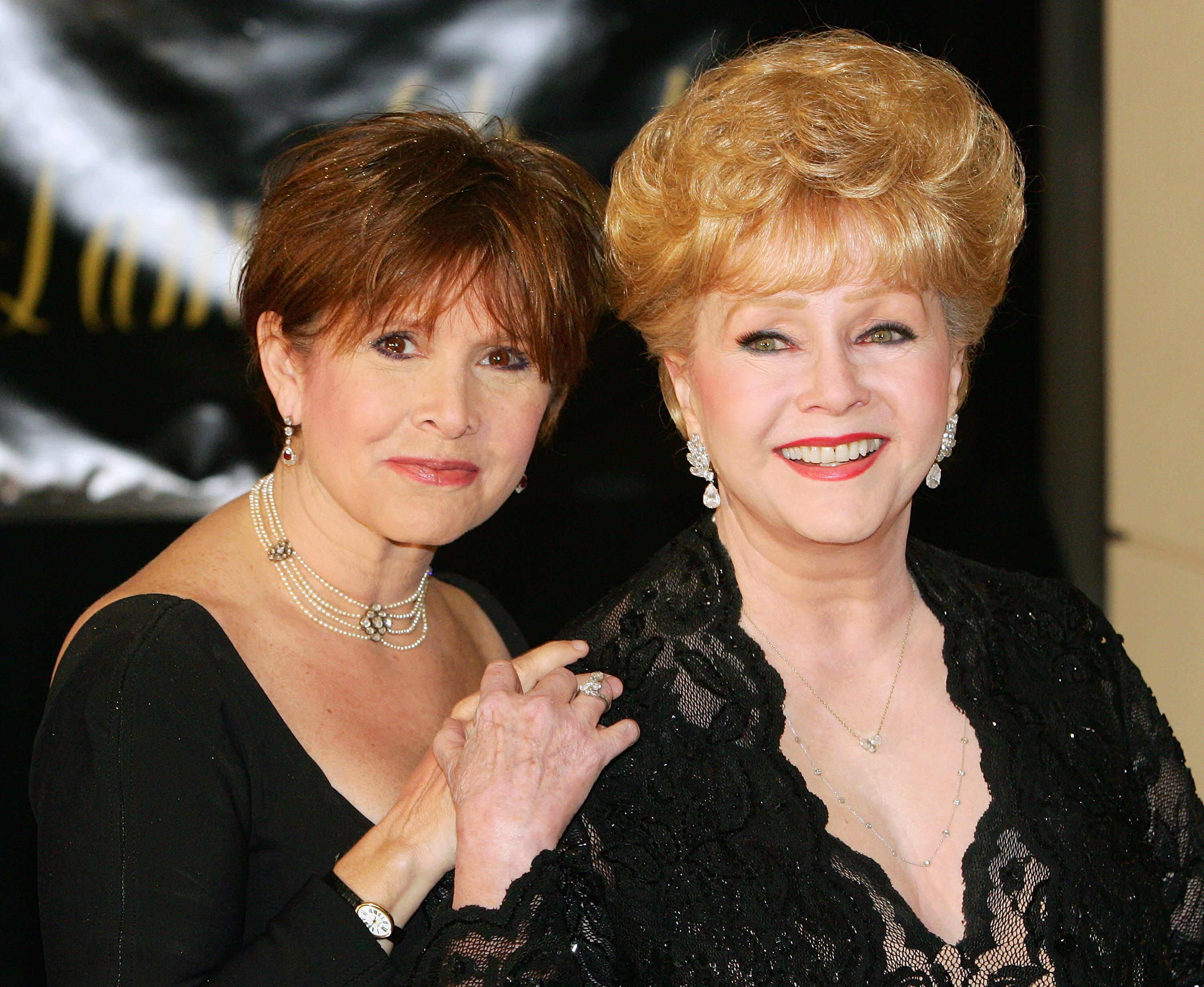 Actress Carrie Fisher and her mother, actress Debbie Reynolds, at Dame Elizabeth Taylor's 75th birthday party at the Ritz-Carlton, Lake Las Vegas on February 27, 2007 | Photo: Getty Images
"Will and Grace" alum Debbie Messing, who played the deceased's onscreen daughter, mentioned that the loss of both women was devastating.
Other celebrities like Eric McCormack, Albert Brooks, Carl Reiner, Carol Channing, Bette Midler, Ellen DeGeneres, and Rip Taylor honored the older actress with their words. They promised to always remember her, despite her passing.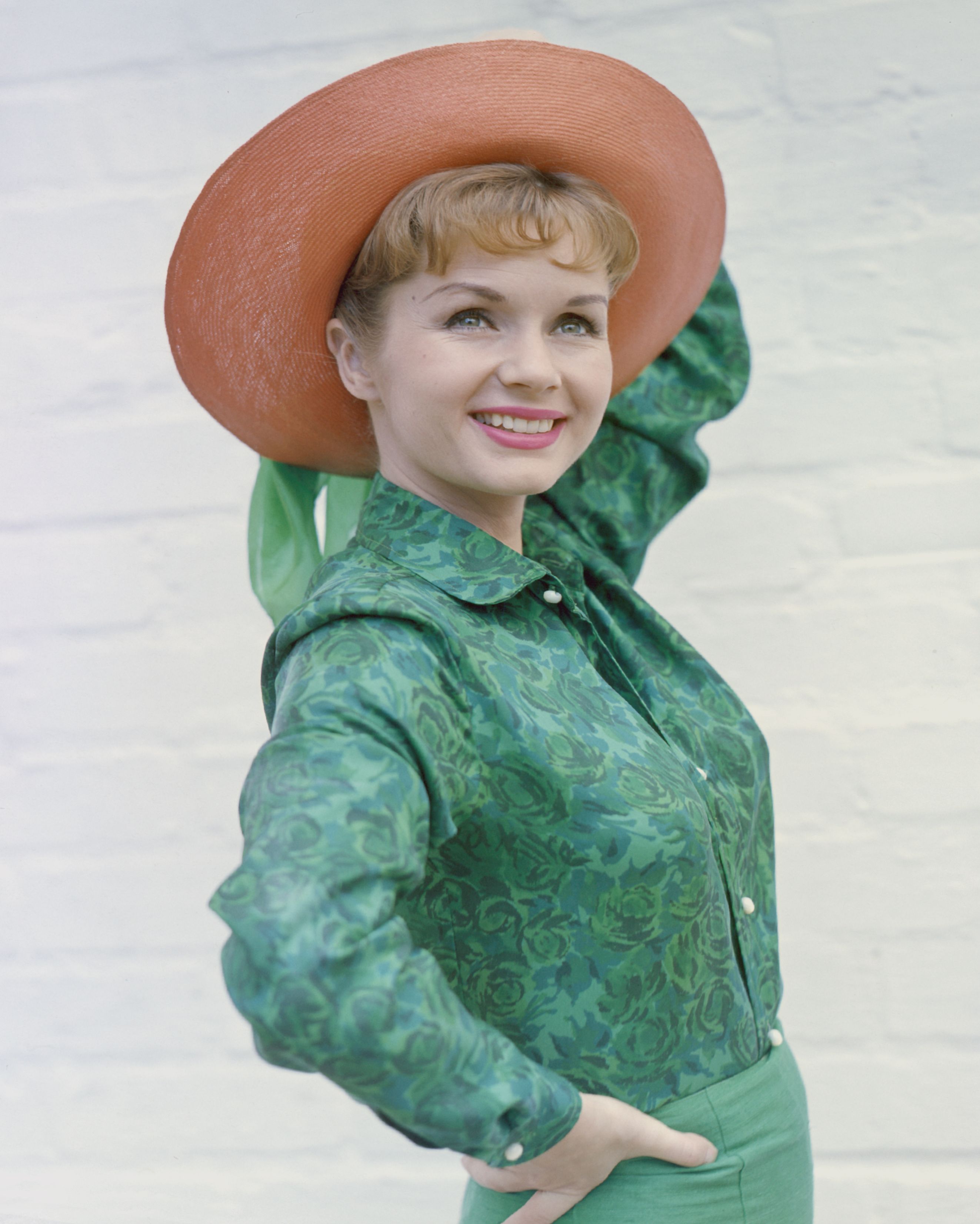 Actress Debbie Reynolds pictured smiling while posing in a green shirt and wide-brimmed salmon pink hat on January 01, 1960 | Photo: Getty Images
CARRIE FISHER'S DEATH
Reynolds was an excellent parent who juggled a career and being a mother without allowing any of them to suffer. She was still close to her kids even at age 84 and had a cordial relationship with them.
Carrie was on a plane from London to Los Angeles when she suffered a heart attack and died a few days later. After the heart attack, Reynolds announced that her daughter was stable and doing fine health-wise via a Facebook post.
However, news of Carrie's death rocked the media a few days later, following Reynolds's update on her condition. This time, the grieving mother reached out to fans who prayed for her child, adding euphemistically that their good wishes would guide her to her next stop.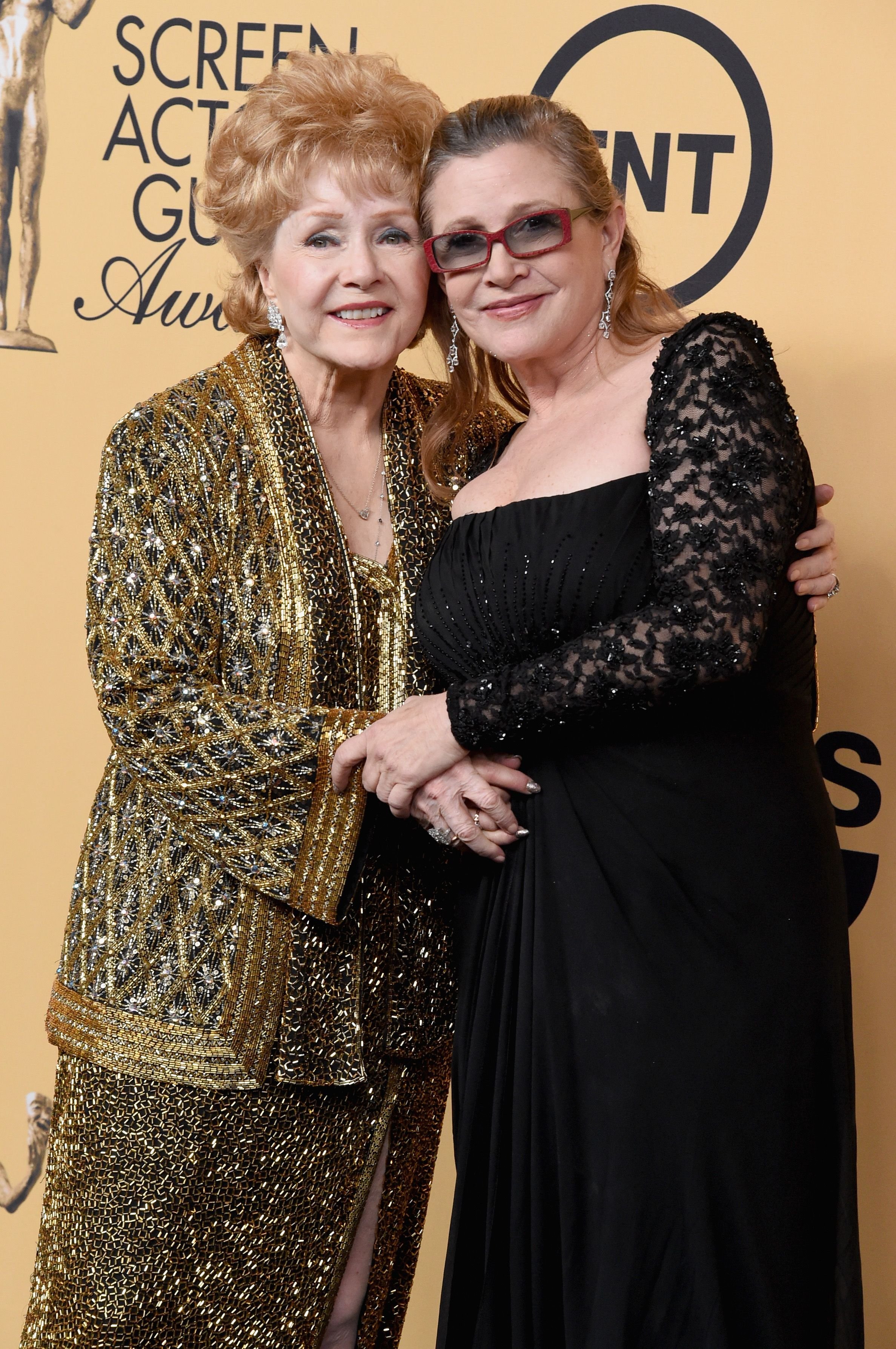 Honoree Debbie Reynolds and actress Carrie Fisher pose in the press room at the 21st Annual Screen Actors Guild Awards at The Shrine Auditorium on January 25, 2015 | Photo: Getty Images
DID REYNOLDS FORESEE HER DAUGHTER'S DEATH?
Many fans were shocked about the simultaneous exit of the stars, but they believed it was because of their close bond. Two years later, a family friend confirmed that the bond they shared was powerful, and they were inseparable.
The insider, Sue Cameron, a close pal to Reynolds, admitted that they were so close that her friend foresaw Carrie's untimely end.
Cameron explained that she would often visit her old buddy, and during one of her visits, the onscreen maverick confided in her by explaining a premonition.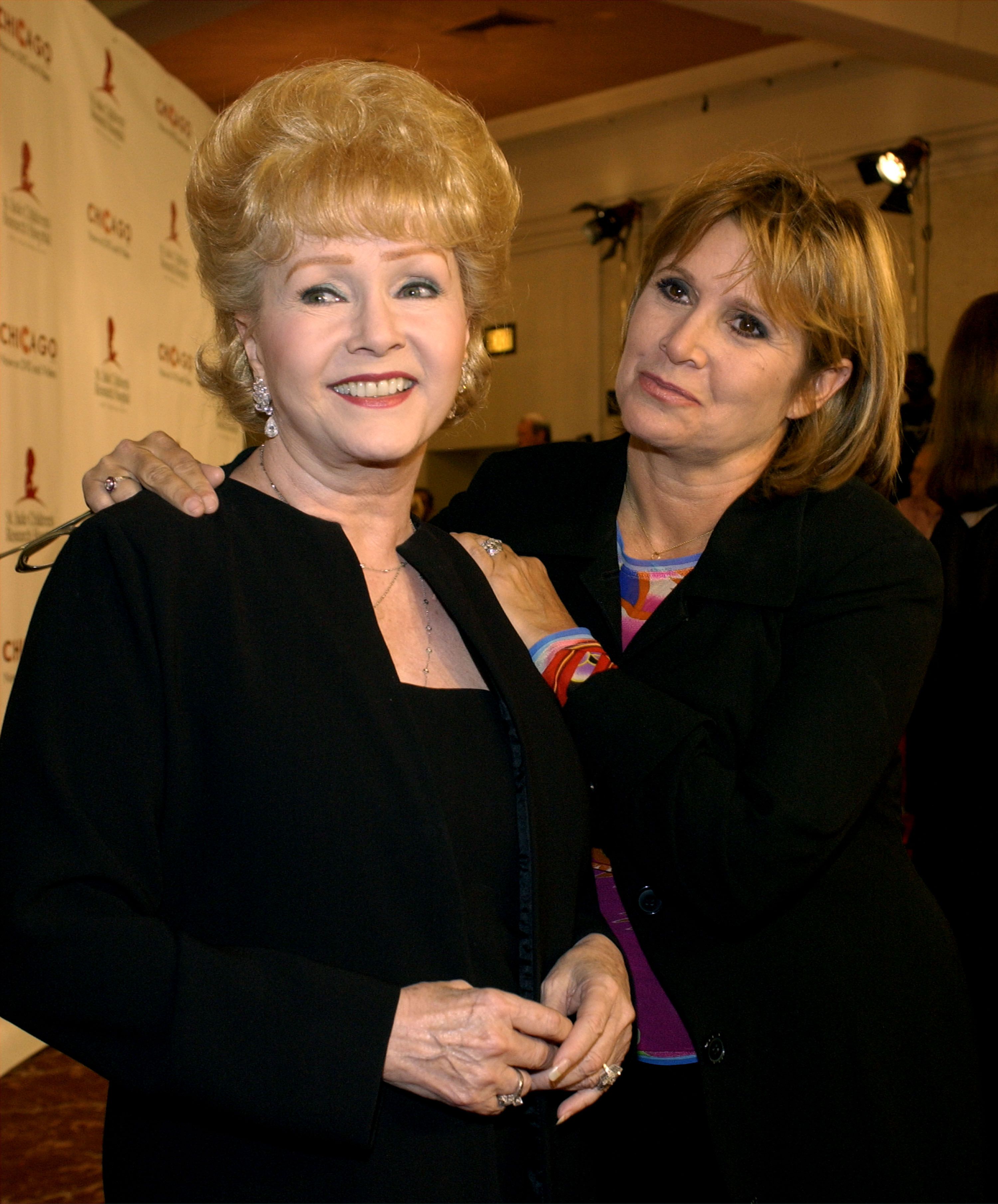 Debbie Reynolds and Carrie Fisher at the 2nd Annual "Runway for Life" celebrity fashion show at the Beverly Hilton August 19, 2003 | Photo: Getty Images
She explained that Reynolds was in bed when she witnessed a heavy cloud settle right on top of her for a moment. Cameron elaborated that Reynolds recounted being willing to accept her fate, but the cloud moved to the left side of her bed.
At the time, the family friend could not correctly interpret the dream. But in hindsight, Cameron remembered that the left side of the bed was Carrie's favorite spot, next to mommy.
Although Reynolds had mentioned that she was scared about her daughter's well-being, the mother of two told her staff she was not sure the author would return home on the day of her death.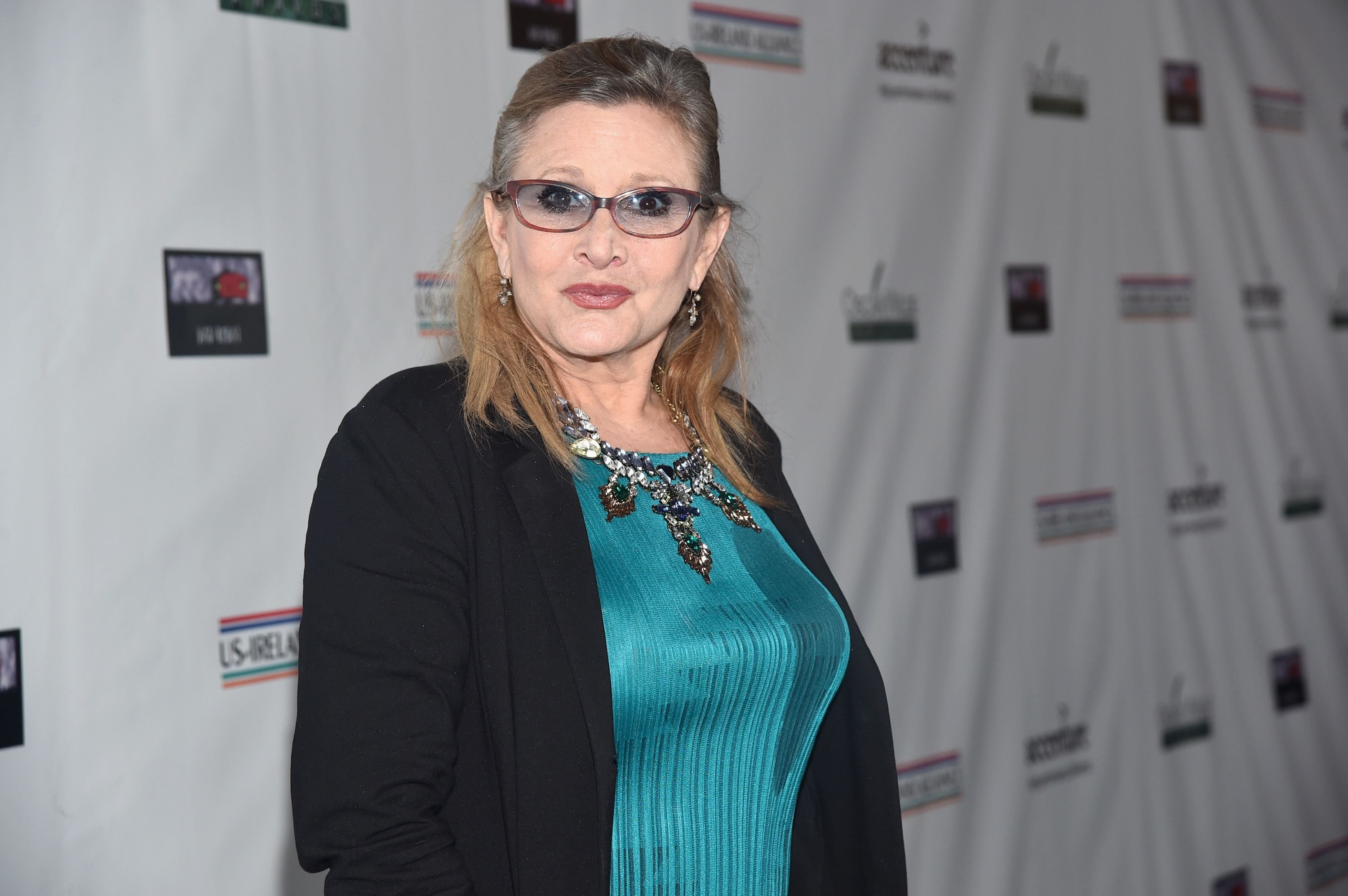 Carrie Fisher at the US-Ireland Aliiance's Oscar Wilde Awards event at J.J. Abrams' Bad Robot on February 19, 2015 | Photo: Getty Images
However, she did not add death to the expression. Despite the vision, Reynolds planned for the Christmas holiday.
WHAT FAMILY MEMBERS BELIEVE
Although many felt Reynolds died of loneliness, following Todd's narration, that is false. Instead, she only wanted to keep being a loving mother, available to guide her offspring. He said:
"The common theory about Mom's passing was that after losing Carrie, Debbie Reynolds died of a broken heart...that's not true. Instead, Debbie Reynolds willed herself right off this planet to personally see to it that Carrie would never be alone."
Todd is not the only one that has said things about his mother. His niece, Billie Lourd, also continues to cherish her now and then.
In 2019, the young woman who drew her acting inspiration from her mom and grandmother shared a sweet post in honor of the women. Lourd admitted to her sadness but confessed that she loved them.
Despite the tragedy that befell the family, Reynolds and Carrie continue to be a source of inspiration to many, with their close relationship and teamwork.
Please fill in your e-mail so we can share with you our top stories!
The information in this article is not intended or implied to be a substitute for professional medical advice, diagnosis or treatment. All content, including text, and images contained on news.AmoMama.com, or available through news.AmoMama.com is for general information purposes only. news.AmoMama.com does not take responsibility for any action taken as a result of reading this article. Before undertaking any course of treatment please consult with your healthcare provider.