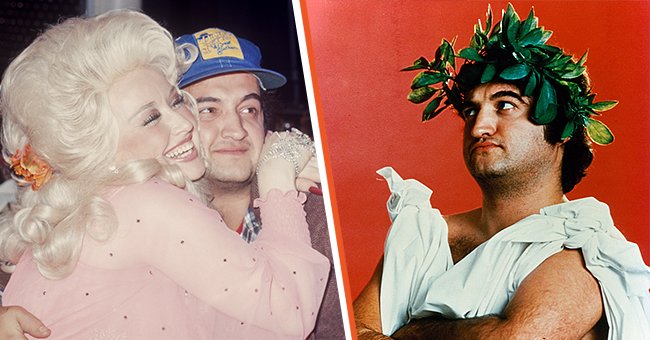 Getty Images
John Belushi Left a Remorseful Wife & a Generous 22-Page Typewritten Will behind after His Death
Late American comedian John Belushi was a generous man who ensured most family members were cared for when he was still alive and even after his death. However, personally, Belushi was a troubled soul.
"Saturday Night Live" star John Belushi fatally overdosed on heroin and cocaine on March 5, 1982. He was 33 years old and had left a twenty-two-page typewritten will.
His last will expressed the love and tenderness he felt for his immediate family, including his in-laws. Belushi left everything to his wife and high school sweetheart, Judy Jacklin.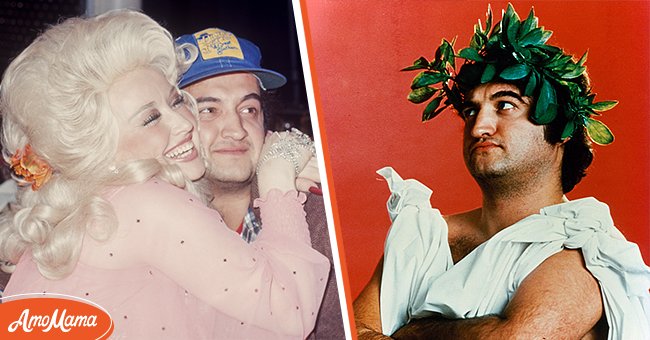 Pictured: (L) John Belushi embraced by country singer Dolly Parton in 1970 in New York. (R) John Belushi publicity portrait for the film "Animal House," in 1978 | Photo: Getty Images
BELUSHI'S GENEROUS WILL
The document stated that if Jacklin had died before him, his estate would have been divided evenly among eleven relatives, including Jacklin's parents, two sisters-in-law, and a brother-in-law.
Belushi had been supporting his big family financially for years through his corporate persona, Phantom Enterprises. He prepared the will in 1979.
In his 1984 book titled "Wired," reporter Bob Woodward revealed that Belushi's company was paying out nearly $4,400 monthly in salaries.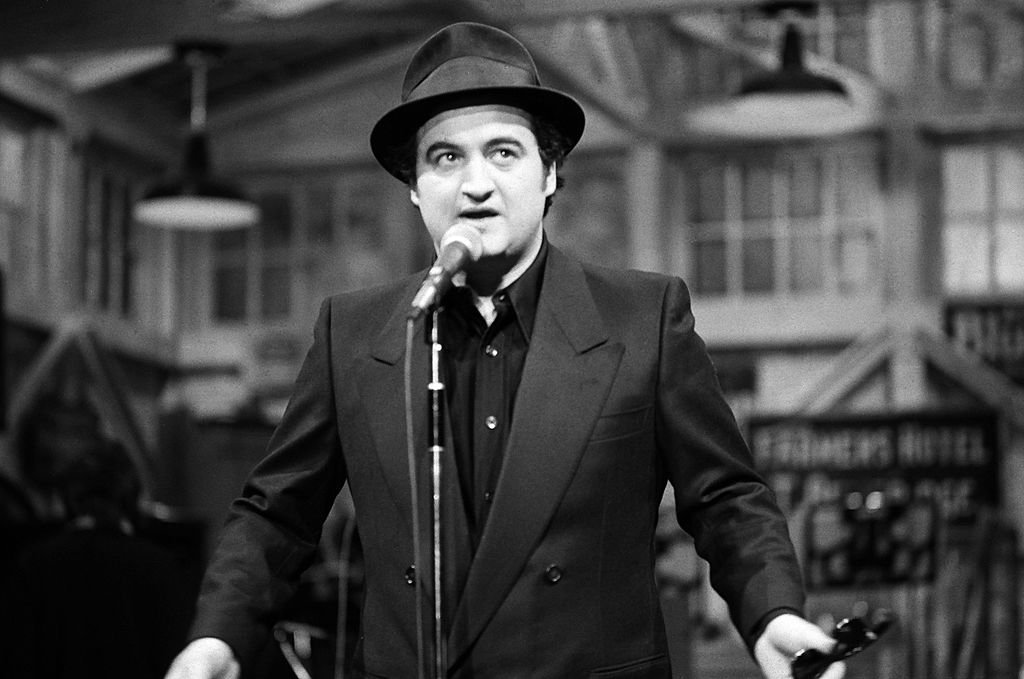 Pictured: John Belushi performs on "Saturday Night Live" Episode 15 on March 25, 1978 | Photo: Getty Images
His father Adam received $625, his mother Agnes $550, sister Marian $858, younger brother Billy $600, father-in-law Robert Jacklin $667, and his mother-in-law Jean Jacklin $1080.
Phantom additionally paid out more than $4,000 every month in medical insurance premiums for family members on the payroll. By the time the actor passed, he was essentially supporting his parents.
Woodward further revealed Belushi bailed his dad out of $60,000 worth of debt that included two failed restaurants located in Chicago.
Woodward estimated that the star required an annual income of between $500,000 and $1 million to maintain his entire family and keep himself afloat.
The terms of the will also state apart from his wife, the eleven family members who inherited from the estate were his parents, his sister Marian, and brothers, Jim and Billy.
With the money Jacklin inherited from her husband's estate, she said she would establish a John Belushi Memorial Fund.
The list also includes his nephew Adam, father-in-law Robert, mother-in-law Jean, their son Rob, Jacklin's sister Pamela, and another sister-in-law, Patricia Brewster.
Despite looking out for his entire clan, Belushi also included a clause in his will stating that anyone who disputed his last requests would be omitted.
Moreover, he assigned his accountant, Mark Lipsky, as executor. The value of his will is reportedly challenging to pinpoint from court records, but in 1985, his spouse listed it in his estate tax filing as almost $3.4 million.
His assets include a home near his resting place on Martha's Vineyard – a Manhattan townhouse, another one in the old mining town of Julian, California, and a condominium in Addison, Illinois.
The abode on Martha's Vineyard boasts 450 feet of beach frontage, eight acres of land, and a large bedroom that Belushi had converted into a high-tech music and entertainment chamber.
With the money Jacklin inherited from her husband's estate, she said she would establish a John Belushi Memorial Fund. She continued her partner's legacy by reportedly giving money to charities Belushi had taken an interest in before he died.
HIS LEGACY
In November 2020, she and Belushi's brother Jim opened up about the legacy the musician left behind in an exclusive interview with People. Jim said:
"John captured the hearts of America. He was funny over and over again – and those feelings never leave you."
He recalled listening to classic comedy records from Bob Newhart and Jonathan Winters growing up with his sibling, and Belushi wanted to pass that on.
As for wife Jacklin, whom he wed in 1976, she also recalled memories of her beloved spouse. She said he once told her to break up with him because he wanted to be an actor and worried that he would not make any money.
However, Jacklin said she always believed he would prosper. Consequently, that is what happened as after he performed in improv shows on and off-Broadway, Belushi eventually got his big break at "SNL."
Of the cast, Jacklin said there was a closeness among cast members. Jim chimed in and shared those around his brother back then respected him, and because of that, he managed to manifest more of his vision.
DRUG ADDICTION
After becoming a household name, Belushi went into a dark space and struggled with addiction behind the scenes. His widow revealed he was the type of person who went too far and wanted to stay too long at parties, adding:
"It seemed okay, but then he got into things like cocaine, and that is not a sustainable drug. People began to get concerned."
She described Belushi's untimely passing as a gut punch and explained she felt like she was thrown into the center of a tornado. A year after Belushi's death, she spoke frankly about the guilt she felt as well.
THE GUILT
Jacklin found herself burdened with grief, depression, and guilt and was infuriated by the media and police investigations into her husband's drug-related death.
Besides Belushi being a fun-loving husband, she also said he was an insecure man-child who often agonized about his weight. He then resorted to relieving his anxiety by using cocaine.
Jacklin said showbusiness influenced his addiction even more because people who mainly surrounded him were involved in drugs.
Moreso, his issue with substance abuse livened up like a roller coaster ride throughout 1980-81. Jacklin said when anyone dies, people involved are often filled with guilt. She said:
"And mine, of course, was that I didn't talk to him before he went or didn't go with him."
She mentioned the day before he passed, he called her and was tense about a gig. According to Jacklin, that was his usual self, primarily when he worked on something.
The producer shared she had a feeling she would not be able to get through to him and, most of all, is regretful about it because she did not try.
In addition, on the afternoon of his death, Cathy Evelyn Smith appeared driving the wrong way into the one-way exit of Chateau Marmont Hotel on the Sunset Strip. She was behind the wheel of Belushi's rented red Mercedes.
At that moment, a hundred feet away, Belushi lay naked deceased on the floor in his bungalow. Police on the scene declared his death that of natural causes. However, other people present strongly believed his death was drug-related.
FACTS ABOUT BELUSHI
Belushi was born in Chicago, Illinois, on January 24, 1949, to Agnes Demetri and Adam Anastos Belushi. Both his parents were of Albanian descent.
He was popular back in high school as the co-captain of the Wheaton Central High School football team and was elected homecoming king in his senior year.
He also developed an interest in acting and appeared in the high school variety show. Belushi was then encouraged by a drama teacher to pursue acting and put aside his aspirations to become an aspiring football coach.
He attended the College of DuPage for two years, where he co-founded the "West Compass Players," a comedy troupe. In 1971, he performed in various on-stage comic performances.
A year later, he joined the cast of "National Lampoon's Lemmings," an off-Broadway rock musical group. In 1973, Belushi got hired for the syndicated "National Lampoon's Radio Hour" as a writer.
His big break came in 1975 when he joined "SNL" which made him a household name. He later appeared in movies such as "Goin' South" in 1978.
The star was later cast as Bluto in the movie "National Lampoon's Animal House." His role made it a box office hit and the year's grossing comedy. Belushi and fellow "SNL" regular Dan Aykord quit the series to pursue more film projects after that.
Please fill in your e-mail so we can share with you our top stories!
The information in this article is not intended or implied to be a substitute for professional medical advice, diagnosis or treatment. All content, including text, and images contained on news.AmoMama.com, or available through news.AmoMama.com is for general information purposes only. news.AmoMama.com does not take responsibility for any action taken as a result of reading this article. Before undertaking any course of treatment please consult with your healthcare provider.