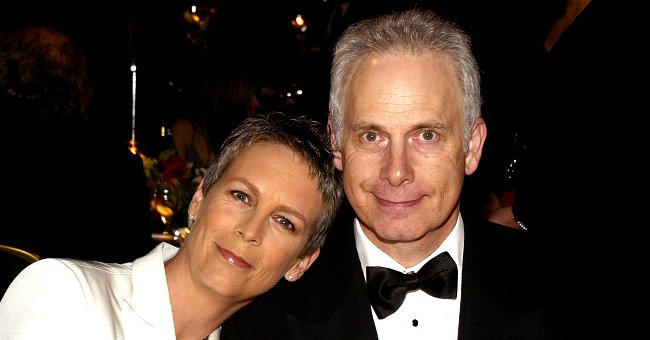 Jamie Lee Curtis and Christopher Guest | Source: Getty Images
Jamie Lee Curtis' Husband Is a Real-Life Noble — She Fell for Him at 1st Sight Over a Photo
Jamie Lee Curtis and her husband Christopher Guest have many accomplishments to their name in the film industry. However, Guest inherited one more title from his father – here's everything you need to know about it.
Christopher Guest is an actor, director, writer, and composer by profession, but he also inherited a title from his British father, Peter Haden-Guest. While he is a real-life noble, it was for a whole different reason that Jamie Lee Curtis fell in love with him.
Curtis is practically Hollywood royalty, as the daughter of Tony Curtis and Janet Leigh. Following her parents' successes, she became an actress herself and has won many accolades through the years.
ABOUT JAMIE LEE CURTIS
The actress was born on November 22, 1958, in Los Angeles, California. Thanks to her parents, she was introduced to the entertainment industry early, but her interest in acting didn't come until later.
After only a semester in college, she auditioned for a role as "Nancy Drew." She did not get the part, but this sparked an interest in her, and she dropped out of school soon after to pursue a career in acting.
HER NOTABLE WORKS
Curtis' breakthrough role was in 1978 when she starred in the horror film "Halloween." She starred in more horror movies, even becoming known as the "Scream Queen."
In the 1990s, she won two Golden Globe Awards for her work on "Anything But Love" and "True Lies." A 2003 work, which introduced her to younger generations, was "Freaky Friday" with Lindsay Lohan.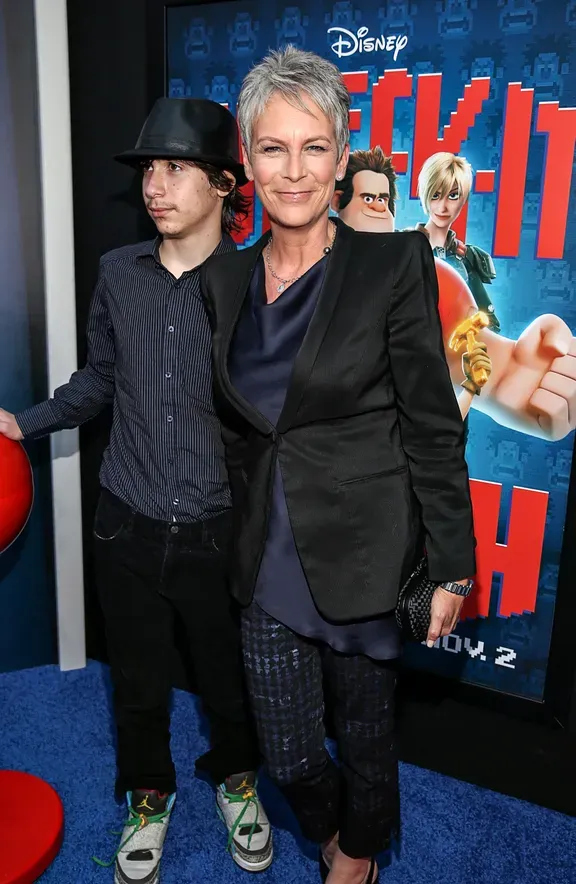 Jamie Lee Curtis and Ruby, formerly known as Thomas Guest during the Premiere Of Walt Disney Animation Studios' "Wreck-It Ralph" at the El Capitan Theatre on October 29, 2012 | Source: Getty Images
SWITCHING CAREERS
While continuing as an actress, she started a career as a children's book writer in 1993 when she published "When I Was Little: A Four-Year-Old's Memoir of Her Youth." Inspired by the adoption of her eldest daughter Annie, she wrote the book "Tell Me Again About The Night I Was Born."
More books came after that, still inspired by her two children. In 2006, she wrote "Is There Really a Human Race?" inspired by the adoption of her son Tom, who now goes by Ruby. Her most recent book was "Me, Myselfie & I: A Cautionary Tale" in 2018.
ABOUT CHRISTOPHER GUEST
Meanwhile, her husband also has a lot to be proud of in his life. Born on February 5, 1948, he grew up in New York City. He, too, was introduced to the entertainment industry at an early age, as his mother was a vice president of casting at CBS.
His father, who was of English and Dutch-Jewish descent, was a UN diplomat and a member of the British House of Lords as the fourth Baron of Saling in the Country of Essex. When he passed away in 1996, this title was passed on to Guest.
HIS NOBLE TITLE
Guest is now the 5th Baron Haden-Guest of Saling in the County of Essex. His younger brother, the actor Nicholas Guest, is the heir presumptive to the family title.
As Curtis and Guest have two adopted children, Annie and Ruby, the terms in the letters patent that created the Barony stated that they could not inherit the title. Instead, they can use "Honourable" before their first names.
HIS EXPERIENCE
In interviews, the director has opened up about being a baron, sharing that he was born into it by accident. While he loved sitting in the House of Lords for the first few years, revealing it was nothing like the movies. He said:
"Most of these people had no money. They didn't have the country houses. They were regular people who had regular jobs. They were well informed, and lending their expertise."
HIS EXPERIENCE AS A BARON
While being a baron does not mean as much as it once did, he still sees traces of what it means to be one. While ordering breakfast at a hotel, a waiter serving Guest referred to him as "your Lordship" and was so nervous that he spilled the food on him.
At that moment, he realized that for over 800 years, people were conditioned to behave that way over people of nobility. It was a horrible thought for him, as he was a baron by birth, and because of that, people were intimidated by him.
JAMIE LEE CURTIS' DISCOVERY
If there were one person who was never intimidated by Guest, however, it would be Curtis. While hanging out with her friend in 1984, she was flipping through the pages of Rolling Stone magazine when she saw a photo of three men.
On the far right side of the photo was a man wearing a plaid shirt. She pointed it at him and said, "I'm going to marry that man." Her friend said that it was Chris Guest, and he was in the movie called "This Is Spinal Tap."
MANIFESTING HER FUTURE
Her friend mentioned that she knew Guest's agent, and the next day, Curtis called the agent up. She gave her number and asked the agent to have Guest call her if she was interested. Unfortunately, he never called.
The "Freaky Friday" actress would date someone else, but she knew it wouldn't end up in marriage. When he left for an extended business trip, they said one last goodbye before she headed to have dinner in West Hollywood with her friends.
MEETING CHRIS GUEST
When she was at the restaurant, she glanced up and realized she was staring straight at Guest, who was three tables away. He waved at her as if to say it was him that she tried to call. She waved back at Guest.
A couple of minutes later, he stood up to leave. He shrugged his shoulders and raised his hand as if to give her a hint that they'd see each other again. The next day, her phone rang, and to her surprise, it was Guest.
THEIR RELATIONSHIP
On July 2, Guest and Curtis had their first date on Melrose Avenue in Los Angeles. Just over a month later, they'd fallen in love right when he was off to New York City to shoot a year's worth of "Saturday Night Live."
On a day in September, they were on a long-distance phone call when Guest asked if she liked diamonds. On December 18 that same year, they got married.
LIFE-LONG LOVE
Guest and Curtis have been married for almost 38 years, yet they are still reminded of their relationship's humble beginnings. When asked to verify the story of Curtis choosing him off a magazine, he noted that the same photo is still framed in their family home.
Recalling the story of Curtis telling her friend that she'd marry Guest in the future, he flashed a faint smile. That simple "too good to be true" story ended up starting a blossoming love story that endured the test of time.
KEEPING THEIR LOVE ALIVE
Through the years, Curtis and Guest have kept their love alive in many different ways. On their 35th wedding anniversary, she wrote a song for him with the sweetest lyrics on what it means to be at home in their relationship. The lyrics read:
"I feel safe when I drive up and see that you are home."
FEELING AT HOME
A year later, on their 36th anniversary, she once again spoke about the comfort she feels whenever she's with her husband. She opens up about their connection, now enriched by their children, family, and friends.
Now that their children are all grown up, Guest and Curtis spend most of their time together. They've been living in the same home in Los Angeles for almost 30 years, filling it with a lifetime worth of memories.
Curtis' marriage to Guest broke the cycle of divorces in her family. Despite this, her mother kept a gold box given by her ex-husband, which to the actress was proof that they liked one another.
Now, the Scream Queen herself uses the box, and she put in there the wedding rings of her grandmother, mother, and herself alongside two gifts from her children. It also has a family photo inside, the only one of her entire family together in one room.
Please fill in your e-mail so we can share with you our top stories!