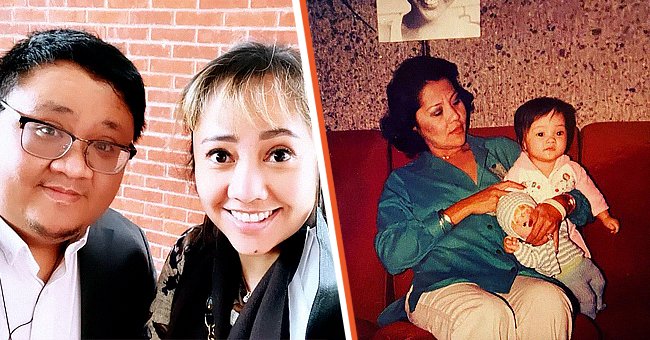 instagram.com/that.twistedtruth
Woman Discovers the Woman She Thought Was Her Oldest Sister Is Her Birth Mother
A Philipines woman discovered she was adopted long after becoming a mother herself. Yet, dealing with the reality of her birth mother's identity proved to be a bitter pill to swallow.
Over the years, many have debated over the right time to let a child know they were adopted. While some believe the kids should know from the onset, others insist any age before adolescence is appropriate.
However, most people choose to keep the truth from the child for life or opt to tell them much later in their adulthood. Whatever the case may be, the discovery always comes with a bout of shock, mostly traumatic, for the person in question.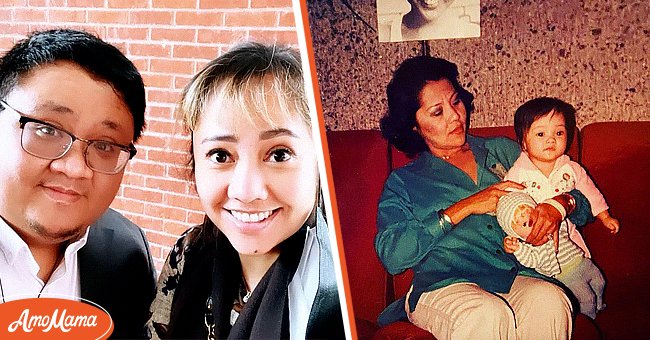 A picture of Odile Grey and her sibling [left] oldie grey and her mom in an old picture [right]| Photo: Instagram.com/that.twistedtruth
Odile Grey's case was much more complicated, as, in addition to the initial shock of discovering she was adopted, she found it harder to digest the fact that her oldest sister was, in fact, her birth mom.
Grey grew up as the last of six children born to her parents. As the youngest of the brood, her immediate older brother had eleven years on her, while her oldest sibling, Priscilia, was about nineteen years her senior.
As a result of the huge age gap between her and her siblings, she spent most of her childhood alone, feeling disconnected from them. Her imaginary friends and constant reminders from relatives about how different she looked from the rest remained her only companions.
Grey's childhood also lacked the affectionate kisses and cuddles of a mother, which she dismissed as her family's nature of not being the "huggy" types. The only occasional taste of affection she received was from her eldest sister.
The Manilla woman eventually grew into adulthood, built her own family, and led a happy life with her husband and kids, putting the anomalies of her childhood behind her. But fate had other plans.
In May 2020, one month to her 42nd birthday, Grey received a call from Priscilla's husband, Alan. He informed her that her sister, who was in critical condition at the hospital, made the shocking confession that she was her birth mom.
Although doubtful at first, she received confirmation from the rest of the family, who all knew the truth, leaving Grey feeling betrayed.
The 43-year-old mom discovered the whole truth eventually. She learned Priscilla conceived at eighteen, which was unacceptable for their strict catholic Philippine family.
The way out was to have Priscilla give up the child and let her parents adopt the baby at birth. Everyone on board resolved to keep it a secret. Thus, Grey became the legal daughter of her grandparents, while her uncles and aunts became her siblings.
Grey's discovery plunged her into a dark place for months as she turned to alcohol and all-day napping for self-soothing. She began experiencing mental health issues, requiring her to depend on increased doses of Lexapro, Clonaz, and Seroquel while seeing a psychiatrist.
The woman also had some eye-opening conversations with friends and colleagues, eventually getting the foresight to "live her truth" rather than let it break her.
Hence, she took her life under control immediately, taking the first defining step of changing her birth-given name from "Jenny" to "Odile Grey."
Over time, Grey decided to share her story on social media to let out her fury. With some encouragement, she started a podcast, birthing the Spotify account "That Twisted Truth."
She also took the story to Instagram and other platforms, giving other adoptees like her an avenue to connect and share their struggles and healing.
Since sharing her truth with the world, Grey has found it easier to heal and forgive everyone involved in hiding the truth from her.
She has also shared her journey to recovery on social media. In one of her posts, she revealed she was no longer upset with her adoptive mother, whom she lost at seventeen.
If anything, motherhood has made her feel closer than ever to her bighearted grandma and adoptive mother. She has also forged a connection with Priscilla's other kids, knowing she is, in fact, their half-sister and not their aunt as they always thought.
After fitting the complicated pieces in her maternal family, Grey was ready to uncover every aspect of her life and identity, including meeting her paternal family.
Thanks to her birth mom's compliance, she was able to contact her paternal family. Sadly, her birth father was dead at the time, but he left behind a litter of half-siblings who all knew of her existence and spent most of their lives alongside their dad in search of her.
Although she never got the chance to meet him, Grey knew her dad was an amazing man after seeing him through her siblings' eyes. So she never shies away from celebrating him on Father's Day and his special anniversaries.
With all the pieces finally fitting in perfectly, Odile Grey is prepared to move into the next chapter of her life without being haunted by identity crises or taunting questions.
Please fill in your e-mail so we can share with you our top stories!