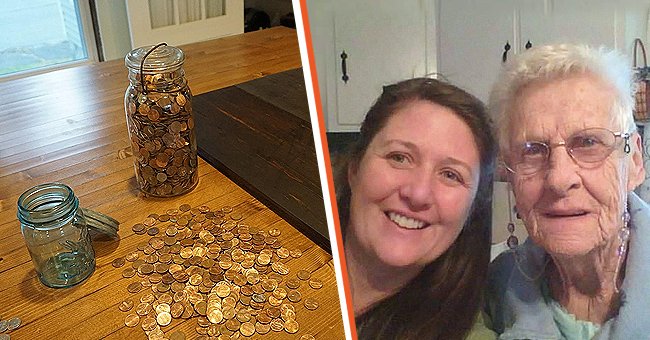 Mason jars full of coins | Michelle Gordon McDougal with her grandmother | Source: Facebook.com/MichelleGordonMcDougal
Woman Finds Hundreds of Pennies after Asking Dying Grandmother to Send Her Some as a Sign
After spending over four decades of their lives together, a woman made an unusual request to her dying grandmother, asking for a sign to know her wish was fulfilled.
Facebook user Michelle Gordon McDougal utilized the platform to share the story of her unusual bond with her grandmother, which prevailed even after death.
During her grandma's last days, the woman volunteered to spend time with her at least twice each week. But on their last night together, McDougal made an unusual demand from her grandmother, asking her to send her lots of coins when she get to heaven, so she'd know her Nana was near.
Interestingly, she got her wish four years later, taking to Facebook to share photos of the pile of pennies that she'd gathered since her grandmother's passing.
In her post from 2017, McDougal revealed she didn't come by all the coins at once but discovered them over the years in the strangest places. After acquiring quite the collection, the woman decided to embark on a project using the pennies in her grandma's honor.
McDougal couldn't help but feel excited that her grandmother remained close and was watching over her as she had done since her birth.
The relationship between the two women was forged right after McDougal was born on her granny's 39th birthday. As the first of seven grandchildren, their connection went unrivaled as they embarked on family vacations, shopping trips, and girls outing as a pair.
The duo became the center of each other's worlds, with the kindhearted Nana making numerous sacrifices to ensure her grandkids grew up happy and healthy.
Indeed, McDougal grew up, got married, and started her own family, giving her grandmother more reasons to smile. However, that smile was soon wiped from their faces after doctors diagnosed her grandmother with cancer.
In her usual resilience and determination, the brave grandma beat cancer and was declared totally in remission to everyone's happiness. Unfortunately, that happiness was short-lived as the family matriarch experienced a relapse.
That second time, doctors said she was beyond treatment and could only await her fate. From there on, relatives took turns to spend nights with Nana and keep her comfortable.
As fate would have it, McDougal had the last turn watching her grandmother. The two women spent the night laughing, eating Chinese food, and discussing everything in their usual "bestie" manner.
It was during their memorable night that McDougal made her unusual request and received the nod of approval from her grandmother. She passed away two days later.
Right after bidding her Nana the final farewells, the woman began finding coins by the dozens, which she kept piling up in a large mason jar. She explained:
"Those dozens turned into hundreds and hundreds of pennies. My mom joked and said, 'Michelle, you should have told her to send twenty-dollar bills.' But pennies to me are perfect[...]."

A netizen's comment on the heartwarming Facebook post | Photo: Facebook.com/MichelleGordonMcDougal
Four years later, she finally figured out what she wanted to do with the pennies. With her husband's help, MacDougal made a wooden slab out of old barn boards, and carefully glued each penny on it, to form a glittering heart shape.
As a finishing touch, she inscribed the words "Love & Kisses Nana" on the board using a Cricut machine and an old golden card she once received from grandma. What better way to immortalize their love!
Please fill in your e-mail so we can share with you our top stories!