Instagram.com/bosshogswife
'Duck Dyansty's Willie Robertson's 6 Kids Are All Grown up & Some Have Their Own Families Now

Willie Robertson, an entrepreneur, reality TV star, author, and CEO, is the son of Phil Robertson, who founded the Duck Commander hunting accessories company in 1972.
Willie and his family came into the limelight with their hugely popular A&E reality show "Duck Dynasty." Willie and Korie married in 1992 have six children, three of whom are their biological children.
Their children are John Luke, Sadie, Will, Rowdy, Bella, and Rebecca, who became popular with the show. They are all grown up, and some of them have started their own families.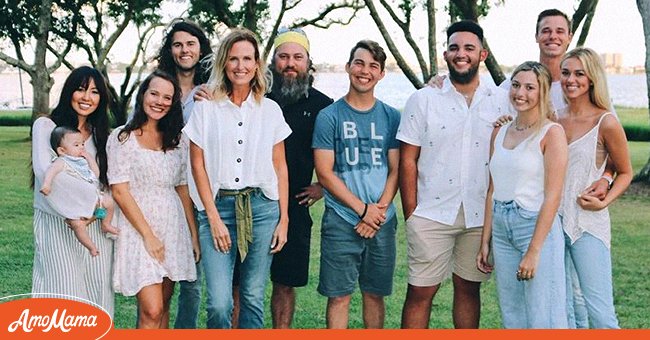 A group picture of Willie and Korie Robertson with their children, in-laws, and grandkid | Photo: Instagram.com/bosshogswife
ABOUT WILLIE AND KORIE ROBERTSON
Willie was Korie's first and only love. The two met in their third and fourth grades, respectively, and have been inseparable ever since.
Korie attended private school, and Willie attended public school, but they met and fell in love when they attended the same summer camp. When the summer ended, and they returned to school, the young lovers kept in touch.
They both joined the same group of young Christians, and their romance flourished. A few years later, after graduating from high school, the young couple tied the knot.
Even though they were very young when they got married, Willie saw it as an advantage. Their marriage also didn't stop them from going to college.
They went to Harding University, a private Christian college in Searcy, Arkansas, where Korie graduated, majoring in art education. Three years after their marriage, they welcomed their first child, John Luke, in 1995.
Being parents became the center of their lives, and today Willie and Korie share six children, three biological and three adopted.
Korie is a dedicated mom who drew on her experience to write a bestseller, "Strong and Kind: And Other Important Character Traits Your Child Needs To Succeed," with her mother, Chrys Howard, and her husband.
The book was published in 2016 and expressed the values ​​the Robertsons instilled in their children. Values such as kindness, honesty, generosity, and strength.
Becoming a star on a reality show was not something Korie planned for herself as a child. She was so suspicious as a child that her parents nicknamed her "shy."
When she turned seven, her summer camp director started the Korie Fan Club to help her gain confidence. Today, that shy girl is a far cry from the poised and serene 'Duck Dynasty' Korie, who fans have come to know and love.
Korie is the center of the family and a pillar of strength for her husband. One thing is for sure, being that successful and becoming nationwide stars never changed the Robertsons.
The "Duck Dynasty" reality show, which ran for 11 seasons from 2012 to 2017, may have made them famous, but their lives continued as they always did after the series ended.
In 2014, the couple made a cameo appearance in the Christian drama film "God's Not Dead," released on March 21, 2014.
One of the cornerstones of Robertsons' life is their faith. Korie had collaborated with her mother, Chrys Howard, on several books that present some of the Bible's most beloved parables in a new light for children and teens.
The same faith is the bond that binds Willie and Korie, and they have passed it on to their six children as well as with their grandchildren.
In October 2019, the Robertsons welcomed their first grandson John Shepherd, the eldest son of John Luke, and his wife, Mary Kate.
Twenty-nine years after marrying her beloved Willie, Korie now enjoys the pleasure of being a grandmother as much as being a mother.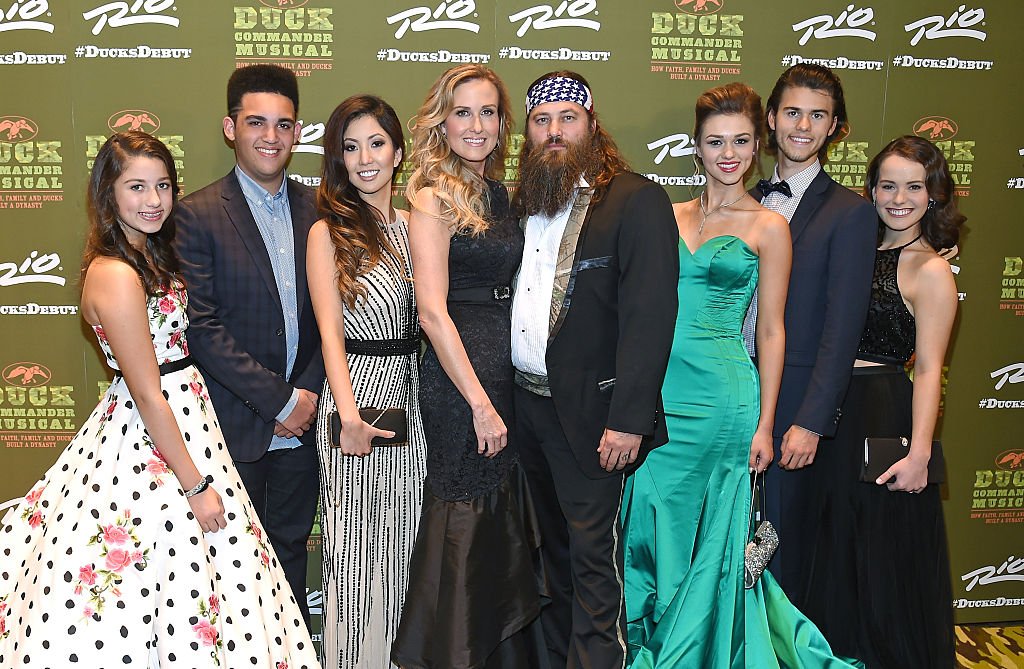 Bella, Will, Rebecca, Korie, Willie, Sadie, John Luke, and Mary Kate McEacharn at the "Duck Commander Musical" premiere on April 15, 2015, in Las Vegas | Photo: Getty Images
WILLIE AND KORIE'S CHILDREN
The Robertson's children have all appeared on the "Duck Dynasty" show at one point or another. Two of their employees, Justin Martin and John Godwin, were also part of the main cast of the series.
Their oldest biological child is John Luke, who was born three years after their marriage. Fans of the show saw him when he graduated and got married to his wife, Mary Kate McEachern, in 2015.
In October 2019, John and his wife welcomed their first child, John Shepherd, and in April 2021, they welcomed their second child, a daughter they named Ella.
The Robertsons' second biological child is Sadie, born in 1997. She became an influencer after their show ended. She also appeared on season 19 of "Dancing With the Stars" and made it to be the first runner-up with her dance partner.
In 2019, she married Christian Huff, and in May 2021, she gave birth to a baby girl, Honey James Huff. Naturally, Korie was delighted to have watched her daughter, Sadie, give birth to her daughter.
She took to her Instagram page to share the news. Sadie also mentioned that the inspiration behind her daughter's name was her husband and her mother.
Their third and youngest biological child is Bella, who had kept a low profile after the show. In June 2021, Bella got married to Jacob Mayo after thirteen months of dating and engagement.
In 2004, while she was an exchange student from Taiwan, Rebecca entered Robertson's life. She was 16 years old at the time and has since become their foster child.
In 2018, Rebecca got married to John Reed Loflin in Mexico. Seeing as she had lost her biological dad when she was 11, Willie walked her down the aisle wearing her dad's tie, and both her mothers were there to celebrate her big day.
In December 2019, Rebecca welcomed a son, Zane, and the whole family got together as he got baptized in the church where his father grew up.
Will became the family's first adopted son. He was only five weeks old when they adopted him, so he made occasional appearances on the show.
The couple didn't have money to pay the adoption fees when he was adopted, but family meant a lot to them. Will's biological father is black, and his mother is white, so Willie and Korie faced challenges raising their biracial son.
This meant they had to deal with questions about his skin color, unkind comments, and people who felt white families shouldn't adopt black kids. But the couple were excited to have him as a part of their life.
In January 2016, the Robertsons adopted their sixth child, Rowdy, who was 13 years old and was mostly out of the spotlight as he was adopted towards the end of the show.
Willie and Korie are proud of their son, especially when he received an award for the "Most Christ-Like" in 2017, his second year at the Ouachita Christian School.
In 2020, Will, Bella, and Rowdy graduated at the same time in the class of 2020, and their parents made a big deal of their graduation.
The Robertsons adore their children and grandchildren, but they never fail to discipline their grandkids, who Willie said are approaching their 'terrible twos.'
Please fill in your e-mail so we can share with you our top stories!