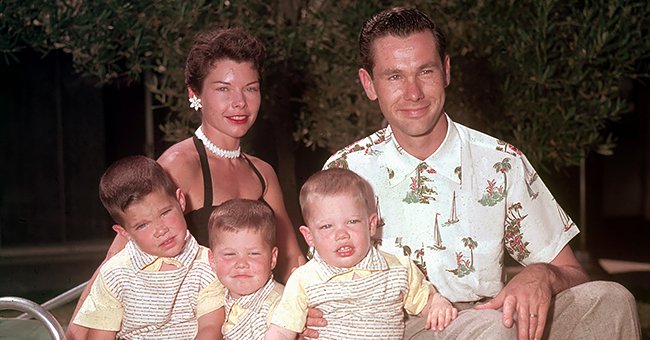 Getty Images
Johnny Carson Refused to Visit His Son in Psychiatric Ward Who Later Died Young in Accident
When Rick Carson, one of the three sons that TV host Johnny Carson had with his first wife, was sent to a military psychiatric ward, Johnny refused to visit him to avoid media attention. Rick was understandably disappointed.
Johnny Carson may have been one of the most successful comedians and TV hosts of his era, but his personal life, especially his relationship with his sons, was far from perfect.
Rick Carson, his middle child, was probably the most disappointed one as he tried to impress his dad by joining the Navy, but when he needed his dad the most, he never showed up.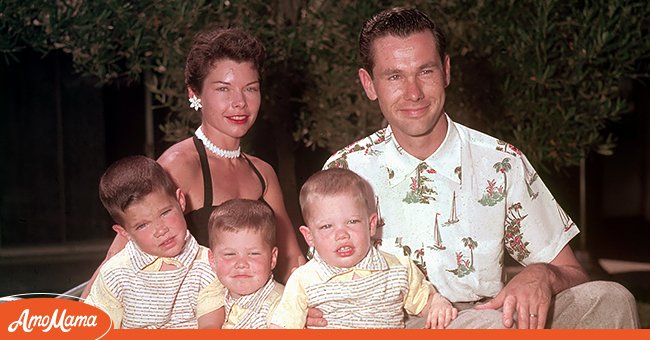 Johnny Carson, his wife Jody Wolcott, and his three sons Christopher, Rick, and Core circa 1955 in Encino, California | Photo: Getty Images
JOHNNY CARSON'S CAREER AND MARRIAGES
Born in Iowa in October 1925, Johnny was a magician before anything else. After buying a magician's kit and learning some tricks at 12 years old, he started performing as "The Great Carsoni."
After graduating high school in 1943, the young entertainer joined the Navy and became a communications officer decoding encrypted messages. Even aboard the USS Pennsylvania, Johnny would still perform magic tricks for his shipmates.
When WWII ended in 1945, he was sent back to the States and studied radio and speech at the University of Nebraska. Before moving to New York, he worked as a TV writer for "The Red Skelton Show" in Los Angeles for a while.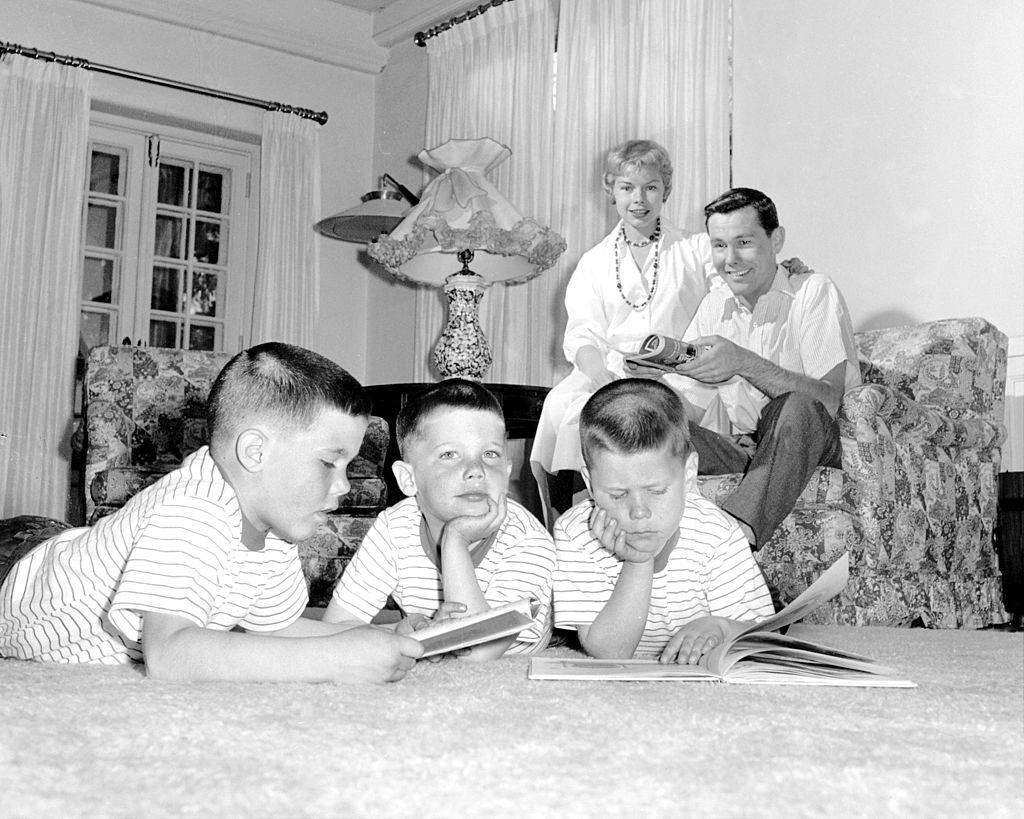 Johnny Carson, his wife Jody Wolcott, and his three sons Christopher, Rick, and Core circa 1958 in New York | Photo: Getty Images
Johnny's career skyrocketed in 1962 when he got the hosting gig at "The Tonight Show," replacing Jack Paar. The audience loved him during his first year, so he became a prime-time hit.
He kept his hosting job for three decades. He took home six Emmy Awards, a Peabody Award, and even the Presidential Medal of Freedom, even though he impersonated President Ronald Reagan.
While Johnny's professional life was nothing short of remarkable, he had difficulty settling down as he was married four times. With his first wife, Jody Wolcott, he welcomed three sons.
The TV host married his second wife, Joanne Copeland, a few months after divorcing Wolcott in 1963. In 1972, Johnny divorced Copeland and tied the knot with Joanna Holland. They stayed together until 1983.
"I don't think [Johnny] ever did anything as a dad they were terribly proud of."
He remained single for four years – the longest time since the late '40s. In 1987, though, he exchanged vows with Alexis Maas. The couple was married until he died in January 2005 at 79.
Johnny dealt with some health issues for a few years before dying. In 1999, for example, he had a heart attack in his sleep and eventually underwent quadruple-bypass surgery.
RELATIONSHIP WITH HIS CHILDREN
Coming back to Johnny's sons – Christopher, Rick, and Cory Carson – they could have had a better relationship with their famous dad, but he was probably asking too much of them. The actor's lawyer and biographer Henry Bushkin described the situation like this:
"It was a tragic story of a very successful father who had children who never gave him anything to be particularly proud of. And I don't think he ever did anything as a dad they were terribly proud of."
Like some other celebrities, including Mary Tyler Moore, Johnny's main priority always seemed to be showbiz. According to "Tonight Show," writer Mike Barrie, Christopher, Rick, and Cory suffered because of their dad's devotion to his career.
Even with little-to-no love from Johnny, some of his children became successful in their own right. In Christopher Carson's case, born in 1950, he was a professional golfer for years.
He and Tanena Love Green had a daughter, but they are no longer together. Nothing much is known about Christopher as he has stayed out of the spotlight for years.
Cory, Johnny's youngest son, born in 1953, is also an entertainer. Instead of working in front of the cameras, though, he enjoys writing music. Between 2003 and 2004, he recorded a few albums, but just like his older brother, he hasn't made headlines in years.
The situation could turn into a "circus" that wouldn't be appreciated by either the Navy or Rick.
RICK CARSON'S LIFE AND DEATH
Out of Johnny's three sons, Rick is probably the one who suffered the most. Bushkin wrote in his biography about Johnny that Rick joined the Navy to make his dad proud. However, things didn't turn out as he expected.
He was sent to a desolate Alaskan outpost, where he became bored, lonely, and isolated. He found solace in alcohol but soon started showing suicidal tendencies.
The Navy sent him back to New York – to the military psychiatric ward of the Bellevue Hospital – to evaluate if he could still serve, and it was an awful experience. The fact that Johnny refused to visit him didn't help much.
Johnny considered that it would attract a lot of media attention. The situation could turn into a "circus" that wouldn't be appreciated by either the Navy or Rick, so he asked Bushkin to handle it.
The first couple times Bushkin visited Rick, they couldn't talk because the latter was restrained and sedated. He had been diagnosed with Schizophrenia, bipolar disorder, and "an awful case of the hiccups."
When they finally could talk, Rick asked if he could see Johnny. After Bushkin explained why he couldn't come, Rick understood but was "terribly disappointed," mainly because nobody else was visiting him – not even his mother.
Eventually, Bushkin and the Navy's commander in charge of Rick's case reached a solution: the young Carson would receive a general discharge and enter a rehab program in exchange for four tickets to the "Tonight Show."
The commander, his boss, and their wives also had backstage access, met Johnny, and took photos with him. Still, Bushkin admitted in his book that Johnny was not a good father as he believed his only job was to provide for his sons' material well-being.
After leaving the hospital, Rick became interested in photography. It was photography that contributed to his early death. In June 1991, Rick was killed in a car accident. He was only 39 years old.
Rick reportedly was taking photographs while driving as camera equipment was found alongside the road. He wasn't traveling too fast or carelessly, but his attention was "just diverted," admitted Johnny. Rest in peace.
If you or someone you know is considering suicide, don't hesitate to get in touch with the National Suicide Prevention Lifeline at 1-800-273-TALK (8255), text "help" to the Crisis Text Line at 741-741, or go to suicidepreventionlifeline.org.
Please fill in your e-mail so we can share with you our top stories!