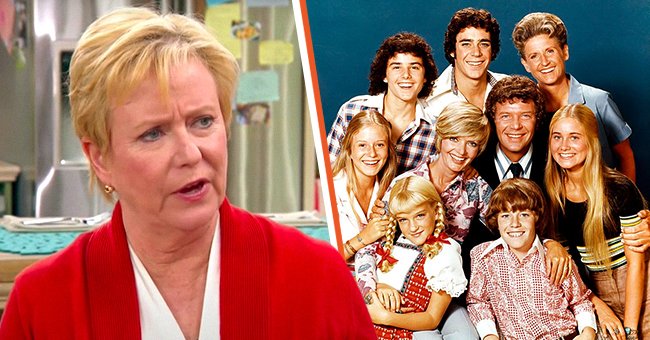 youtube.com/Hallmark Channel Getty Images
Eve Plumb's Feelings for Her Co-Star Who Caused Gay Rumors about Them Were 'Worse' Than 'Hate'

Although "The Brady Bunch" children looked happy and perfect onscreen, it turns out their strong sibling relationships did not translate to real-life for some of the cast members.
Behind the happy faces of "The Brady Bunch" children, tensions ran high between two sisters, Jan and Marcia. The pair were in a feud for a long time after the show wrapped.
Middle sister Jan was played by Eve Plumb, while Maureen McCormick played her older sister Marcia. Although writers resolved the sibling's TV arguments on the show, the two women had an ongoing feud for years.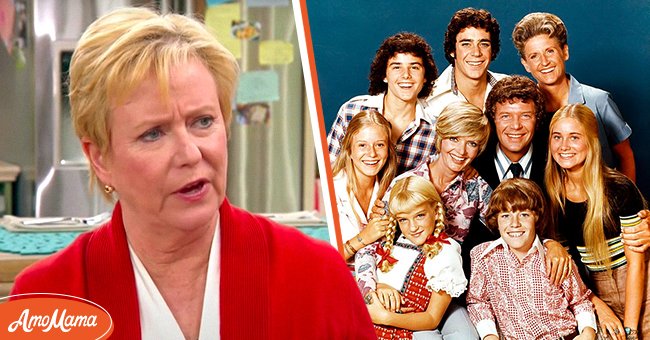 Eve Plumb pictured during an interview with the Hallmark Channel in 2019 [Left]. A cast photo of "The Brady Bunch" [Right]. | Photo: Getty Images
The alleged feud started because McCormick had previously revealed that she and Plumb had a love affair while filming the beloved '70s show.
Furthermore, when McCormick published her 2008 memoir, "Here's The Story: Surviving Marcia Brady and Finding My True Voice," Plumb stated that McCormick insinuated that the two shared a romantic fling.
However, before the memoir was published, CBS reported that McCormick's publisher, HarperCollins imprint William Morrow, denied that the book would reveal an affair with Plumb.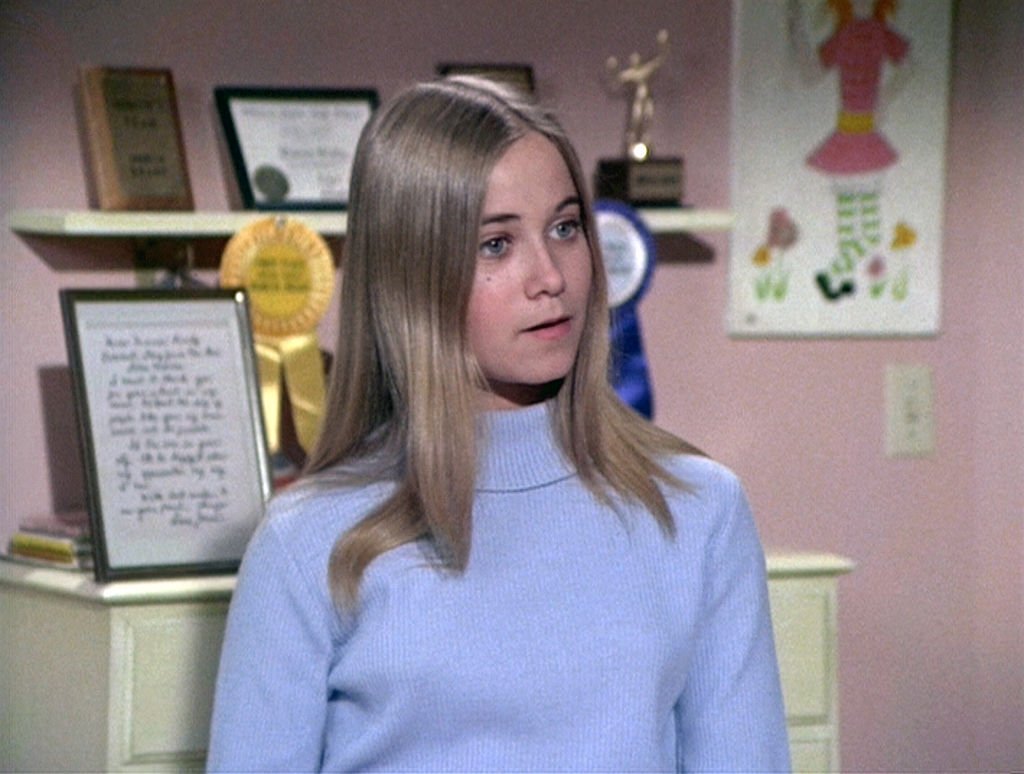 Maureen McCormick as Marcia Brady in "The Brady Bunch," in 1971. | Photo: Getty Images
In an interview with "Today," McCormick explained her wording was taken out of context by her costar and others. She further explained that as a result, Plumb and the media blew the situation out of proportion.
According to McCormick, the two had once shared an innocent kiss. She further revealed it was very common for her to kiss her friends, both men and women, out of affection.
But, the mention of the situation angered Plumb as she felt McCormick wrote about the incident to sell books. "The Brady Bunch" costar Susan Olsen confirmed Plumb's feelings to Fox as she told the outlet:
"She got tired of Maureen gaining attention for herself by regurgitating the tiresome and false insinuations that they had a lesbian affair."
Later, McCormick shared that the rumor was a joke. She had made the joke before her book was published for shock value. The joke, which excited many fans, had caused her memoir to be a bestseller.
Whether the story was a joke did not matter, as Plumb still took offense. McCormick tried to contact Plumb to explain the situation, but it was "one of the things that stopped [their] relationship."
McCormick was saddened by the loss of friendship with Plumb, as they had been best friends. She felt that they went through a lot together throughout their time on the TV show and afterward.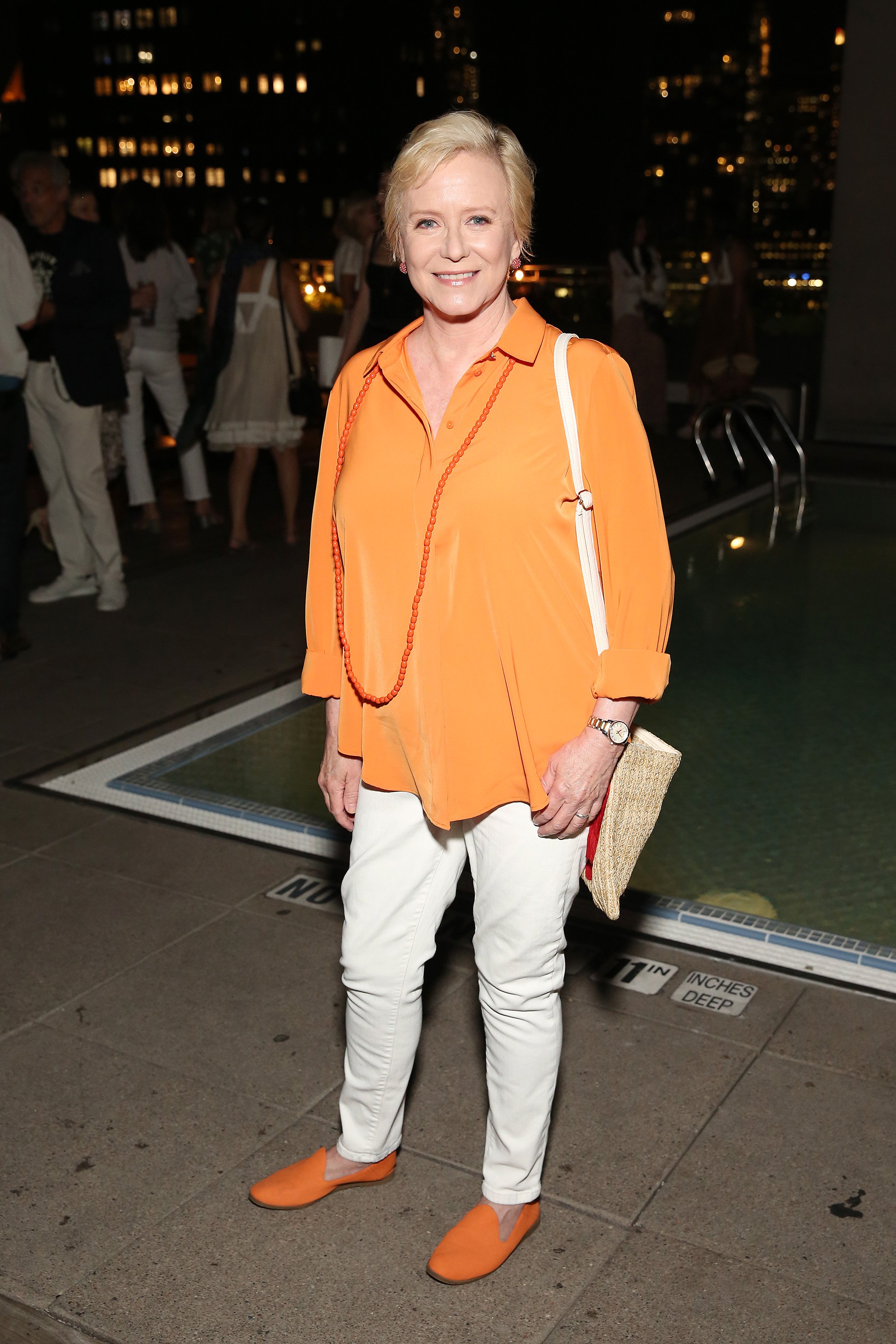 Eve Plumb attending the after party for the "David Crosby: Remember My Name," 2019, New York City. | Photo: Getty Images
McCormick and Plumb were not the only two affected by their feud. Youngest "Brady" sister, Cindy, played by Olsen, found herself stuck in the middle.
Olsen reportedly told People in 2020 that she found herself stuck between the two women and referred to their feud as "petty." Eventually, the two women no longer had a desire to communicate using Olsen.
Olsen revealed that McCormick once asked her whether or not Plumb hated her. Probably to McCormick's surprise, Olsen was brutally honest with her reply:
"Maureen asked me, "does Eve hate me?" And I said, "no, Maureen, it's worse than that. She doesn't care.""
However, Olsen revealed that she did not believe the "feud" was as serious as the media made it out to be.
During a 2009 interview, Olsen revealed that she did not think Plumb appreciated the rumors. However, she expressed that she did not believe Plumb missed any sleep over them.
According to the youngest Brady sister, the feud started over ten years ago. Olsen shared that she had been watching a show where McCormick "giggled" about her apparent affair with Plumb, igniting the rumors.
Olsen stated that McCormick had been pushing the story for several years before her memoir was published in 2008. So, of course, fans purchased the book to find out the details.
Unfortunately, the feud also affected any possible reunions the cast would have together. As Olsen said, only one of them would attend if the costars ever did a project together.
According to McCormick, all six Brady children were invited to appear on The Oprah Winfrey Show in September. However, one of the cast members did not want to join as she said:
"All of us said yes except for one person, Eve Plumb, who used to be my best friend but now apparently wants to distance herself from the show and, most troubling, from me."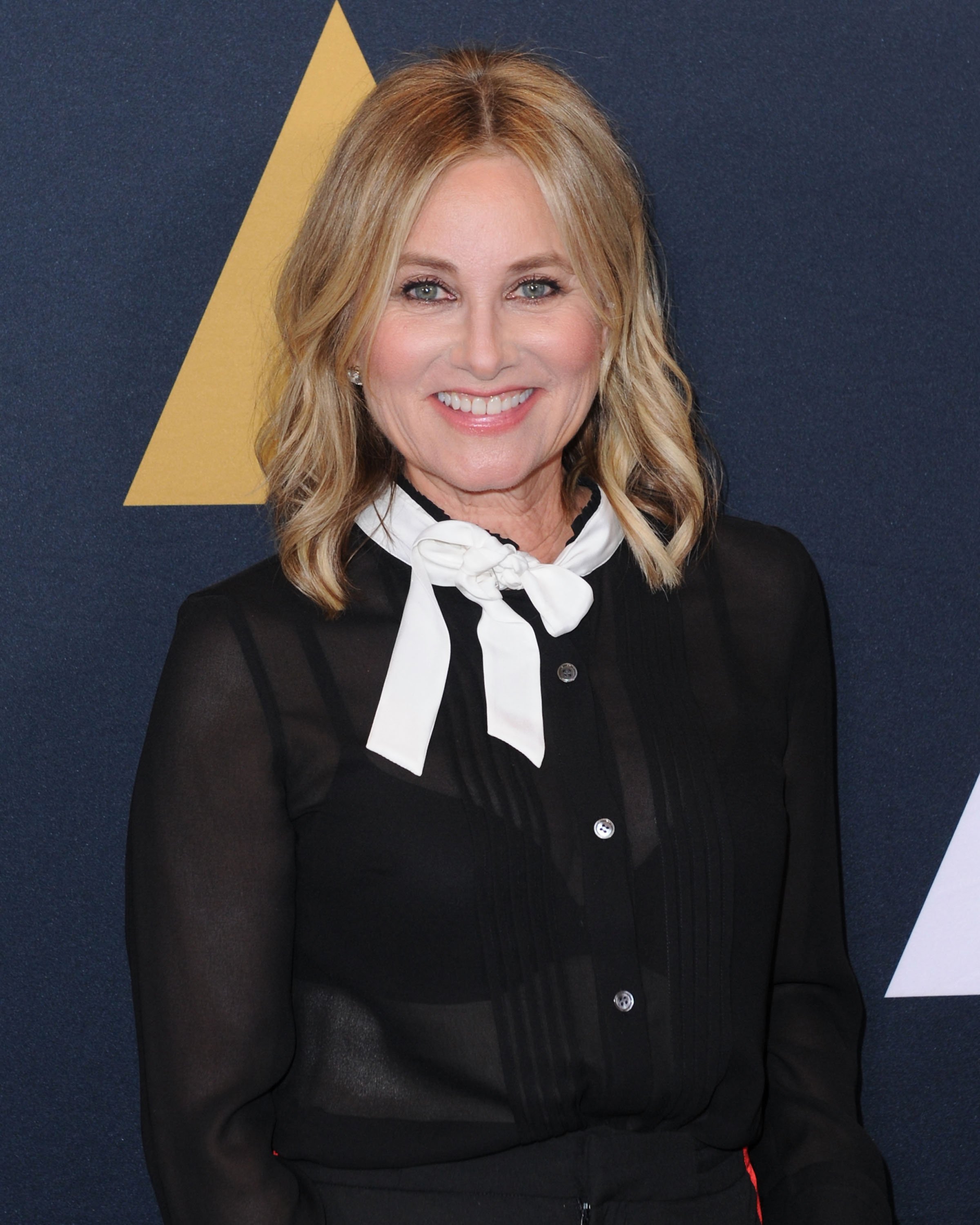 Maureen McCormick pictured at The Academy Celebrates Filmmaker Richard Donner at Samuel Goldwyn Theater, 2017, Beverly Hills, California. | Photo: Getty Images
At the time, McCormick stated that she was not sure why Plumb wanted to distance herself but guessed that she was mad about the "joke" she made.
However, Mark Measures, Plumb's agent, played down the situation and told the media that no production staff from Winfrey's show had made contact. He added they had not turned anything down, and there was no feud.
Despite the distance in their relationship, in 2019, the two actresses seemed to put their past behind them. They reunited with the rest of their four TV siblings for the HGTV mini-series, "A Very Brady Renovation."
The costars worked together to renovate the house used for the exterior of the Brady family's home. The cast remodeled the interior to mimic the interior of the Bradys' home.
According to Christopher Knight, their onscreen brother, Plumb and McCormick got along during the filming as he said:
"Perhaps it was time to get back together, perhaps it was because this project was such a loving project, but that tension was soon dissipated."
The show was a hit among viewers as Deadline reported it was the highest-rated premiere in HGTV history at the time. The scale of its success would not have been possible without McCormick and Plumb.
The two women seem to have completely moved on from their past feud. Plumb told NewIdea.com that the cast all get along "like real people," and like most families, everyone has "different memories of different events."
Although it seems Plumb and McCormick never had an actual affair, McCormick did have a real romantic relationship with one of her "Brady Bunch" siblings.
McCormick detailed a steamy and hot fling with Barry Williams, who played Greg Brady in her memoir. She mentioned that the romance happened while the cast was filming scenes in Hawaii.
However, the relationship did not last. McCormick married Actor Michael Cummings in 1985. Later the two welcomed a daughter, Natalie, together. The couple has been together for 36 years.
Please fill in your e-mail so we can share with you our top stories!