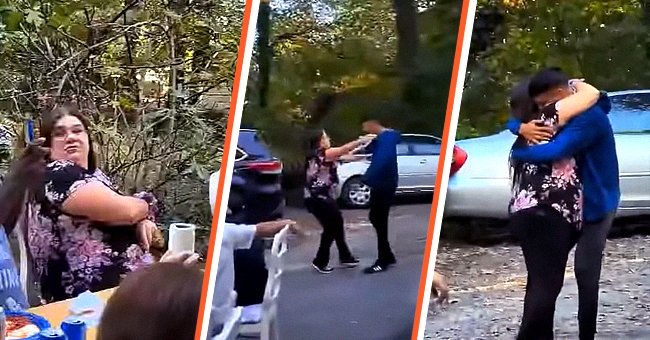 .facebook.com/terry.a.brown.31
'My Baby!': Mom Can't Hold Back Tears on Noticing Son She Hadn't Seen since He Was Three
A woman ended up emotional after reuniting with her youngest son fifteen years after their separation. The heart-melting reunion left everyone present in tears as they filmed the blissful moment.
Tracy Faunce's surprise reunion with her son, whom she hadn't seen since he was three, is melting hearts on the internet.
The memorable moment, which happened during a family dinner on October 23, took two months of planning, making it a wonder how the 18-year-old managed to pull off the surprise.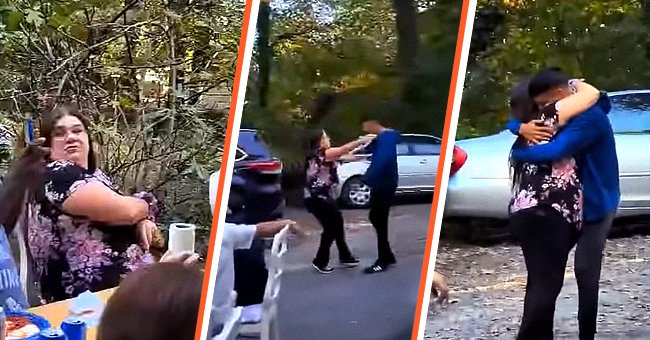 A picture of Tracy Faunce reuniting with her child | Photo: facebook.com/terry.a.brown.31
AN UNEXPECTED VISITOR
Footage from the surprise reunion showed the 42-year-old seated at the weekly family dinner in their home in Winston Salem, North Carolina.
Her eyes darted over to the driveway, seemingly seeking out a vehicle that had just pulled over, dropping off an unexpected guest. To her surprise, she saw her long-lost son, Christopher, walking towards her.
The woman's joys knew no bounds at the discovery, as she immediately sprang to her feet, covered the distance between them, and ran into her son's welcoming embrace.
Both mother and son shed happy tears as they held on to each other, reclaiming the years lost between them. Relatives surrounding them couldn't help but tear up upon witnessing the emotional reunion.
PAIN FROM THE PAST
Faunce, who has a hearing impairment, last saw her son when he was only three years old. At the time, the woman, who had three children, was forced to place her kids in foster care.
Eventually, Christopher's dad gained custody of him and moved the boy to Panama, where they have resided for the last fifteen years.
Having grown up outside the United States with his dad, the teenager was unable to reach his mom's side of the family for years. Finally, he found his maternal family and kept in touch with them via phone calls, texts, and social media.
THE GRAND PLAN
Christopher's aunt, Terry Gibson, was eager to help her long-lost nephew any way she could. He took her up on the offer eventually, seeking her help to meet up with his mom.
The pair spent two months planning the surprise reunion. Finally, on the D-day, everyone else at the family gathering knew what was coming, except Faunce, who received the surprise of a lifetime upon seeing her son.
FAMILY AT LAST
Gibson posted a clip from the beautiful reunion on Facebook, admitting she melted when she saw her sister's expression. She shared:
"I saw the light in her eyes reignite. It was amazing to hear her say, 'my baby,' repeatedly, knowing she has prayed and cried for this moment for many years."
Facebook users couldn't help but share the family's joy after watching the beautiful reunion. Many have since sent congratulatory messages to the mother-son duo while commending Gibson for making it a success.

A netizen's comment on the Facebook post | Photo: .facebook.com/terry.a.brown.31
With everything finally falling in place for Faunce and her beautiful kids, the family could only hope their happy ending would inspire others in similar situations to never give up on finding a lost loved one.
Please fill in your e-mail so we can share with you our top stories!