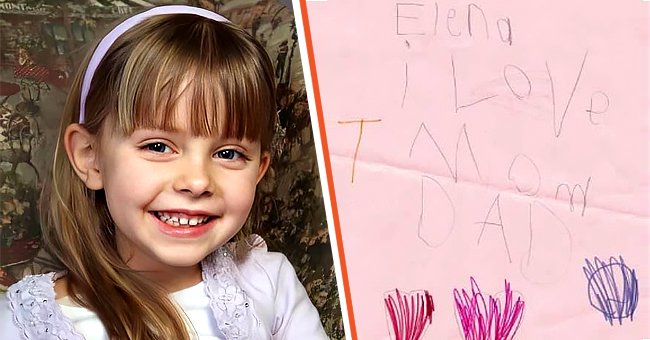 instagram.com/angelsforevermissed | instagram.com/notes_from_elena
6-Year-Old Girl Diagnosed with Brain Cancer Hid Hundreds of Short Notes around the House
A little girl left several special notes for her parents to find after she died from rare cancer. Two years after her death, her family published a book about her notes and story, which became an instant New York Times Bestseller.
Suffering from a life-threatening disease can change people drastically, taking an emotional toll on them. The mere thought of being separated from your loved ones can be devastating, affecting a person's mental and physical well-being.
Imagine a young child having to live with the thought of knowing their days are numbered. As is often said, some children are "wise beyond years," and the same was true for six-year-old Elena Desserich.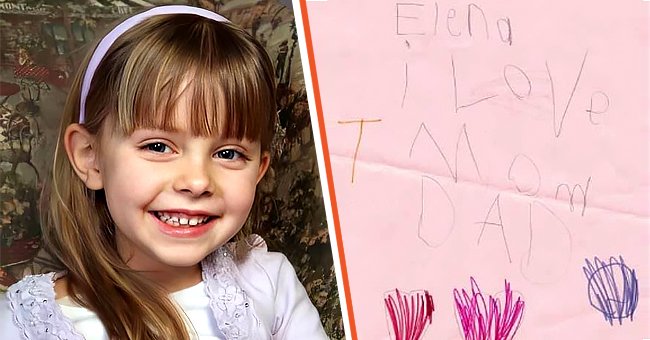 [Left] A picture of Elena Desserich. [Right] One of the many notes she left behind for her family. | Photo: instagram.com/angelsforevermissed | instagram.com/notes_from_elena
LOVE FOR ART & PINK CLOTHES
Little Elena loved art, adored wearing pink outfits, and always ate her vegetables first. Her parents Keith and Brooke Desserich, were surprised when they noticed their five-year-old daughter fell sick.
The Desserich family was busy renovating their house in Cincinnati, Ohio, in 2006, when they noticed that Elena had trouble walking and her speech was slightly slurred. Their immediate response was to take their daughter to the hospital.
The doctors initially told her parents that she was all right. However, her pediatrician decided to go for an MRI and came back with the most heartbreaking news.
THE DIAGNOSIS
Elena's father, Keith, recalled how the doctor entered the hospital room, crying. He shared how shocked he and his wife were upon seeing the doctor's reaction. Further, he said:
"Not fully understanding, we offered our condolences, only to have her tell us she was crying because of the news she was about to deliver."
Keith and Brooke then discovered that their sweet little angel was suffering from Diffuse Intrinsic Pontine Glioma (DIPG), a rare and inoperable brain tumor. They were also told that Elena had less than five months to live.
HEARTFELT NOTES
On August 11, 2007, little Elena passed away in her bed after nine months of battling with DIPG. Shortly after her death, her parents found a heartwarming gift she had left behind for them - hundreds of beautiful handwritten notes. Her father told The Mirror:
"After she lost her battle, slowly we started to put our lives and our house together. We found the first few notes and thought we'd forgotten about them."
However, Brooke, Keith, and their daughter Grace continued to find more notes hidden away around the house - tucked between the pages of books, drawers, in the china cabinet, and inside bags.
Keith shared that he even received a call from his mother, who told him that she had found a note in Elena's dresser at her home. It was then that they understood what their little princess had intended to do all along. He also revealed:
"We would find notes for nearly two years as we slowly opened boxes, drawers and Christmas ornaments."
As it turned out, little Elena, who her parents described as being extremely wise, had left them sweet notes to give them strength, hope, and love after she passed away.
WRITING THE NOTES
Elena's dad shared that she got the idea to pen down heart-touching notes after seeing him write messages of his own. He explained how she saw him writing notes for Grace and ended up imitating his actions.
The handwritten notes contained adorable drawings, including colorful hearts, smiling figures, and heartwarming comments, such as "I love you Mom, Dad, and Grace," and "I'm sorry, I'm sick."
Grace, who was only three years old when Elena was diagnosed with DIPG, missed getting to know her older sister. By writing notes addressed to her, Keith aimed to tell her about Elena and the love she had for her baby sister.
"NOTES LEFT BEHIND"
The Desserich family now has another daughter named Nina, but they carry Elena's heartfelt notes with them even after all these years. In 2009, the family published her notes and story in the form of a book called "Notes Left Behind."
The book became a New York Times Bestseller, and all proceeds from it went toward "The Cure Starts Now," a charity that Brooke and Keith had started a year after their daughter passed away.
"The Cure Starts Now" aims to find a cure for any and all types of cancer, including the rarest forms. Even though the entire world heard little Elena's incredibly moving story, the Desserichs said they chose to keep some of the notes private.
Please fill in your e-mail so we can share with you our top stories!
The information in this article is not intended or implied to be a substitute for professional medical advice, diagnosis or treatment. All content, including text, and images contained on news.AmoMama.com, or available through news.AmoMama.com is for general information purposes only. news.AmoMama.com does not take responsibility for any action taken as a result of reading this article. Before undertaking any course of treatment please consult with your healthcare provider.