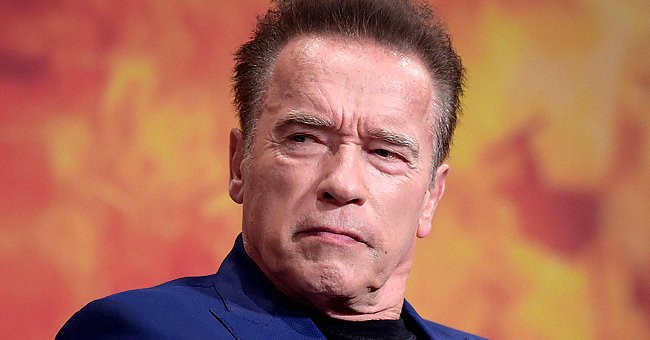 Getty images
Arnold Schwarzenegger's Extramarital Affair Caused His 4 Kids 'Unbelievable Pain'
From a successful on-screen career to a stint as the 38th Governor of California, Arnold Schwarzenegger has inspired many. His personal life, however, has been controversial.
Arnold Schwarzenegger knew success from a young age, after winning the Mr. Universe title at age 20. In due course, he won the Mr. Olympia contest an impressive seven times.
But the young star did not stop there. Schwarzenegger became the face of bodybuilding, writing articles and books on the sport, and even founded the second most important bodybuilding event, The Arnold Sports Festival, named after him.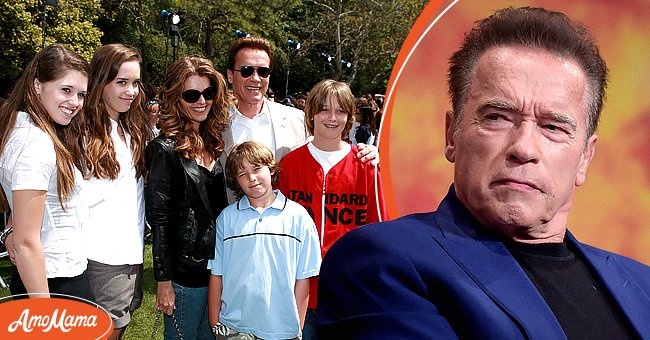 Left: Katherine Schwarzenegger, Christina Schwarzenegger, Maria Shriver, Governor Arnold Schwarzenegger, Christopher Schwarzenegger and Patrick Schwarzenegger Right: Arnold Alois Schwarzenegger in Seoul, South Korea, October 21st, 2019. | Source: Getty Images
After retiring from bodybuilding, the "Pumping Iron" star carved a career for himself in film, with his role in "Conan the Barbarian" propelling him to world fame.
He also featured in the sci-fi film "The Terminator," which birthed several sequels, becoming one of the most commercially and critically successful movies of all time.
Schwarzenegger's on-screen career saw him feature in other action films such as "The Running Man, "True Lies," and "Total Recall."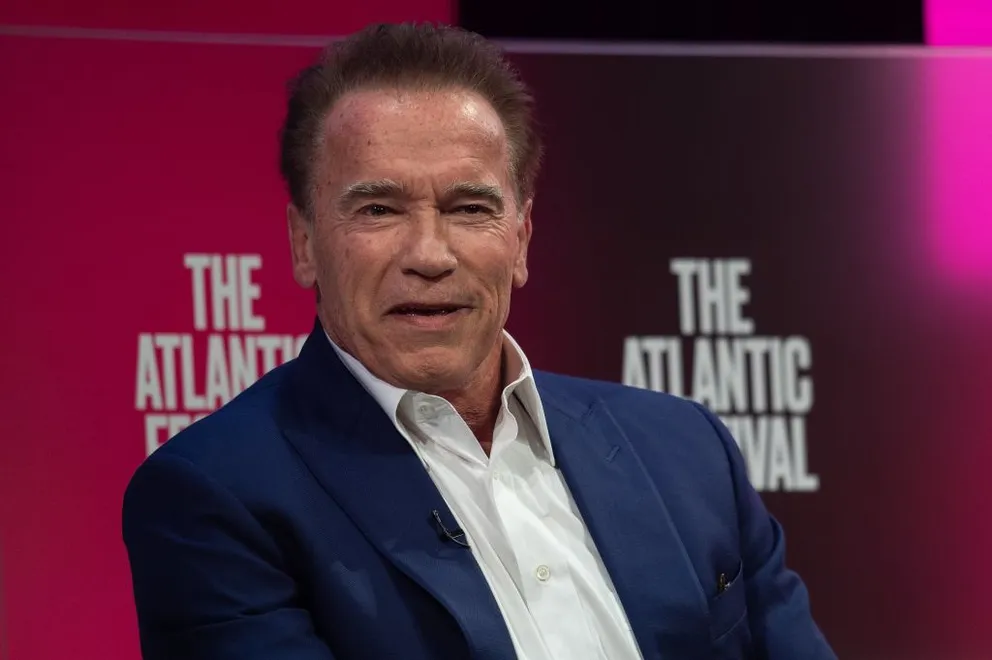 Arnold Schwarzenegger at the Atlantic Festival in Washington, DC, on September 25, 2019 | Photo: Getty Images
SHRIVER AND SCHWARZENEGGER
Schwarzenegger was not limited to action roles. He also appeared in comedy films such as "Junior," "Jingle All The Way," and "Kindergarten Cop." Away from the cameras, the "Commando" actor is also the founder of Oak Productions.
Unstoppable as he is, he became the Governor of California in 2003. Still, despite success in film and office, his personal life was wanting, and his rise to office only elevated his failures as a husband.
Schwarzenegger and Maria Shriver had been married for decades when the news of a scandal broke out, painting him in such a bad light in the many years that would follow.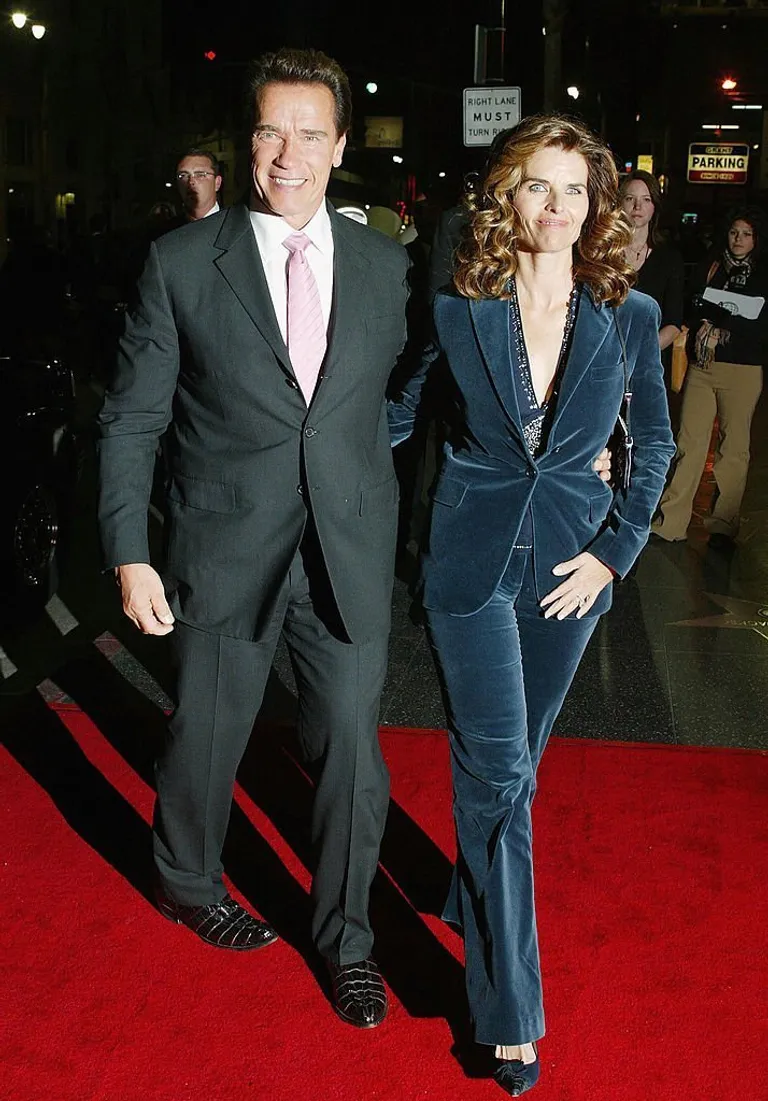 Arnold Schwarzenegger and his wife Maria Shriver on November 28, 2005 in Hollywood, California | Photo: Getty Images
Married in 1986 at St. Francis Xavier Catholic Church in Hyannis, Massachusetts, the duo had four children. Still, the dawn of 2011 saw the father of five caught up in the middle of a scandalous divorce from his wife of many years.
In 2011, the seemingly happily married couple suddenly announced their split. While the announcement shocked everyone, it turns out Shriver had known about her husband's infidelity for months and had confronted him during couple therapy.
She is also reported to have confronted Mildred Baena, her former housekeeper, concerning her baby's paternity. In his book, "Total Recall: My Unbelievably True Life Story," Schwarzenegger admitted that Shriver had asked about the baby numerous times, but he'd always denied it.
However, he eventually came clean about the affair, which had begun in 1996, when Shriver was on vacation with their kids. He had remained in Los Angeles filming "Batman & Robin."
Schwarzenegger and his then housekeeper, Baena, carried on the illicit affair, which saw her give birth to their illegitimate son, Joseph Baena, 23, the following year. As Joseph grew older, the resemblance between him and his father became hard to miss.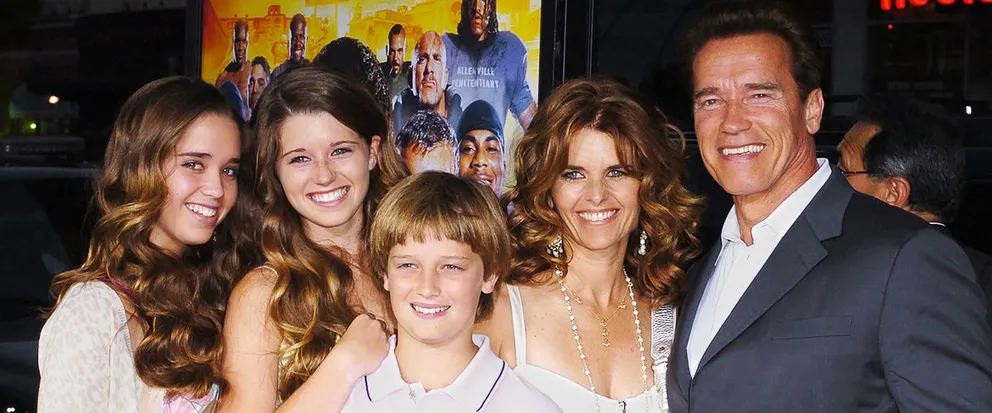 A picture of Arnold Schwarzenegger, his wife Maria Shriver and their kids | Photo: Getty Images
Four months after the confession, the couple ended their 25-year marriage. In his memoir, Schwarzenegger admitted that he was aware of the pain he had caused his family. He wrote, according to People:
"I think it was the stupidest thing I've done in the whole relationship. It was terrible. I inflicted tremendous pain on Maria and unbelievable pain on the kids."
Following the split, Shriver filed for divorce, citing irreconcilable differences. The divorce would, however, drag on for years but was finally finalized in 2017.
RELATIONSHIP WITH HIS ADULT CHILDREN
Contrary to the hostility that often happens after a divorce, the situation was different for the former journalist and her ex-husband.
His eldest, Katherine Schwarzenegger, is an author of positive self-image books and took after her mother's journalistic skills. She has remained very close to her father.
Schwarzenegger is incredibly proud of her for having married Chris Pratt, with whom he has bonded over their shared love for working out.
His second child, Christina, is a film producer and has worked alongside her mother to produce the documentary "Take Your Pills." She also works with both parents in their philanthropic works on projects like the Special Olympics.
Of the Schwarzenegger children, the third, Patrick, is the only one that followed in his father's footsteps, becoming an actor at the tender age of ten. The "Total Recall" star is proud of his son, a 2016 Marshall School of Business graduate majoring in Cinematic Arts.
Christopher is the youngest of the Shriver-Schwarzenegger clan and has often chosen a life away from the limelight. He is incredibly close to his dad and is photographed in his company once in a while.
The love child, Joseph, might be the illegitimate one, but he seems to have taken over his dad's heart. He often trains with his father, and the two constantly bond over one of Schwarzenegger's favorite activities — bodybuilding.
Aside from his children, The "Conan: The Barbarian" star is a grandfather. His first granddaughter Lyla is the daughter of Katherine and her husband, Pratt.
Speaking about the new addition to his family, "The 6th Day" actor says being a grandfather is fantastic. He added that the birth of his first granddaughter played a massive role in reminding him that he was not getting any younger.
After his highly publicized divorce, the "End of Days" actor moved on with his love life and began dating Heather Milligan. Despite a 27-year gap between them, they have kept their love alive and have dated for the last eight years.
The media spotted them stealing their first kiss in Santa Barbara in 2013. Schwarzenegger and Milligan continue to share a bond and love that keeps them happy and in high spirits.
Please fill in your e-mail so we can share with you our top stories!