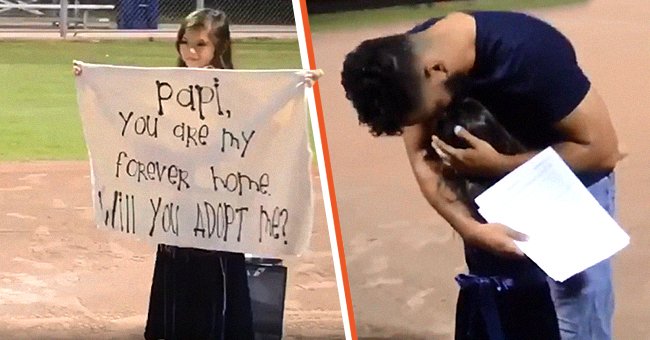 twitter.com/GMA
'You Are My Forever Home:' 8-Year-Old Girl Moves Stepdad to Tears by Asking Him to Adopt Her
A young girl bared her soul, preparing to ask her stepfather a massive question. He was moved to tears, but what would his final answer be?
In 2012, Leonardo Avila married the mother of a baby girl named Alessandra, who was still under a year old. Avila has been a father figure to her ever since.
Speaking about when he held her for the first time, the stepdad said it just came naturally, as if it was meant to be. The two consider themselves best friends, and one hobby they share in common is baseball.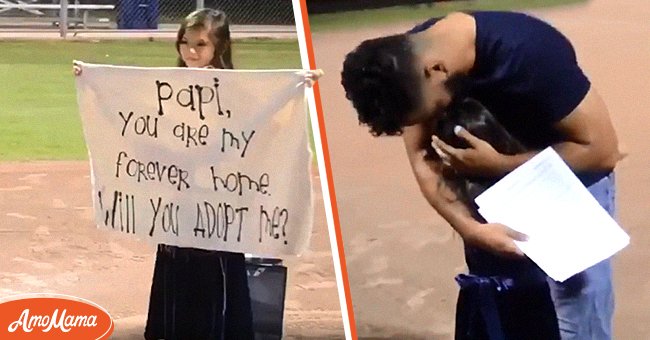 Alessandra holding up a sign on a baseball field [left]; Alessandra and Leonardo Avila hugging [left]. │Source: twitter.com/GMA
GETTING READY
This shared love for the game is something Alessandra used to her advantage when she decided to give her stepfather the surprise of his life.
On September 21, 2018, the now 8-year-old waited for Avila on a baseball field in Alabaster, Alabama. It was there she asked him a huge question.
You May Also Like: Boy Excited about Being Adopted by Gay Couple Gets Bullied by His Homophobic Teacher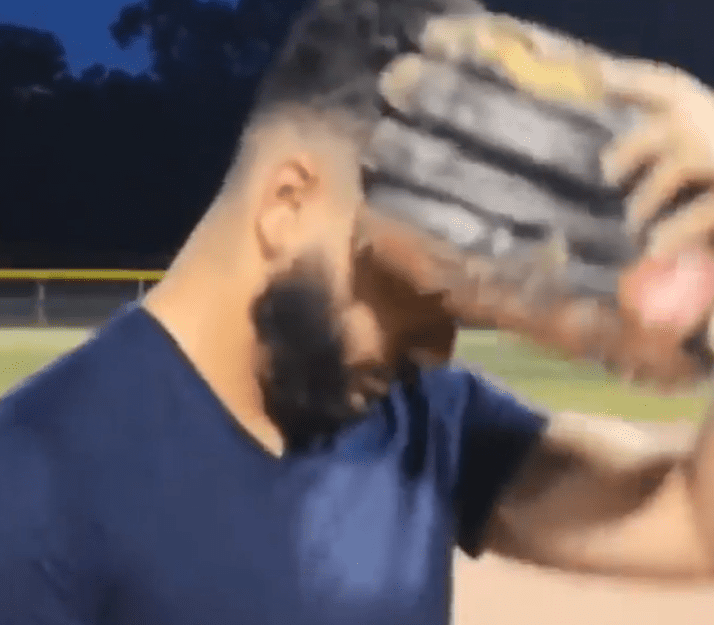 Leonardo Avila taking a baseball glove off his face to see his surprise.│Source: instagram.com/wvtm13
A MOMENT TO REMEMBER
Alessandra stood on the home plate as her bestie was guided onto the field with a baseball glove covering his face. Once he took it off, he saw his stepdaughter standing with a sign in her hands that read:
"Papi, you are my forever home. Will you adopt me?"
He was immediately overcome with emotion, putting his head down and his hands on his knees while tears flowed down his face. Without hesitation, Avila said yes to the adoption, giving his baby a big hug.
EVERYONE STARTS TO CRY
A video of the beautiful moment on Instagram was shared with comments flowing in, remarking on what a fantastic story it was. One Instagrammer expressed:
"😍🤗😭. God bless him and his family. we need more beautiful people like him."
Many individuals stated that the clip made them tear up. The heartwarming video became quite popular, gathering just over 300 likes.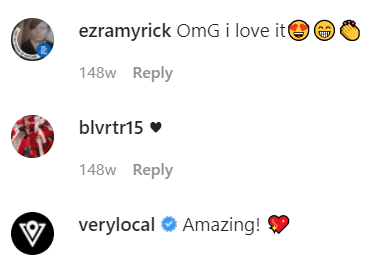 Individuals commenting on an Instagram post by WVTM 13. │Source: instagram/WVTM 13
MAKING IT OFFICIAL
Avila commented that the fact that she wanted this and chose to ask him without any outside influence made him highly emotional. He said:
"To know I made this type of impact to her life that she wants my last name, it was an amazing moment."
On January 10, 2019, the two made it official. Although it is lovely that they are legally father and daughter now, the duo always knew in their hearts that this was already what they were to one another.
THE COURAGE TO CARE
What Alessandra did was incredibly brave; an 11-year-old HaLeigh proved she also possessed this quality. Before Valentine's Day of 2018, she surprised her stepdad, David Trevino, by legally taking his last name. The letter he read said:
"You stole her heart from day one, but she stole your last name forever."
Carrying on reading the letter, the stepfather burst into tears. Eventually, they added his name onto the young girl's certificate as well. If these two children proved anything, it's that family is much more than blood and resides in the heart.
Please fill in your e-mail so we can share with you our top stories!